Commentary
Mayorga shows thoughtful side prior to bout with Vargas
"I was born crazy. It's just the way I've always been," was Ricardo Mayorga's battle cry, just minutes before stepping into the ring to face Fernando Vargas.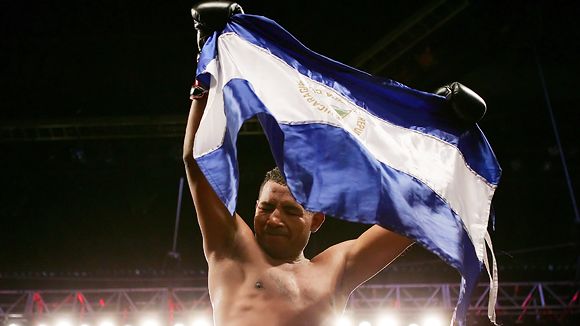 Robert Laberge/Getty ImagesRicardo Mayorga got his career back on track by defeating Fernando Vargas.
LOS ANGELES -- It's about an hour and a half before Ricardo Mayorga will step into the ring to face Fernando Vargas and he's slouched on a leather couch in his dressing room at the Staples Center, watching a preliminary fight on TV with two members of his camp. "Ohhh, ahhhh," he says and winces, reacting to hard punches that one fighter lands to the body of the other, and his handlers nod in agreement. Soon, that will be him taking hard punches from a bigger, presumably stronger world champion in a fight Mayorga can't afford to lose if he wants to remain a big-money fighter. Yet it seems Mayorga couldn't be more relaxed. He acknowledges that the minutes leading up to a fight move slowly but, after 34 fights over 15 years in the ring, nerves have long ago ceased to be a factor. And he's not the maniac fans have seen on television, the one who hurls insults at his opponents as recklessly as he wings punches and smokes cigarettes after his fights. In here, in the quiet tranquility of a room insulated from the cheers of a growing crowd, he seems like any other fighter preparing to go to work. Someone suggests that he seems quite normal at that moment but he will have none of it. "I was born crazy. It's just the way I've always been," he insists through interpreter Roberto Duran Jr. (the son of the great fighter), but it is difficult to believe him.
Mayorga-Vargas replay
Catch the replay of Ricardo Mayorga-Fernando Vargas as well as Kermit Cintron-Jesse Feliciano Saturday, Dec. 1 at 8 p.m. on ESPN Classic. -- ESPN.com
A few minutes later, Mayorga's wife, mother and sister enter the room, sit down and begin to chat in hushed tones. They've also been through this many times but aren't as calm as Mayorga. His wife, Shelsia Hislop, sits and fidgets as a reporter approaches. "It's very hard," she says quietly so her husband can't hear. "I just pray, pray his hands turn to stone and he emerges victorious and healthy when it's over. I just try to be strong. "After it's finished, then I can relax." At that moment, a producer and a cameraman from Showtime -- which televised the fight on pay-per-view -- walk through the door and set up to give both the live and TV audiences a glimpse into the dressing room. Mayorga agrees to do his part for the promotion -- as he always does -- but wants to get it over with. Then the light on the camera goes on and he goes to work, flexing his muscles, kissing the right biceps he hopes will power the knockout blow and ripping off his shirt while yelling into the camera. For the first time, the room comes to life. Then, just as quickly, the camera goes off -- and so does Mayorga, who sits quietly back down and prepares to have his hands taped by Jimmy Glenn, who has been in the business for more than 50 years. As Glenn goes about his business under the watchful eyes of a California Athletic Commission inspector and a member of Vargas' camp, Mayorga is asked what's going through his mind. "I'm thinking of my family," he says with a smile. "They're hungry. They want to go eat and go dancing so I have to knock him out as fast as I can." Everyone laughs. He doesn't think about the fight?
[+] Enlarge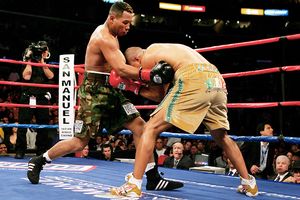 Robert Laberge/Getty ImagesRicardo Mayorga's unorthodox style of punching had Fernando Vargas, right, backpedaling all night.
"No, you never do," he says seriously. "You do that when you're training. Now, you don't. There's not much to think about. You avoid getting hit and you hit the other guy as hard as you can. That's it." Suddenly Mayorga focuses his attention on Vargas' representative watching Glenn apply the tape, which opponents' representatives typically do in case they object to the manner in which it's done. "Tell [Vargas] that heart won't be enough," he says wide-eyed, providing a concrete glimpse of his intensity. Vargas' man just nods his head. "This is war, sports war, not real war, but it is war." Heart hadn't been enough for Mayorga in his most recent fights. He stunned the boxing world by knocking out Vernon Forrest to win the welterweight championship and also won the rematch. However, his record is 2-3 since then going into Vargas fight, including knockout losses to Felix Trinidad in 2004 and to Oscar De La Hoya in his last fight, in May of last year. That's why he has to win; another loss might destroyed what is left of his reputation. He is asked whether he agrees with that assessment. He looks up sheepishly, as if saying "Why did you have to go there?" "I won't lose," he says and appears to grit his teeth, "I won't lose." When Glenn is finished, Mayorga begins to warm up by shadowboxing in the middle of the room as the handlers clap their hands. Then, after his gloves are put on, one of his trainers puts on mitts (baseball-like gloves that can be punched without causing damage) and the two begin to spar. Soon, beads of sweat fall down the side of his face. Then, only about 20 minutes before his ring entrance, he gets a visitor -- Sylvester Stallone. In an instant, the mood is again light-hearted and Mayorga is not the only star present as "Rocky" approaches him and the two shake hands heartily. "It's a pleasure to meet you, it really is. You're the real champion," Mayorga says, and soon a beaming Stallone walks out to the "Rocky" theme playing on the cell phone of a quick-thinking member of Mayorga's camp. Again, everyone laughs. And then the frivolity ends for good. Mayorga, wearing a camouflage robe and trunks, is surrounded by his team as he prepares to exit the room and make his way to the ring. His handlers again clap in unison as the fighter follows a backward-walking Showtime cameraman down a hallway and ultimately through a tunnel to the center of the arena. The fans in the tunnel, apparently all fans of the L.A. product Vargas, boo the Nicaraguan fighter vociferously and point their thumbs down. The poor reception grows in intensity and volume as Mayorga makes his way to the ring and climbs the stairs to the ring canvas, at which point he thrusts his hands into the air and becomes Mayorga the maniac. Twelve taxing rounds later, tired and battered, he has fulfilled his promise: He has won a hard-fought majority decision. After the scores are announced, he drops to his knees and pounds the canvas. He has survived to do it all over again sometime soon.
Michael Rosenthal is a staff writer for the San Diego Union-Tribune.
SPONSORED HEADLINES
MORE BOXING HEADLINES
MOST SENT STORIES ON ESPN.COM