Commentary
Great wins by Brits away from home
In case Ricky Hatton is in need of inspiration, here's a list of great performances by U.K. fighters on the road.
Originally Published:
November 28, 2007
By
Graham Houston
| Special to ESPN.com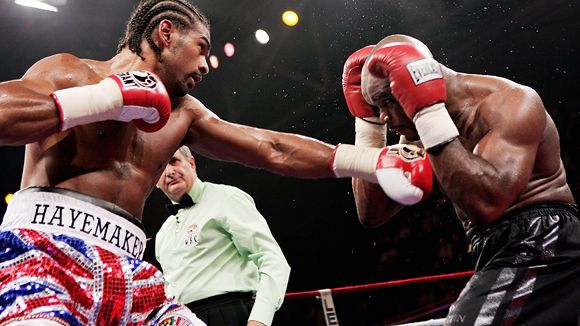 John Gichigi/Getty ImagesDavid Haye, left, went to France and took the cruiserweight title from Jean-Marc Mormeck.
If Ricky Hatton defeats Floyd Mayweather Jr. on Dec. 8, it might well be considered the greatest-ever win by a Briton abroad. Here is a look at 10 previous notable wins by Britons away from home.
1. John H. Stracey TKO 6 Jose Napoles, Mexico City, Dec. 6, 1975
The great Cuban fighter Napoles, a longtime resident of Mexico City, was expected to keep his welterweight title against Stracey, but there were indications the Londoner had a great chance. It was thought Napoles might have been four years older than the officially recorded 35. Also, Napoles had been struggling to make weight and had shown an increasing tendency to suffer cuts. Stracey, 25, arrived in Mexico City three weeks before the fight to get used to the high altitude. Napoles, meanwhile, had to visit the steam bath to sweat off excess pounds. The fight started unpromisingly for Stracey, when he was dropped by a left hook in the opening round. Stracey came back to take command in the third with his youth, strength and aggression. Napoles, his left eye pounded shut -- "a dazed and battered figure," as Reuters news agency put it -- was being punished without reply when Mexican referee Octavio Meyran intervened on his behalf. Asked about the first-round knockdown, Stracey told reporters: "He could have knocked me down in every round, but I would have won it anyway, because I was too strong for him and too sharp."
2. Lloyd Honeyghan TKO end of 6 Donald Curry, Caesars casino hotel, Atlantic City, N.J., Sept. 27, 1986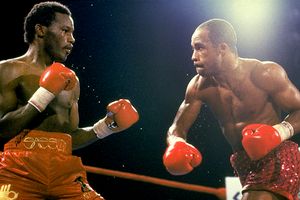 Getty ImagesLloyd Honeyghan, right, used a relentless attack to wear down Donald Curry.
The undefeated welterweight champion Curry was considered one of the best boxers in the world, but recently, he had been boxing non-title bouts as a junior middleweight, and there was talk of him stepping up to middleweight to fight Marvelous Marvin Hagler. The timing of the bout was perfect for Londoner Honeyghan, who also was unbeaten. He attacked fiercely, and Curry couldn't keep him off. The weight-drained champion was cut over the left eye and fading fast when the bout was stopped at the end of the sixth round on the advice of the ringside doctor. Afterward, Curry told Robert Seltzer of The Philadelphia Inquirer that he knew in the first round he was going to lose. "When I took the first jab, I knew something was wrong," he said. "I just didn't have anything. It was gone."
3. Ken Buchanan W15 (split) Ismael Laguna, San Juan, Puerto Rico, Sept. 26, 1970
Scotland's Buchanan was given little chance of taking the lightweight title from the accomplished Panamanian fighter Laguna, who was thought to have the advantage in the tropical, Hispanic setting of San Juan. Nine months earlier, Buchanan had suffered his first defeat when he was knocked down and outpointed by Miguel Velazquez in Spain. Meanwhile, Laguna's previous two fights had been stoppage wins in championship bouts in Los Angeles and Tokyo. Buchanan fought the fight of his life, though. Cut under the left eye in the third and around the right eye later in the fight, the Scot kept the pressure on the champion. On a sweltering afternoon with temperatures in the low 100s, Buchanan proved he could take the heat. He finished strongly with jabs and right hands in the last three rounds to win by scores of 145-144 and 145-143 from the judges, while referee Waldemar Schmidt had Laguna winning 144-143.
4. Jack Kid Berg W15 (split) Kid Chocolate, Madison Square Garden Bowl, Long Island, N.Y., July 18, 1932
Berg, the "Whitechapel Whirlwind" from London's east end, used his advantages in size and strength -- he essentially was a big lightweight against a faster, classier boxer who essentially was a junior lightweight. Chocolate's only loss in his previous 20 bouts had been on a controversial decision against tough Tony Canzoneri in a lightweight championship challenge. He punished Berg in the early rounds and almost stopped him in the third. Berg was cut around the eyes but kept pressing forward to wear down the great "Cuban Bon Bon." The thrilling, non-title bout was close -- but it was Berg who was coming on at the end, with Joseph C. Nichols reporting in The New York Times: "Berg's stamina was apparent in the last two rounds, when he rushed Chocolate incessantly, pounding the Cuban's body with both hands."
5. Nigel Benn TKO 8 Doug DeWitt, Caesars, Atlantic City, N.J., April 29, 1990
Benn, who hailed from Ilford in the east London suburbs and had been a soldier in the British army, was the underdog in this middleweight title challenge after struggling to outpoint veteran Sanderline Williams in his previous fight. Veteran writer Colin Hart of the British tabloid The Sun wrote in his preview: "I believe DeWitt is the better all-round performer." The rugged, seasoned DeWitt, from Yonkers, N.Y., looked the part of the favorite when he dropped Benn with a left hook in the second round. Then Benn came slamming back, flooring DeWitt in the third round and three times in the eighth. I covered this fight from ringside for the now-defunct British Boxing Weekly and wrote of Benn's punching power: "Every time he landed he seemed to send shudders through DeWitt."
6. David Haye TKO 7 Jean-Marc Mormeck, Levallois-Perret, France, Nov. 10, 2007
The latest British win away from home -- and one of the greatest -- came as Londoner Haye got off the canvas to blast Mormeck with big punches in the seventh round to win the cruiserweight title, which he probably will not defend; the heavyweight division beckons. Haye moved beautifully and landed heavily to the body as the muscled Mormeck advanced with gloves high. In the fourth, Haye got caught and his legs gave way, although he also tripped on one of the advertisement cushions placed on the ring apron. Haye took the mandatory eight count on one knee, recovered quickly, then knocked down the champion with massive punches in the seventh. Referee Guido Cavalleri waved the finish as Mormeck rose with a blank look in his eyes.
7. Alan Minter W15 (split) Vito Antuofermo, Caesars Palace, Las Vegas, March 16, 1980
Minter seemed to have clearly beaten Italian-New Yorker Antuofermo for the middleweight title in a fight televised on ABC's Wide World of Sports, but the scoring was all over the map. Las Vegas judge Chuck Minker had it 144-141 in Minter's favor, Venezuelan judge Ladislao Sanchez had it 145-143 in Antuofermo's favor and British judge Roland Dakin amazingly gave Antuofermo one round, scoring the bout 149-137 in Minter's favor. Minter was down in the seventh and given an eight count but seemed to have been pushed over. The southpaw from Sussex on England's south coast scored sharply while Antuofermo did his best to bore in and bully him. Minter was cut over the right eye in a head clash in the 12th, but he kept scoring points. At the end, Minter looked the worse for the wear, but as Jack Fiske noted in The San Francisco Chronicle: "Effective punches, not facial wounds, determine a prizefight winner."
8. Lennox Lewis KO 8 Mike Tyson, Memphis, June 8, 2002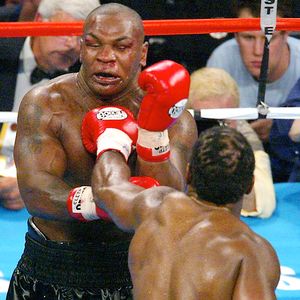 Mike Nelson/AFP/Getty ImagesLennox Lewis came to America and laid a vicious beating on Mike Tyson, facing.
Although he was born in east London, Lewis was a multinational champion who was raised in Canada, trained in the United States and had spiritual ties to his mother's homeland of Jamaica. Britain claimed Lewis as one of its own when he turned professional in London after winning Olympic gold for Canada. He was announced as being from London when he defended his heavyweight title against Tyson. The oddsmakers made Lewis a fairly modest favorite, but he dominated the faded ex-champ. The main concern of Lewis' trainer, Emanuel Steward, was that his man would get disqualified -- the champion was deducted a point for pushing Tyson to the floor in the fourth. Steward urgently instructed Lewis: "Get him outta here!" Lewis did, but in his own good time.
9. Jock McAvoy KO 1 Babe Risko, Madison Square Garden, Dec. 20, 1935
The hard-hitting McAvoy from Rochdale in northwest England gave a devastating performance in his non-title bout with the middleweight champion from Syracuse, N.Y., knocking down Risko six times in two minutes, 48 seconds. James P. Dawson of The New York Times described it as "one of the most sensational ring battles seen here in recent years." McAvoy dropped Risko with his first punch -- a big right hand. Risko never recovered and was dropped another five times. On the sixth occasion, in Dawson's words: "Risko sat there, dazed and helpless, to be counted out." McAvoy never got to fight for the middleweight title -- were he boxing today, it would be in the super middleweight division -- but he did challenge John Henry Lewis for the light heavyweight championship in London the following year, when he was beaten on points.
10. Don Cockell W10 (split) Harry Kid Matthews, Seattle, Aug. 7, 1953
Beating local favorite Matthews in Seattle was a huge win for the stoutly built British heavyweight champion and earned him respect as a legitimate contender (two years later, he lost courageously to Rocky Marciano). Matthews was a sharpshooting boxer-puncher, but Cockell was stronger and nearly 32 pounds heavier. In the early rounds, things looked promising for Matthews, who punished Cockell heavily. The former blacksmith from Sussex suffered an ugly cut under the left eye. The Vancouver Sun's Jack Richards reported in the colorful prose of the time: "From the outset, Cockell plodded stolidly into a maelstrom of angry leather." Matthews looked a sure winner, but Cockell staged an amazing rally in the ninth round, knocking down the superior stylist three times. It was desperately close, but Cockell's huge ninth round earned him the upset win. Richards complimented the crowd's "generous applause" for Cockell.
Graham Houston is the American Editor of Boxing Monthly and writes for FightWriter.com.
Boxing
Graham Houston is the American editor of Boxing Monthly and writes for FightWriter.com.
UNDEFEATED


FLOYD MAYWEATHER
vs. RICKY HATTON
Welterweight championship
Saturday, Dec. 8, Las Vegas

Features
• Rafael: Mayweather knew he was a star all along
• Rafael: Lacy is healthy and hungry
• Mulvaney, Ortiz: The lead up to the big fight
• Steinberg: Mayweather's five key fights
• Steinberg: Hatton's five key fights
• Houston: Fighters with both speed and smarts
• Doogan: Hatton still just an ordinary guy
• Rafael: Mayweather-Hatton a "Pretty' big event
• Houston: Great wins by Brits away from home
• Sugar: A history of British-American rivalries
• Doogan: Boxing never looked better in Britain

Chat wraps


• Dan Rafael
• Floyd Mayweather Jr.
• Floyd Mayweather Jr. II
• Roger Mayweather
• Ricky Hatton I
• Ricky Hatton II
• Billy "The Preacher" Graham
• Teddy Atlas

Video


• The final press conference
• One-on-one with Mayweather: His training
• One-on-one with Mayweather: Childhood
• One-on-one with Mayweather: Early fights
• One-on-one with Mayweather: A boxing family
• One-on-one with Mayweather: Hatton
• Mayweather-Hatton 24/7 Part 2
• Mayweather-Hatton 24/7 Part 1

Podcasts
• Hopkins' thoughts

The Magazine
• Struby: Hatton happy cutting weight


MOST SENT STORIES ON ESPN.COM