Commentary
Marquez's time to shine as Mexico's premier fighter is now
Erik Morales and Marco Antonio Barrera spent the last seven years taking turns in the limelight as Mexico's most popular boxer. All the while, Juan Manuel Marquez may have been the country's premier fighter, writes William Dettloff.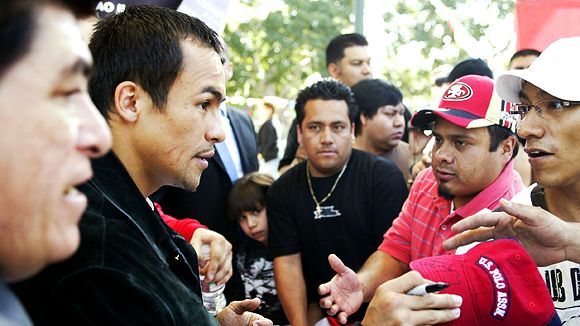 Hoganphotos.com/Golden Boy PromotionsMarquez, left, is carrying the weight of a nation on his shoulders into the ring against Pacquiao.
In a way, you couldn't have blamed Juan Manuel Marquez if he'd said to hell with it and walked away from this business after his loss to Chris John in Indonesia in March 2006. Already 33 years old and a hair slower on the trigger than he'd been a year or two before, he was maybe the best illustration since Jersey Joe Walcott of a good prizefighter who couldn't keep from banging his head against the glass ceiling. At the whim of the attendant sanctioning body, Marquez had taken the fight for a relative pittance -- about $30,000 -- hardly enough to cover training expenses and airline tickets. This, after his trainer, the wonderful and legendary Nacho Beristain, tried his hand at managing and steered Marquez away from a $750,000 rematch with Manny Pacquiao.
Unfinished Business
TV Lineup for Saturday's HBO PPV card (9 p.m. ET) from the Mandalay Bay Events Center in Las Vegas: • Junior lightweights: Juan Manuel Marquez (48-3-1, 35 KOs) vs. Manny Pacquiao (45-3-2, 34 KOs), rematch, 12 rounds, for Marquez's title/vacant Ring magazine title • Featherweights: Steven Luevano (34-1, 15 KOs) vs. Terdsak Jandaeng (29-2, 19 KOs), 12 rounds, for Luevano's title • Bantamweights: Abner Mares (15-0, 9 KOs) vs. Diosdado Gabi (30-3-1, 22 KOs), 12 rounds • Junior welterweights: David Diaz (33-1-1, 17 KOs) vs. Ramon Montano (15-4-2, 1 KO), 10 rounds -- Dan Rafael
Marquez's loss to John, which is viewed by many as controversial, was confirmation that genius rarely is transferable between occupations. Beristain's haughtiness will be long remembered as one of the sport's great business blunders of the era. Marquez didn't walk away, of course. He gets his rematch with Pacquiao in Las Vegas on March 15, better late than never. He is philosophical about the loss to John, while maintaining that the decision was unjust. "It made me stronger because of the decision I made to fight over there for less money," Marquez told ESPN.com through interpreter and co-promoter Jaime Quintana. "I won, but I learned that when you fight out of your own country, you have to win by knockout. I learned a lot from it and it made me better. I would fight him again; it would be a great fight -- but only in the United States." Marquez has a history of being philosophical about things, and you don't get that way by accident. He had to be, coming of age in an era that was mostly dominated in the lower weights by his countrymen Marco Antonio Barrera and Erik Morales, who fought a sizzling trilogy, won several world titles and mostly eclipsed him. Barrera turned pro in 1989; four years later Morales and Marquez joined him. Not long after, Morales and Barrera rushed to fill the vacuum in the Mexican sporting psyche created by the impending slide of Julio Cesar Chavez. Marquez was technically superior to both, but lacked the killer instinct and arrogance of his compatriots. Both traits are highly desirable (some would say mandatory) for professional athletes, especially fighters. Morales liked to come forward behind a ramrod jab and strafe his opponents with arrow-straight right hands, and never minded getting bloody in the process. Barrera, early on anyway, was a miniature Chavez, all left hooks and liver shots. He too liked a good brawl. Marquez was the equivalent of their more cerebral, bookish little brother: smarter, better read, but apprehensive about getting his hands very dirty.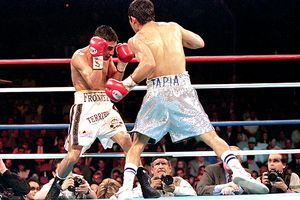 Jed Jacobsohn /Getty ImagesNow that Morales, left, and Barrera have retired, can Marquez carry the mantle as Mexico's best fighter?
This was never more evident than in Marquez's first real shot at the big time, his September 1999 featherweight title challenge of Freddie Norwood. The subject of fawning praise on the West Coast, Marquez fought passively against Norwood in front of a national television audience, was dropped, lost a unanimous decision and was summarily dismissed. Even if you thought he deserved the decision, and some did, he had inspired little passion. Five months later, Morales and Barrera engaged in the first of their three sizzling wars and Marquez's fate was all but sealed. It was then that he called upon the lessons he'd learned growing up in one of the poorest neighborhoods in Mexico City, where crushing poverty and hopelessness are as common as rusted-out cars and dreams are abandoned before they can take hold. About the childhood he shared with brother Rafael, also a standout prizefighter, Marquez is again philosophical. "We grew up in a place that was dangerous, but it helped us to make the right decisions in life and about what we wanted to do," he said. "We went to school and finished school and now we have great careers in boxing and everything is fine now. "We were taught to work hard and when you work hard you know that everything is going to be fine," said Marquez, 48-3-1 (35 KOs). "We always did everything 100 percent and now you can see the results. When you work hard you can accomplish things." Marquez finally made up for his loss to Norwood and claimed two featherweight alphabet titles when he beat an insufferably reluctant Derrick Gainer in November 2003, then met Pacquiao in their first match the following May. In one of the best fights of the year, Marquez recovered from three first-round knockdowns to outbox Pacquiao over the remainder of the fight to earn a draw. Predictably, Barrera and Morales continued to overshadow Marquez even as he turned in the most courageous and impressive performance of his career. To the objections of no one, Barrera's rubber match win over Morales was Ring magazine's Fight of the Year; the 11th round was the magazine's Round of the Year, and Barrera was named the Comeback Fighter of the Year. He doesn't say it, but you have to think Marquez is enjoying having the spotlight to himself, now that Barrera and Morales are retired (at least for the moment). Asked about reports that both are intent on pursuing comebacks, he responds, "That's good for them. I don't worry about what they're doing, only about my fight with Pacquiao." Clearly, Marquez must have enjoyed his win in March 2007 over Barrera, even if Barrera was at the end of a very long and fruitful career. In a sense, Marquez has outlasted both of his better-known contemporaries, although it could be argued that it's only because the two wore one another out. The history Pacquiao shares with Barrera and Morales must surely be extra incentive for Marquez. Pacquiao stopped Barrera in 11 rounds in November 2003, and then decisioned him in October 2007 in Barrera's last fight. Morales outpointed Pacquiao in their first fight, in March 2005, but was stopped in their subsequent meetings in the 10th and third rounds, respectively. Marquez recognizes that the Pacquiao he will face on March 15 is not the one he mostly outboxed four years ago. But that's not necessarily a bad thing. "He's a lot different. He's a better, more complete boxer," Marquez said. "He's much better and that's to my advantage because now I can predict what he's going to do. In 2004, he was wild; you couldn't predict where his punches were coming from. This time, I'll know." This is Marquez's biggest chance to break through that glass ceiling. Pacquiao is generally recognized, at worst, as the second-best pound-for-pound fighter on the planet, right behind Floyd Mayweather. If Marquez can pull off the win, he won't have to be philosophical anymore.
The Ring's senior writer William Dettloff co-wrote the book "Box Like The Pros" with Joe Frazier.
SPONSORED HEADLINES
MORE BOXING HEADLINES
MOST SENT STORIES ON ESPN.COM