Commentary
Hardened Hopkins wants to put hurt on Calzaghe
Bernard Hopkins is a master of prefight psychological torture. He's keen on beating Joe Calzaghe -- before he even steps into the ring with the Welsh fighter.
Originally Published:
April 17, 2008
By
Tim Smith
| Special to ESPN.com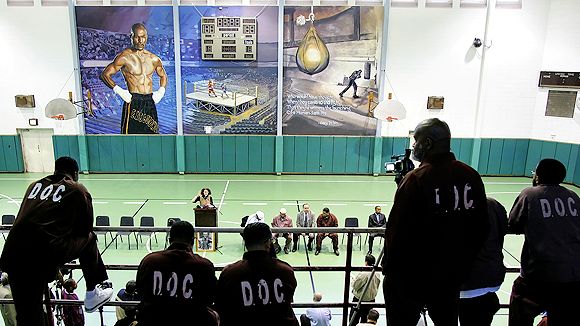 AP Photo/George WidmanHopkins feels the trials and tribulations he faced as a youth -- including time spent in jail -- helped shape who he is today.
LAS VEGAS -- Bernard Hopkins likes to talk about taking his opponents to those dark places where men with bad intentions inflict harm on the unsuspecting.
Hopkins used to ply an illegal trade in those dark places, like a back alley at night. It didn't pay off in the long run. In 1982, he was convicted of robbery and spent five years in a Pennsylvania prison. Confined behind bars, Hopkins learned about other dark places -- the ones in a man's mind that house fears, real and perceived. He learned how to make himself at home in those dark places and to make those he drags there uncomfortable.
That knowledge of those dark places -- physical and mental -- has served Hopkins well during his 21-year professional boxing career. Hopkins is a master at the prefight psychological torture of his opponent. And once he gets into the ring, he has enough old-school tricks to make an opponent feel like he has been bludgeoned in a dark alley.
Hopkins needs all the tools in his bag of tricks for his 12-round light heavyweight match against Joe Calzaghe of Newbridge, Wales, at Thomas and Mack Center on Saturday night. Calzaghe is an undefeated super middleweight champion and he's made 20 successful defenses of his title over an 11-year span.
[+] Enlarge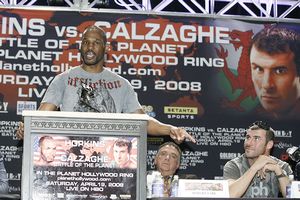 Tom Hogan/Golden Boy PromotionsHopkins, left, has done his best to get under Calzaghe's skin, even before their fight was officially announced.
It is a scenario that is shaping up just like his match against Felix Trinidad at Madison Square Garden in 2001.
Hopkins was an underdog in that match, just as he is against Calzaghe. The crowd of 20,000 was largely in support of Trinidad. The crowd at Thomas and Mack is expected to be pro-Calzaghe with an estimated 5,000 Brits making the trek to Las Vegas for the match. Hopkins scored a 12th-round TKO against Trinidad in the most spectacular victory of his career.
"I rose up at the worst scenario case," Hopkins said. "So when you have this type of education and you have this type of experience and you have these types of trials and tribulations, that makes you a man."
Hopkins is a keen observer of people. He picks up on physical and verbal clues from his opponents to use as ammunition in his psychological warfare. It could be a close relationship between a father and the son he trains that Hopkins can exploit. It could be a boxer's comment that he would rather box than stand and trade, giving Hopkins a hint that the boxer might fold if he's roughed up.
Knowing that Trinidad was a boxer who cherished his home country of Puerto Rico, Hopkins threw the Puerto Rican flag on the ground during news conferences in New York and in Puerto Rico. The latter nearly started a riot that had Hopkins and his entourage running for their lives. They needed a police escort to leave the news conference.
"I don't think Bernard really planned to do that with the flag in Puerto Rico," said Emanuel Steward, veteran trainer and HBO boxing commentator. "Anybody would have thought that through carefully before doing something like that in Puerto Rico."
Some of Hopkins' psychological ploys seem to be calculated to get underneath his opponents' skin. Before he fought Oscar De La Hoya, Hopkins threatened to leave Las Vegas on the eve of the fight because he didn't like the selection of Joe Cortez as the referee. Hopkins went as far as going to the airport. De La Hoya said he wasn't unnerved by that ploy. But with his promotion company on the hook for the fight, De La Hoya couldn't have been happy about the situation. Hopkins stopped De La Hoya in the ninth round with a body shot.
Hopkins pulled the racial card to get underneath Calzaghe's skin, saying before the fight was even organized that "there is no way I'm going to lose to a white boy." Hopkins has since not repeated the statement, but he hasn't backed away from it.
"It's a cultural fight," Hopkins said. "Ask some black athletes about culture and athletics. It's always a race issue when it's black versus white, whether it's basketball or tennis."
[+] Enlarge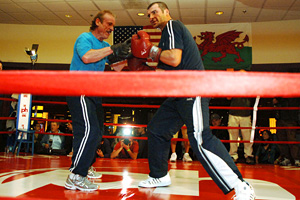 Denise Truscello/WireImageIf Hopkins' antics have found their way into Calzaghe's head, the Welshman isn't showing it.
He added: "We'll see whether I'm a liar or not after the fight is over."
Calzaghe said he is not fazed by Hopkins' psychological ploys. He isn't biting on the racial issue. He isn't even buying into the prison talk.
"Hopkins went to prison to make him hard," Calzaghe said. "To me, that makes him weak. I was born hard. He keeps talking about prison. Big deal! I used to knock out my sparring partners. At the end of the fight, you're going to see a grown man cry."
Hopkins seems to have worked his psychological genius on boxing fans. Since the Trinidad fight, Hopkins has remade his public image from a bitter, ungrateful boxer who sued every promoter he ever worked with to an American boxing icon. Hardly anyone remembers that he lost a lawsuit over slandering his former promoter, Lou DiBella. That has been replaced by his exploits inside the ring, which includes victories over Winky Wright, Antonio Tarver and De La Hoya, with whom he now works at Golden Boy Promotions.
Hopkins told everyone who would listen during those fights that he was going to win. He talked and talked and talked. Whether Wright, Tarver and De La Hoya believed him or let the talk get under their skin, who knows? But the result was just as Hopkins had prophesied. And he relishes nothing more than proving his critics wrong.
Hopkins said this could be his last fight because he doesn't see any more challenges on the horizon. He looks to earn close to $10 million against Calzaghe. He just bought a 17,000 square foot home on 5.5 acres of land in Delaware that he is remodeling and rental properties that keep him busy.
At the same time, Hopkins brags about his physical prowess and the fact that his 43 years of age is more like 32. But he is getting closer to operating in the light spaces than in those dark places that he must go to succeed in the ring.
"You can only go to the well so many times and get water," Hopkins said. "You go there one time, there ain't no water there because you already took it out. I'm going to the well [on Saturday night] because there's a bucket left."
Tim Smith is the boxing columnist for the New York Daily News.
SPONSORED HEADLINES
MORE BOXING HEADLINES
MOST SENT STORIES ON ESPN.COM