Commentary
Unbeaten no more: 'O's continue to go
Graham Houston takes a look at several boxers who lost their glossy, undefeated records this year.
Originally Published:
June 23, 2008
By
Graham Houston
| Special to ESPN.com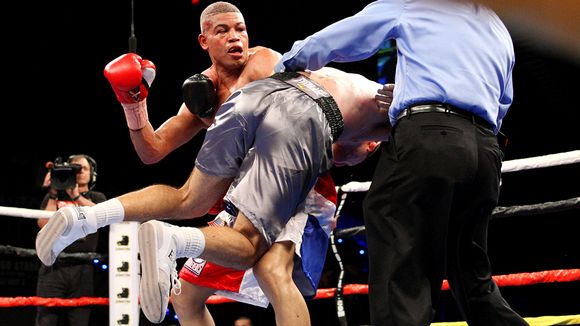 Tom Casino/ShowtimeA frustrated Lorenzo, left, saw his undefeated record evaporate against the more experienced Marquez.
From New Zealand to New York City, one after another, unbeaten fighters have been going down in flames this year. The list is a long one. Joe Tessitore's column on Thursday mentioned the string of upsets on ESPN, and almost on cue, Alonzo Butler lost his unbeaten record to Friday Ahunanya on "Friday Night Fights." Some people say that the good thing about having an unbeaten record is that a boxer hasn't learned how to lose. A cruel rejoinder would be that -- in the absolute sense -- some unbeaten boxers haven't learned how to fight. Butler's loss on Friday was followed by Giovanni Lorenzo losing to game veteran Raul Marquez on Showtime the next evening, while earlier in the day across the Atlantic, "Contender" contestant Paul Smith lost to veteran Steve Bendall, as two more unbeaten records bit the dust. Tessitore covered the ESPN upsets, but here's a look at some of this year's other unbeaten-no-more fighters -- and what went wrong.
[+] Enlarge
Tom Casino/ShowtimeLorenzo, left, wasn't quite ready to deal with Marquez' pressure.
Giovanni Lorenzo L12 Raul Marquez
The former top-level amateur (Olympic representative for the Dominican Republic) Lorenzo had blown out each of his last five opponents inside three rounds, but just wasn't quite ready to cope with the pressure, tenacity and old-pro savvy of a fired-up Marquez during Saturday night's middleweight title eliminator.
Yoan Pablo Hernandez LTKO3 Wayne Braithwaite
The German-promoted Cuban Olympic representative Hernandez started well enough against ex-cruiser champion Braithwaite, even scoring a knockdown. He couldn't take the heat, though, when Braithwaite blasted back. Down three times in the third, Hernandez was on his feet but out of the fight when rescued by the referee. Hernandez was shown to be what the British call a good "on top" fighter -- great when dishing it out, not quite so good when taking it.
[+] Enlarge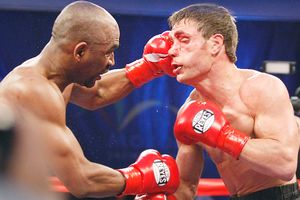 Craig Bennett/FIghtWireImages.comJoel Casamayor, left, dug deep into his bag of tricks to upend the heavily favored Michael Katsidis.
Michael Katsidis LTKO10 Joel Casamayor
Once again a battle-tested veteran overcame an undefeated fighter as crafty Cuban Casamayor stopped game Aussie Katsidis. A serious lack of defense was Katsidis' big problem -- he got hit too hard, too often -- but he looked close to winning with his bruising body attack. Sadly for Katsidis, with victory in sight, a perfectly timed left-hand counter from Casamayor's southpaw style, dropped him in the 10th.
Paul Smith L10 Steve Bendall
Smith had won 23 in a row, was a Commonwealth Games silver medalist, had boxed on "The Contender" (medically disqualified due to a cut after winning his opening contest) and had the high-profile cornerman in Buddy McGirt. On Saturday, he was the house fighter on a Frank Warren show in Birmingham. The Liverpool middleweight was, then, supposed to beat veteran left-hander Bendall in their fight for the English title. Although Smith had not boxed well in his last two bouts, he told the Liverpool Echo before the fight with Bendall: "I feel fit and strong and everything has gone well. I want to put in a really convincing performance." Unfortunately, Bendall didn't read the script and outsmarted the younger man in the close fight.
James McGirt Jr. LTKO7 Carlos De Leon Jr.
[+] Enlarge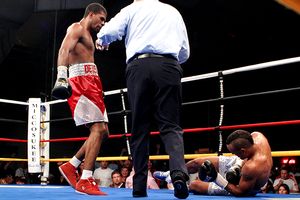 Javiel Centeno/Fightwireimages.comBuddy McGirt Jr., right, fell apart as soon as he ate a perfectly timed hook.
McGirt had won 18 consecutive bouts, but Puerto Rican De Leon was just physically stronger than him in the meeting of sons of world champions. The southpaw from Long Island, N.Y., was doing well for six rounds, even dropping De Leon in the sixth -- but in the very next round McGirt got hit on the chin and alarmingly fell apart. McGirt's lack of robustness at 168 pounds was glaringly apparent, even when he was scoring points.
Kiko Martinez L12 Rendall Munroe
This result shocked people in European boxing circles. Spanish pocket battleship Martinez had knocked out 14 opponents in 17 successive wins and had smashed right through the supposedly far more talented Bernard Dunne to win the European 122-pound title. Munroe, though, boxed a smart, speedy fight to win a majority decision in Nottingham, England, in March. It was close, but while Martinez was looking to land bombs the left-handed Munroe was stealing rounds.
Graham Houston is the American editor of Boxing Monthly and writes for FightWriter.com.
Boxing
Graham Houston is the American editor of Boxing Monthly and writes for FightWriter.com.
EDITORS' PICKS
Six months after suffering a severe stab wound, Kell Brook defended his welterweight title with a demolition of Jo Jo Dan in a dominant performance Saturday in England.
ESPN UK »

Russell focused on Gonzalez's featherweight title.
Dan Rafael »

WBC made Kovalev the mandatory for Stevenson.
Dan Rafael »
MOST SENT STORIES ON ESPN.COM