Commentary
La Fonda Boricua restaurant braces for emotionally charged fight
When Puerto Rico's Miguel Cotto steps into the ring to face Antonio Margarito on Saturday, he can count on the patrons of La Fonda Boricua restaurant in Spanish Harlem to be cheering his every move.
Originally Published:
July 22, 2008
By
Tim Smith
| Special to ESPN.com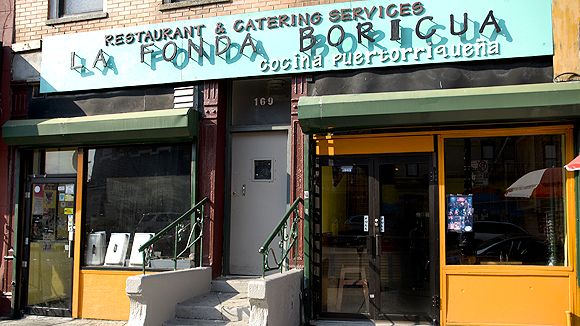 ringsidephotos.comPatrons of La Fonda Boricua restaurant in Spanish Harlem will be dishing out lots of love to their favorite son, Miguel Cotto, on Saturday.
NEW YORK -- When most boxing fans start talking about the greatest fights in the 1970s, their conversation usually turns to Ali-Frazier I at Madison Square Garden. With the anticipation of a heavyweight championship fight and a star-studded crowd in an electrified arena, the "Mecca of Boxing," the "Fight of the Century" had something for everybody.
That's not the fight Exel Marrero, a 48-year-old Puerto Rican businessman who lives in Brooklyn, flashes back to when he thinks of the great fights of the 1970s, though.
"I think about Carlos Zarate versus Wilfredo Gomez," Marrero said, referring to the 1978 showdown between undefeated super featherweight fighters. "That was a great fight. Man, what a bloody battle. Those guys were going at it from the start of the bell to the finish. They had to pull them off of each other at the end of each round after the bell. They'd still be going at each other. You don't have those kinds of fights anymore."
[+] Enlarge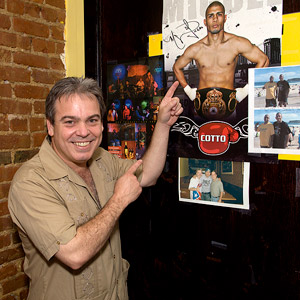 Marty Rosengarten/Ringsidephotos.com A poster of Miguel Cotto greets diners to Roberto Ayala's restaurant.
Marrero is one of the many Puerto Rican boxing fans whose passions are ignited by the heated rivalry between Mexican and Puerto Rican boxers. The flames are being fanned again as Miguel Cotto of Caguas, Puerto Rico, defends his WBA welterweight title against Antonio Margarito of Tijuana, Mexico, at the MGM Grand in Las Vegas on Saturday night. Top Rank's Bob Arum, Cotto's promoter, has put together a number of matches between Puerto Rican and Mexican boxers. He understands the emotions that drive this rivalry.
"In both countries, they love the sport and it is a major attraction. When you have that many passionate fans as those in Mexico and Puerto Rico, and when you have two great fighters, you are going to get that type of a reaction," Arum said. "It's the same as when we had Italians and Irish and the Jews fighting each other in New York. It went on for years. There were fierce rivalries, and fans loved to watch those fights. It was natural." Perhaps no fans exhibit the kind of unbridled exuberance for their boxers as do the Puerto Ricans. That was demonstrated the day after Felix Trinidad beat Oscar De La Hoya in 1999. So many people took off from work to greet Trinidad at the airport in San Juan that it might as well have been a national holiday. Traffic in and around the airport came to a halt as people parked anywhere they could to be a part of the "Welcome home!" celebration. At La Fonda Boricua, a Puerto Rican restaurant in the heart of Spanish Harlem in New York City, diners are greeted by a large poster of Cotto as they walk past the bar and into the dining area. This is the restaurant where Cotto eats after weigh-ins when he fights in New York. If you want to talk about Puerto Rican boxing passion outside of the island, Spanish Harlem is ground zero.
The Battle
TV lineup for Saturday night's Top Rank/HBO PPV card (9 ET) from the MGM Grand Garden Arena in Las Vegas: • Welterweights: Miguel Cotto (32-0, 26 KOs) vs. Antonio Margarito (36-5, 26 KOs), 12 rounds, for Cotto's title • Junior flyweights: Giovanni Segura (19-0-1, 15 KOs) vs. Cesar Canchila (26-1, 21 KOs), 12 rounds, for a vacant interim title • Junior welterweights: Michael Alvarado (21-0, 14 KOs) vs. Cesar Bazan (48-10-1, 31 KOs), 10 rounds • Junior featherweights: Bernabe Concepcion (25-1-1, 14 KOs) vs. Adam Carrera (19-3, 8 KOs), 10 rounds -- Dan Rafael
Roberto Ayala, who owns and operates La Fonda Boricua with his brother, Jorge, views that passion for the nation's boxers as an extension of the pride that Puerto Ricans have for anyone from the island who strives to succeed in any endeavor. "We need those good examples for our young people to see how dedication and discipline help you succeed in the world," Ayala said. "When you look at these athletes, they are so dedicated to their sport that they give up everything to train and prepare to be the best and to win. They want to be the best in the world. It's important for the kids to see how all that hard work pays off." Ayala has been friends with Cotto for the past six years and has gone to several of his fights. He will not be ringside in Las Vegas rooting for Cotto but does expect to broadcast the fight at the lounge across the street from the restaurant. Margarito and Cotto aren't acknowledging publicly that the rivalry between the two countries plays a part in their motivation for the fight. "This is just another fight for me," Cotto said. "It's a fight that Margarito wants to take my title -- and that makes it big enough for me." Marrero, who was having lunch at the restaurant on a recent afternoon, views things differently from Cotto. "It is pride and ego in your country and your athletes," Marrero said. "It's like a team representing your country -- like the World Cup in soccer. As a Puerto Rican, we take pride in what our people do. "We're a tiny island, 100 [miles] by 35 [miles], but we make worldwide noise. Boxing is one of those ways we make noise. We have a rich history when it comes to boxing."
[+] Enlarge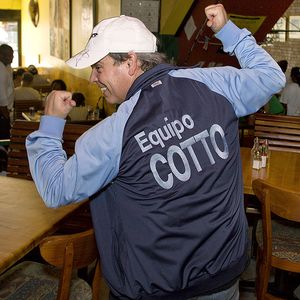 ringsidephotos.comCotto's first stop after making weight for a fight in New York City? Ayala's restaurant, of course.
Marrero was 10 years old when Gomez fought Zarate for the super bantamweight title in San Juan in 1978. Zarate was undefeated in 52 fights. Reports on the fight filled the newspapers every day for a week leading up to the battle. There was even a midday television show on the day of the fight devoted to the match. "It was like it was the news of the day," Marrero said. "It was amazing." Gomez stopped Zarate on a fifth-round knockout and gave Marrero a grudging respect for Mexican boxers. "Mexican fighters can take a beating like you can't believe," Marrero said. "You can hit them with everything, and they won't go down. They just keep coming. Mexicans have a history of being tough." Not all Puerto Rican boxing fans profess nationalistic loyalty to fighters from the island. Sixto Montalvo, a retired refrigeration repairman from Puerto Rico who lives in the Bronx, says Mexican legend Julio Cesar Chavez Sr. is one of his all-time favorite boxers, alongside Sugar Ray Leonard. "Chavez is a great fighter. You can't take anything away from him no matter what country he's from," Montalvo said. "Mexico has created a lot of good fighters, great champions, but Chavez is the best. He fought and beat the very best fighters of his time." Montalvo doesn't think Cotto has achieved a level of greatness. "He is about a 7 [on a scale of 10]," Montalvo said. "He has not had many tough fights. If he wins a couple more tough fights, then I think he will be on his way." Still, Montalvo will be rooting for Cotto to win. "I think he is a better fighter [than Margarito]," he said. "I hope he wins."
Tim Smith is the boxing columnist for the New York Daily News.
SPONSORED HEADLINES
MORE BOXING HEADLINES
MOST SENT STORIES ON ESPN.COM
EDITORS' PICKS
Felix Verdejo is ESPN.com 2014 prospect of the year.
Dan Rafael »

Coyle's 11th round against Brizuela is the best of 2014.
Brian Campbell »

Klitschko could face Jennings next April in New York.
Rankings »