Commentary
New York's best beyond Ray Robinson
Graham Houston lists 10 New York fighters beyond Sugar Ray Robinson who excelled in the ring.
Originally Published:
August 8, 2008
By
Graham Houston
| Special to ESPN.com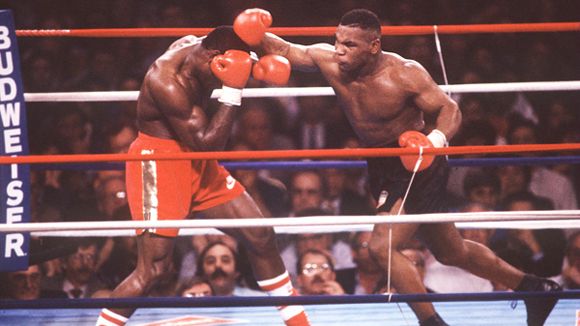 Getty ImagesMike Tyson's reign as heavyweight champion was short but explosive.
New York is a wonderful town, as the lyrics of a classic Frank Sinatra song tell us, and the state's boxing history is wonderful, too. Probably the greatest boxer of them all, Sugar Ray Robinson, was a superstar from Harlem. This list acknowledges the achievements of old-time legends Benny Leonard and Gene Tunney but includes champions of more recent vintage such as Mike Tyson and Riddick Bowe. Sugar Ray Robinson, of course, is in a class all by himself.
10. Buddy McGirt
McGirt, from Brentwood, Long Island, won championships at junior welterweight and welterweight. A well-balanced boxer-puncher, McGirt demonstrated how skill could overcome relentless pressure in his victory over Texas swarmer Frankie Warren to become champion at 140 pounds (while also avenging a previous loss). As a welterweight, McGirt upset the odds with a unanimous decision victory over the powerful Jamaican-born champion Simon Brown in November 1991. "They don't make many fighters like Buddy McGirt these days," boxing columnist Wallace Matthews wrote in Newsday in 1988. "McGirt … is a genuine throwback to the days when fighters believed in hard work, paying dues and fighting all comers, regardless of record or hype." This fight-anyone attitude was summed up in a comment McGirt made to New York Daily News columnist Bob Raissman in 1991: "I want to look back and say I fought them, I fought them all."
9. Floyd Patterson
[+] Enlarge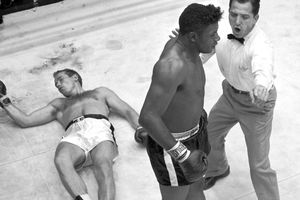 AP PhotoFloyd Patterson, right, possessed one of the most celebrated left hooks in boxing history.
Sadly, Brooklyn's Patterson is mostly remembered for two one-round knockout defeats against Sonny Liston and for the number of times he was knocked down. Patterson was a superbly gifted boxer, though, fast on his feet and with combinations that seemed to flow out of his so-called peekaboo style. He became the youngest heavyweight champion in history in 1956 when, at the age of 21, he knocked out Archie Moore. Patterson was also the first former heavyweight champion to regain the title. Small for a heavyweight -- Liston was too big and heavy-fisted for him -- Patterson might have been an all-time great light heavyweight. The heavyweight division, though, offered the big money. Still, Patterson made his mark, the high point being when he landed one of the most celebrated left hooks in heavyweight history to knock out Ingemar Johansson in their rematch.
8. Lou Ambers
Twice a world lightweight champion, "Herkimer Hurricane" Ambers might be one of history's most underrated fighters. He defeated great 1930s champions Tony Canzoneri and Henry Armstrong, although the referee took away an astonishing five points from Armstrong for low blows. This detracted from Ambers' achievement, but nevertheless he was twice fiercely competitive with the fabulous Armstrong in grueling 15-round fights (an unpopular loss and the disputed win). When Ambers won the title from Canzoneri he was an underdog, having been knocked down and badly beaten on points by the excellent champion 16 months earlier. In the rematch, though, Ambers "refused to take dictation from the champion," The New York Times reported, capturing the decision with "the whirlwind, swing-from-all-angles type of punching that earned him the nickname of the Herkimer Hurricane." When Ambers lost his title on a split decision against Armstrong in 1938, the winner looked like a loser, with Armstrong requiring 15 stitches in a split lower lip as well as suffering bumps and bruises. "Ambers is a pretty tough boy and has a peculiar style," Armstrong told reporters afterward. In the rematch in August 1939, Ambers earned a highly controversial unanimous decision. A crowd of 29,000 at Yankee Stadium saw what The New York Times described as "15 rounds of savage punching."
7. Riddick Bowe
[+] Enlarge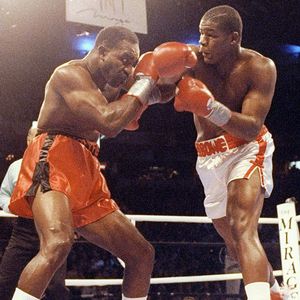 Holly Stein/Getty ImagesRiddick Bowe's shining moment came when he dethroned Evander Holyfield, left, in 1992.
Bowe's shining moment came when he defeated Evander Holyfield to become heavyweight champion in November 1992. The big Brooklyn boxer put it all together that night as he boxed, banged and battled through some stormy passages, knocking down and outlasting Holyfield in one of the great heavyweight title bouts. Sadly, even though Bowe easily knocked out veteran challengers Michael Dokes and Jesse Ferguson, he never recaptured the form of that glorious night in Las Vegas. He simply lost his focus, putting on weight and departing from the diligent training routine that had taken him to the top. "They took him on a tour -- Somalia, South Africa, to meet the Pope -- and I didn't see him for five months," Bowe's former trainer, Eddie Futch, told me in an interview for Boxing Monthly in 1996. "Things like that, I had to fight all the way. But I was the trainer, not the manager. There was nothing I could do."
6. Emile Griffith
Born in the Virgin Islands but a longtime New Yorker, Griffith is best known today for his tragic fight with Benny "Kid" Paret, when his Cuban opponent never recovered from Griffith's 12th-round barrage. Yet Griffith was a three-time welterweight champion, twice won the middleweight championship and claimed a junior middleweight title.
[+] Enlarge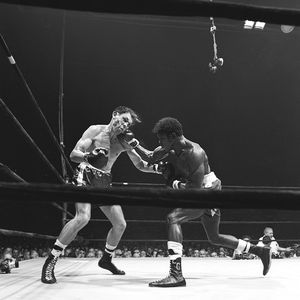 Herb Scharfman/Getty ImagesWide-shouldered and heavy-handed, Emile Griffith, right, was a handful to deal with, both at welterweight and middleweight.
Griffith was really just a welterweight when he defeated the bigger, stronger middleweight champion Dick Tiger in 1966, which was probably his finest victory. The fight was close and the decision unpopular, but Griffith became the first boxer to knock down the durable Nigerian, dropping Tiger with a right hand in the ninth round, and he won with superior boxing tactics, preventing Tiger from hitting him with consistency. It was as a welterweight, though, that Griffith was at his best. With his wide-shouldered physique, he was usually the stronger man in the ring at 147 pounds, as when he outclassed the Welsh southpaw Brian Curvis in London in 1964. "[Griffith] showed last night that he is a capable, cool-headed boxer who knows how to pace himself over the championship distance of 15 rounds," Britain's The Times newspaper reported. Although past his best at the age of 34, Griffith still managed to give the great Carlos Monzon a stiff tussle for the middleweight title in Monte Carlo in 1973. The crowd booed the decision. I covered that fight from ringside. "Griffith put up a great battle," I reported in the British weekly Boxing News. "There were times when he had Monzon distinctly worried. He frequently beat the champion to the punch and drove him back against the ropes."
5. Jake LaMotta
Famous for his six-fight rivalry with Sugar Ray Robinson, the "Bronx Bull" LaMotta fought all the top contenders of the 1940s and might even have been a bit past his best when he won the middleweight title in 1949.
[+] Enlarge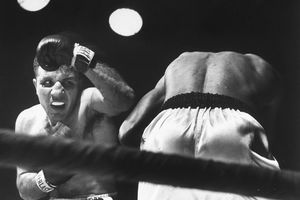 Hy Peskin/Time & Life Pictures/Getty ImagesJake LaMotta, left, wasn't the type of fighter to be easily persuaded into taking a step back.
In this era of fighters being matched protectively, LaMotta's career seems little short of astonishing. He went in with all the top African-American fighters of the day, skilled boxers and hard punchers who weren't able to get the big break, and usually beat them -- names such as Jimmy Edgar, Jimmy Reeves, Lloyd Marshall, Holman Williams, Bert Lytell, Nate Bolden, the fine welterweight contender Tommy Bell and Bob Satterfield, inexperienced at the time but dangerous nonetheless. It was the fights with Robinson that defined LaMotta's career, though. All the bouts were grueling and hard-fought, with LaMotta bigger and stronger, Robinson faster and far more skillful. LaMotta won only one of the contests, pounding out an upset, unanimous 10-round decision in Detroit in February 1943. Robinson was battered through the ropes in the eighth round and saved by the bell. "Where other foes had been floored or driven back by Robinson's punching power, LaMotta kept wading in, scoring decisive body blows that softened the sugar boy for a tremendous assault in the late rounds," The Associated Press reported. LaMotta's legacy was hurt by the well-documented fixed fight against Billy Fox, when he allowed his opponent to throw punches at him until the referee intervened. He always maintained that the only way he could get a title fight was by accommodating underworld characters who had influence in the sport at the time. He had many stirring fights, however, and his endurance, constant-pressure style and body punching proved too much for a string of accomplished, world-class fighters.
4. Carmen Basilio
A two-time welterweight champion who won and lost against Sugar Ray Robinson in middleweight title fights, Basilio came up the hard way, working on an onion farm in his hometown of Syracuse in upstate New York and fighting anyone put in front of him. Initially, Basilio seemed to be a tough but unexceptional fighter. As he persevered, though, he improved.
[+] Enlarge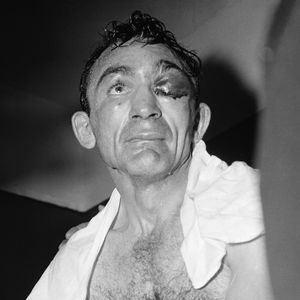 AP Photo/Ed MaloneyCarmen Basilio's cast-iron jaw ensured he'd almost always be the winner at the end of the night -- even if he didn't always look the part of a winner.
"I improved because I got a chance to fight better fighters … After a while, you find yourself making the right moves to slip punches or to feint a man off balance; you find yourself recognizing the other man's feints and countering certain punches very effectively," Basilio told Sport magazine in a 1957 interview. Basilio become one of the big attractions of the 1950s, durable and fearless with an aggressive, hard-hitting style, although he felt that his boxing ability was underrated. He possessed possibly one of the best left hooks in boxing history, inflicting Kid Gavilan's only knockdown in the Cuban Hawk's long career when he dropped the great welterweight champion with a left hook, The left hook also earned Basilio a spectacular knockout victory over the clever and crafty Johnny Saxton in the second round of their rubber match. Basilio's career was defined by the two fights with Robinson and also by two incredible wars against Tony DeMarco, each of which Basilio won in the 12th round after battling through heavy punishment against another sturdy left hooker. He fought with his left eye swollen shut from the sixth round onward in his rematch with Robinson but for several rounds seemed to be winning. After the fight, Robinson "had to be half-carried out of the Chicago Stadium" according to wire service reporter Jack Cuddy. "He's the toughest guy I ever fought -- and I'm too all-in to consider fighting him again now," a weary Robinson told reporters the next morning when asked about the prospects of a third meeting with Basilio. Much to Basilio's disappointment, there was to be no rubber match.
3. Gene Tunney
Tunney's "Long Count" rematch with Jack Dempsey in 1927 is one of the most famous fights in boxing history, and he is mostly remembered for this fight and his win over Dempsey in their first meeting. Yet even without including Tunney's fights with Dempsey, his career was remarkable. He lost only once in 86 bouts, to the great middleweight champion Harry Greb, a defeat that he avenged by outpointing Greb twice (plus a third win on a so-called "newspaper decision").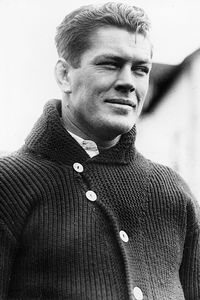 AP PhotoGene Tunney was equally adept with words as he was with his fists.
If ever the term "thinking fighter" applied to a boxer, it was to Tunney. Described in contemporary reports as the "Greenwich Village idol," and New York's first heavyweight champion, Tunney had intellectual leanings that were thought to be unusual in a boxer, while in the ring he was cool and calculating. The former marine showed his heart in the loss to Greb, sticking it out for 15 rounds despite a cut over the left eye and blood coming from his nose and mouth, so that, in the words of The New York Times reporter, he looked a "pitiable spectacle." Tunney gave the sort of quotes that were not normally associated with boxers. Prior to his last fight, against durable but plodding Tom Heeney, he told reporters: "Psychology has a lot to do, they tell me, with how a man performs in any activity. Psychology certainly favors me in this instance." A contemporary writer noted that Tunney fortified himself with an "armor of calmness." When Tunney stopped Heeney in the 11th round, it was "a conquest scored with all the method and system of the highly skilled workman," according to James P. Dawson of The New York Times, and this description is probably a fair summation of Tunney's boxing style.
2. Mike Tyson
Tyson might have been No. 1 on this list but for the knockout loss he suffered against Buster Douglas and the two defeats against Evander Holyfield, especially the ear-biting horror of the rematch. The image of Tyson now is that of the classic bully who would falter in the face of prolonged and determined resistance. Still, there is no denying that Tyson was an electrifying presence and one of the great early-round aggressors in ring history. He became the youngest heavyweight champion, aged just 20 years and five months, when he destroyed Trevor Berbick in two rounds in 1986. His spectacular knockout victories and air of menace made him look unbeatable, but he drifted away from the total dedication and discipline that characterized his rise and thus left a sense of greatness unfulfilled.
1. Benny Leonard
In the late 1900s and on through the Roaring '20s, Leonard was a superstar of the sport, a great lightweight champion who defeated the best of his era. It's not certain that Leonard could have beaten some of the modern-era champions, who might have fought at a faster pace and thrown more combinations -- names such as Henry Armstrong, Ike Williams and Roberto Duran -- but going solely by achievement it is hard to deny Harlem's Leonard his No. 1 New York rating.
[+] Enlarge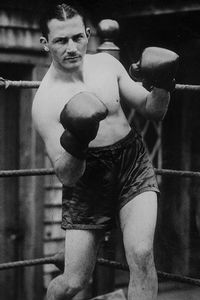 Topical Press Agency/Getty ImagesBenny Leonard took on all comers during his heyday and almost always emerged victorious.
At the time when Leonard was fighting he was considered a boxing master. He scored 183 victories and he was lightweight champion for nine years. When Leonard won the title in 1917 he did so by dominating and stopping Freddie Welsh, a veteran from Wales who was considered a great fighter with an almost impenetrable defense. Leonard stopped him with three knockdowns in the ninth round, and fans at the Manhattan Athletic Club were "wild with excitement" according to The New York Times. Leonard defeated all the top challengers of the day, including the dangerous left hooker Charley White and the hard-hitting southpaw Lew Tendler. Research shows Leonard to have been a resilient and hard-punching fighter as well as quick, clever and resourceful. He was under heavy pressure against White in the early rounds, even getting sent through the ropes in Round 5, but Leonard turned the fight decisively in his favor when he dropped the challenger with a big right hand in the ninth, knocking him down four more times in the same round to end the fight. A crowd of 60,000 saw Leonard win a unanimous decision over Tendler at Yankee Stadium in July 1923. "Leonard was the perfect fighting machine, keyed to a high gear, well oiled and prepared for the supreme test," The New York Times reported. "He was the master: Tendler was the student. There were many moments in the big struggle when it appeared that Tendler was a novice instead of a hard, tried veteran of the ring."
Graham Houston is the American editor of Boxing Monthly and writes for FightWriter.com.
Boxing
Graham Houston is the American editor of Boxing Monthly and writes for FightWriter.com.
MOST SENT STORIES ON ESPN.COM