Commentary
Middleweight pug says goodbye at 78
In a career that spanned 134 fights, Joey Giardello took on all comers -- and usually won. Don Stradley looks back on the career of the middleweight pug, who passed away on Sept. 4 at the age of 78.
Originally Published:
September 6, 2008
By
Don Stradley
| Special to ESPN.com
If you wanted to study a who's who of boxing from the 1950s and '60s, you'd need only a glance at the record of Joey Giardello.
During a career that spanned 134 fights, Giardello, who passed on Sept. 4 at 78, faced the best fighters of his era. Names like Billy Graham, Gil Turner, Ralph Dupas, Del Flanagan, Henry Hank, Gene Fullmer, Rubin "Hurricane" Carter, Sugar Ray Robinson, Johnny Saxton and others fill out his ledger.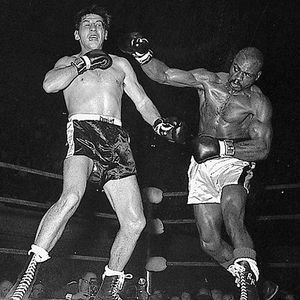 AP PhotoJoey Giardello, left, fought the best fighters if his era, including Rubin Carter.
Giardello's hand was raised in victory after 101 of those contests, but there were plenty of draws and bum decisions that made him think he'd remain forever on the fringes of success. At age 33, however, when most everyone in boxing considered him washed up, Giardello broke through, beating Dick Tiger for the middleweight championship. Tiger took the title back in a rematch, but for 22 glorious months, Joey Giardello stood at the top of his weight class. "I had to be a fighter," Giardello told Sport in 1964. "I like the glory of it. I loved to go into the ring and box. I liked the idea of trying to outsmart somebody. People think guys got to be dumb to be fighters. I say you've got to be smart to hang around a long time." Born Carmine Tilelli in Brooklyn, N.Y., on July 16, 1930, Giardello enjoyed all sports, but he especially loved fighting in the streets. He never approved of the press describing him as "up from the slums," but that was the image he had from the beginning. Giardello was once denied a boxing license in New York because of his association with unsavory characters. To that he responded, "Undesirables? Isn't that all there is?" "Because there are always rumors of mob involvement and his training regimen includes beer, macaroni, and not much running, Joey never quite gets the respect that his speed, savvy and superb boxing skills deserve," New York Times stringer Robert Lipsyte wrote of Giardello in a contemporary report. It also didn't help that Giardello's fights weren't always artistic masterpieces. His 1960 bout with Fullmer turned so ugly that referee Harry Kessler stopped the action and warned, "Remember, boys, you're in public." "Joey was my first champion," renowned trainer Lou Duva told ESPN.com. "Anytime there was a tough guy out there, promoters would say, 'Get Joey.' He fought everybody. He took short money sometimes, just to fight. And it was always a war." Unfortunately, it was not in Giardello's nature to train. "He'd rather play cards," said Duva. "Sometimes you had to throw bottles at him to get him in the gym." After his retirement in 1967, Giardello lived quietly in Cherry Hill, N.J., with his wife, Rosalie, and four children. He worked as a salesman, spent 22 years as an inspector in the state's Department of Weights and Measures, and actively raised funds for the St. John of God School for Special Children, which his son, Carmen, attended. In 1993, Giardello was inducted into the International Boxing Hall of Fame. Giardello took legal action against Universal Studios in 2000 for the depiction of his bout with Rubin Carter in the film "The Hurricane." Giardello was incorrectly portrayed as having been favored by biased white judges. In reality, Giardello beat Carter convincingly. The film depicted Giardello and the white boxing officials as villains in Carter's story. Giardello won the suit. When the film was released on DVD, it included footage of the actual fight, and comments from the film's director, Norman Jewison, to the effect that Giardello was no doubt a great fighter. "People didn't know how to handle Joey," said Duva. "When it came time for him to fight Tiger for the title, no one wanted to train him. He said, 'Let's do this together.' He had faith in me, and that helped my career. I'll never forget him. "He was a rough, dead-end kid. But if you were his friend, he'd go to hell for you. If you knew him, you had to love him. Whether you were a priest or a gangster, you loved him."
Don Stradley is a regular contributor to The Ring.
SPONSORED HEADLINES
MORE BOXING HEADLINES
MOST SENT STORIES ON ESPN.COM