Commentary
Sullivan-Corbett captured the imagination of fight fans
If John L. Sullivan could do anything better than fight, it was entertain a crowd. The Boston Strong Boy did both in a losing effort to James J. Corbett on Sept. 7, 1892. Don Stradley revisits the 19th-century megafight.
Originally Published:
September 7, 2008
By
Don Stradley
| Special to ESPN.com
Saloons and hotel lobbies in all major American cities were wired for bulletins the night of Sept. 7, 1892. People were anxious to hear news from New Orleans, where the heavyweight champion, John L. Sullivan, was defending the laurels against James J. Corbett.
No previous fight had captured the interest of Americans the way this one did. The New York Times wrote that on Broadway, "The line of humanity was like a clumsily-knotted thread, with the tangles where stereopticons flashed out the news." As reports filtered in, the crowds were forced to accept the unthinkable -- Sullivan was losing.
[+] Enlarge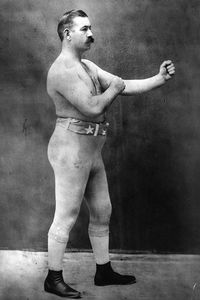 Hulton Archive/Getty ImagesLove him or hate him, John L. Sullivan knew how to incite reaction.
One listener with a vested interest, Thomas Rooney of Pennsylvania, had wagered all his money and property on Sullivan. When the bout was over and Corbett had won by knockout in the 21st round, Rooney committed suicide by poisoning himself. Of course, some were glad that The Boston Strong Boy had been thrashed. "Most people will rejoice," wrote the Oshkosh Daily, "and will hope that the bully who has been a terror to every community he has infested will now sink into the oblivion he so richly deserves." But regardless of how you felt about Sullivan, you couldn't deny that when he finally collapsed, an era collapsed with him. He had been one of the most famous men in the country for a decade. Only Buffalo Bill Cody, the Wild West star, rivaled Sullivan for headlines. Still, Cody needed hundreds of horses and riders to make his show work; Sullivan, America's first celebrity pugilist, needed only his fists and his controversial persona. While newspapers helped Sullivan become a giant figure in the American imagination, he'd also done his part by embarking on massive cross-country tours, offering large sums of money to anyone who could stay with him for four rounds. It was perhaps the most effective publicity gimmick in the history of boxing. "For the first time in their lives, Americans living in the sticks -- nearly four hundred thousand American farmers, miners, lumberjacks, artisans, and clerks -- laid down their hard-earned cash to see a real boxer in action," wrote Nat Fleischer in his biography of Sullivan. "They loved it, and the effect of their gratification on the growth and spread of boxing is beyond calculation today."
The man, the myth, the legend
Imagine being in one of those theaters where Sullivan performed. It's probably your first time in a theater, and you're surrounded by strangers, sometimes as many as 9,000, all gathered to see this vulgar Irishman with the heavy punch. After some preliminary acts -- a man juggling cannon balls, a wrestling match and a demonstration of exercise equipment -- Sullivan appears. Even if you've never seen a picture of Sullivan, you'd recognize him immediately in his emerald-green tights, brown fighting boots, and baggy white sweater. With his booming voice he welcomes the audience. To your surprise, though, he seems less than impressive when he begins lunging around with his sparring mates. His hands, encased in large white mitts, move artfully enough, but he's obviously working at half-speed. Then the challenge arrives. Up to the stage walks a strapping railroad man, or a hulking bricklayer, and you hold your breath as the real fighting begins. Money is on the line, so Sullivan turns up the heat. He actually makes noises as he fights, bellowing like a feral beast in the wilderness as he rushes forward. The legend now has breadth and dimension, color and sound. On most nights Sullivan needs only a few blows to send his challenger hurtling sideways into the orchestra pit. The thousands around you roar as if they, too, have become beasts in the wilderness. You're almost embarrassed by how moved you are at the sight of him. Then, as you try to calm down, Sullivan gives a ready-made farewell speech: "Thanks to all of you wonderful people for coming out to see me perform. Don't believe everything you read about me; I'm not as bad a fellow as they make me out to be. I plan to remain the champion of America for as long as I'm able to raise a fist. I remain your good friend, as always, John L. Sullivan." You cannot help but be utterly charmed. If by some chance you get to shake his hand, you will forever invite your friends and neighbors to "shake the hand that shook the hand of the great John L." It was in this manner that Sullivan's legend spread across America like an uncontrollable fire. Charles Willis Thompson, writing for the New York Times in 1925, suggested Sullivan was set apart by his naturalness. "Immensely satisfied that he knew it all, he was the true representative of the American spirit," Thompson wrote. "He honestly believed, for instance, that the United States could whip the whole Earth, and that no American was so good as an Irish-American." Sullivan's gaudy patriotism was accompanied by a dark side. There were constant run-ins with the law and enough booze-fueled moments to keep the papers filled with anecdotes on an almost weekly basis. Most damning of all was that while Sullivan was still legally married, he lived openly with Annie Livingston, a burlesque queen. Somehow, his sordid life endeared him to his followers by making him seem human. "He was undoubtedly the wickedest man of his time," wrote Fleischer. "And that took the curse off his greatness." Sullivan was a study in contradictions -- he'd spout racist bile that couldn't be printed today, yet he counted the great black featherweight George Dixon as a friend, and wrote an eloquent, heartfelt tribute upon Dixon's death. When drunk, Sullivan could be cruel -- his favorite targets were waiters and train conductors -- but if he heard an old widow was in need, he'd immediately come to her rescue. And as powerful as he was, he was riddled with physical frailties; even in his 20s he was troubled by strange illnesses and battles with obesity. By the time he fought Corbett, Sullivan was a month shy of his 34th birthday, already physically damaged by alcoholism and exhibiting symptoms of a mental breakdown. Nowadays, he'd be taken directly to a rehab clinic, not a boxing ring. Since the bout with Corbett had been "winner take all," a Madison Square Garden benefit was organized to put some money in John L's pockets. The outpouring of emotion was palpable. At one point, a riot nearly broke out with spectators rushing the ring. When the throng had been settled by police, Sullivan stood alone under a spotlight. He thanked everyone for their support, and wished Corbett luck. Then, for entertainment's sake, Corbett and Sullivan engaged in a few minutes of light sparring. The audience edged forward on their seats, wondering if Sullivan might lay one on Corbett's jaw. But when people shouted at Sullivan to land his right, he only smiled. His days as champion were over -- and he knew it. When the sparring ended, Corbett stepped aside to give the focus back to Sullivan. There was another rush of people toward the ring, and this time the police let the well-wishers do as they pleased, even as chairs were upturned and men were knocked down and trampled. A similar riot erupted when Sullivan returned home to Boston. To a group of people who knew well the words "No Irish Need Apply," Sullivan was an icon. The Boston Globe estimated that thousands pushed past a police barricade and crammed into the Park Street Depot. Sullivan, his face still swollen from Corbett's dazzling left jab in New Orleans, boarded a carriage that was to bring him to his sister's house. Awaiting Sullivan was a future filled with more public embarrassments, until one day he would sober up and give lectures about the evils of drinking. He would marry again, and enjoy a quiet life on a farm in northern Massachusetts until he died, prematurely old at 59. It's unfortunate that if Sullivan is remembered now, it's as a cartoonish relic from an ugly, hateful era. He doesn't always get the credit he is due for popularizing boxing, and tales of his fame are met with something bordering on disbelief. On that September afternoon at the Boston depot, however, there was no sign that the legend would ever dim. As Sullivan's carriage rolled out, a few hundred men and boys ran alongside it for nearly a mile, shouting and waving their hats. They still wanted to shake the hand that shook the world.
Don Stradley is a regular contributor to The Ring.
SPONSORED HEADLINES
MORE BOXING HEADLINES
MOST SENT STORIES ON ESPN.COM