Commentary
Staying loose in New York
How does Roy Jones unwind in New York? He catches a Knick game, of course! Boxing's biggest basketball fan checks in with Dan Rafael ahead of his clash with Joe Calzaghe.
Originally Published:
November 3, 2008
By
Roy Jones
| Special to ESPN.com
Roy Jones Jr. challenges light heavyweight world champion Joe Calzaghe on Saturday night (HBO PPV, 9 ET) at New York's Madison Square Garden in "Battle of the Superpowers," a showdown between two of boxing's biggest stars. Throughout his training camp, and up until fight night, Jones has been keeping in touch with ESPN.com's Dan Rafael and providing an exclusive blog.
After six weeks of training and conditioning at home in Pensacola, Fla., and six more weeks of heavy boxing training in California, Pa., the work is over and it's finally fight week. Just six more days until my fight with Joe Calzaghe. I can't wait.
[+] Enlarge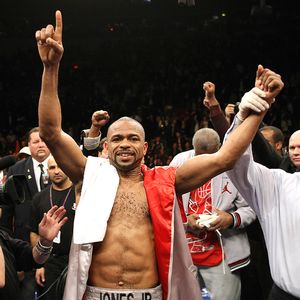 TIMOTHY A. CLARY/AFP/Getty ImagesRoy Jones is 5-0 in Madison Square Garden, including a 12-round decision win over Felix Trinidad in January.
We broke camp on Sunday and took the short flight into New York. It was a good day. We left about 8:30 in the morning and when we arrived at the airport in New York, HBO's "24/7" guys were waiting for me. They sort of ambushed me, but it's all good. I didn't have a whole lot to do on Sunday, but I went to see the Knicks for their shoot around and then stayed for their game against the Milwaukee Bucks. The Knicks lost 94-86, but they played a good game. They just got beat. They just need to get a little more together and get a little more leadership and they will be fine. They have some talent. You know I am a big basketball fan. If I wasn't a fighter, I would have wanted to be a basketball player and have spent time playing some semi-pro ball. I know a lot of the guys on the Knicks, so I am a fan. I know guys like Jamal Crawford, Nate Robinson and Zach Randolph. It was great to be at Madison Square Garden for the game, but being there also made me feel even more itchy for the fight because that's where it is. Walking around in the building makes you feel good but you also feel anxious being there. I know it's not my time just yet, but I was still excited to be in the building because I kept thinking, "It's almost time, it's almost time for the fight." Most definitely, I was thinking about that while I was there. I love fighting in the Garden. If you include my fights in the main arena, where I'll fight Joe, and the smaller Garden Theater that is also part of the building, I am 5-0 there. It's where I beat Felix Trinidad in January in my last fight. It's also where I unified light heavyweight titles by beating Lou Del Valle in 1998. In 1996, I fought there twice. I knocked out Bryant Brannon in the second round to retain the super middleweight title and I also knocked out Merqui Sosa in the second round. In my first fight there, I knocked out Jorge Vaca in the first round in 1992. The Garden is the Mecca of boxing and I plan on staying undefeated there. Breaking camp to go to the place where I'm going to fight is always exciting, especially when it's in New York. When you get where the fight is you know it's only a matter of time now. You get revitalized when you arrive where you are going to fight because now, after all the hard work and training, you know the fight is finally a reality. When I got to New York, I checked into the hotel and just relaxed for a bit before I went to the Knicks game. I like to keep my schedule the week of the fight pretty normal. I'm not one of those guys who likes to close everybody off. I like to keep the people around me who have been around me all through training camp. I watched the second episode of "24/7" on Sunday night. It was magnificent. The guys are really capturing the way my camp really is. They did a great job. On Monday, I'm going to do an open workout for the fans and press. I'll jump rope, hit the speed bag and shadowbox, but you don't want to do too much more than that. It'll be my way to shake out and give everybody a look at me. Besides that, I have a couple of radio interviews to do and another interview with the HBO guys for Thursday night's final episode of "24/7." I'm so glad fight week is here. But now that it's fight week, I just want to keep to my schedule and have things run smoothly. Now it's time for you to just lay back, relax, make weight and keep your hands fast. Then, come Saturday night, I'll go win the fight and give the fans something to remember.