Mosley fires father from corner as he looks to fight with Margarito
Updated:
November 6, 2008, 10:43 AM ET
By
Dan Rafael
| ESPN.com
For the second time in his career, former three-division world champion Shane Mosley has fired his father, Jack Mosley, as his trainer, saying that they are "just not on the same wavelength."
"Me and my father are getting to a certain point where it just doesn't feel the same anymore. It's hard to describe," Mosley said Tuesday night.
[+] Enlarge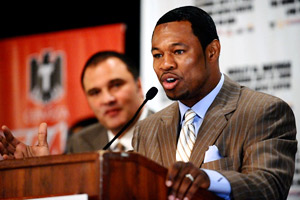 Tom Hogan/Golden Boy Shane Mosley, shown earlier, has decided to fire his father for a second time.
Mosley said he broke the news to his father in recent days and had not yet hired a replacement. However, Mosley said he wants to hire Nazim Richardson, who trains star light heavyweight Bernard Hopkins, whom Mosley is close to because of their ties to Golden Boy Promotions. "I've talked to [Richardson] on several occasions," Mosley said. "I know what his style is and he has a pretty good style. He's good during the fight and at solving different styles. I've been in camp when he's been training Bernard, so I've been around him. He knows what he is doing." Whomever trains Mosley, he said he expects his next fight to take place Jan. 24 on HBO against welterweight titleholder Antonio Margarito in what would be the first major bout of 2009. "I love that idea and am very happy about that fight. I have agreed to it," Mosley said. "[Golden Boy CEO] Richard [Schaefer] and me spoke about the fight and I said yes and agreed to the terms, so the ball is in Margarito's and Top Rank's court. I am ready for that fight. I can't wait. Now it's up to Margarito to work his deal out with his promoter. I'm looking to fight the best out there and he's considered the best at welterweight, a big strong guy, a terror at 147." Mosley, who has moved between the 147-pound welterweight and 154-pound junior middleweight divisions, said he'll go back to 147 to challenge for Margarito's title. "I agreed to do it at 147," he said. "I'm already down to about 157 just messing around." But he'll enter the proposed fight without the man who taught him how to box. Jack Mosley trained his son during a standout amateur career and together they soared to the top of professional boxing as Shane Mosley became a dominant lightweight champion and also won the welterweight and junior middleweight titles, twice beating Oscar De La Hoya along the way. In 1998, father and son were honored as fighter and trainer of the year, respectively. But the strain of a lopsided loss to Winky Wright in March 2004 fractured the relationship and they parted ways, although Jack Mosley was still at ringside for his son's fights. After four fights apart, Mosley rehired his father for his July 2006 rematch with Fernando Vargas and it seemed as though they had never split. Usually fighters make changes in their corner after losing, but Mosley is coming off a memorable 12th-round knockout victory against Ricardo Mayorga, stopping him in spectacular fashion with one second left in their Sept. 27 fight. However, Mosley said he started thinking about making a change during his training camp. "In the training camp we weren't meshing on a lot of different things," he said. "I don't know what it is. Maybe things are just stale, but we were not clicking on all cylinders. Just overall, we are getting stale with each other in training and we are just not clicking the right way." Shane Mosley said when he told his father about what he wanted to do, Jack Mosley suggested that they bring in an assistant to work with them, but Shane said he didn't think that would work. "I don't think he works too good with other people," Mosley said. "My father is a great trainer but I think we're different. If I brought in an assistant trainer, I don't think that would work well with him. My father has a pretty big ego and he has to do things his way sometimes." Mosley said he and his father have been able to separate their business relationship from their personal one before and that they would be able to do it again. "You have to be able to separate the two things," Mosley said. "I don't have a problem separating my father from my trainer. He seemed to be pretty understanding. He'll always be my father and it's not like I'll never go back to him [as a trainer]. You never know." Mosley emphasized that he made the decision on his own without input from Schaefer or his wife, Jin, who has been outspoken about her husband's career and whom many blamed for the first split with his father. "Jin had nothing to do with it. I didn't talk to her about it," he said. "I told her and Richard what I was going to do."
Boxing
2013 BWAA Nat Fleischer Award winner for excellence in boxing journalism
ESPN.com boxing writer since 2005
Five years at USA Today
SPONSORED HEADLINES
MORE BOXING HEADLINES
MOST SENT STORIES ON ESPN.COM