Commentary
Raw deal gives Holyfield false hope
Evander Holyfield might've displayed valor and renewed vigor in dropping a close decision to Nikolai Valuev on Saturday, but Brian Doogan wonders whether his strong showing will do more harm than good.
Originally Published:
December 21, 2008
By
Brian Doogan
| Special to ESPN.com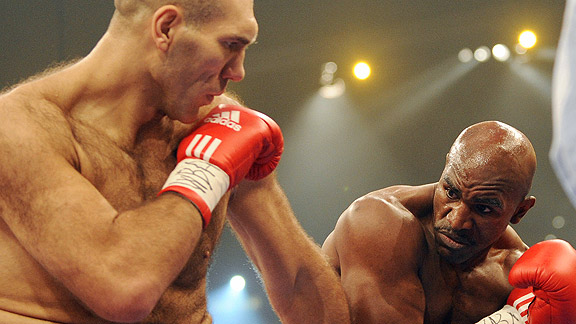 Damien Meyer/AFP/Getty ImagesNearly toppling Nikolai Valuev will do Evander Holyfield, right, no favors in the long run.
ZURICH, Switzerland -- Three judges decided that 46-year-old Evander Holyfield lost by a majority points decision in his bid to claim the WBA heavyweight title from Nikolai Valuev. This and the almost reverential chants from 12,500 fans of "Hol-y-field, Hol-y-field," which echoed throughout the Hallenstadion in Zurich, represented the most dangerous verdict for a man whose delusions are verging on the deranged. If Holyfield required any further reason to continue with his futile, hazardous efforts to regain a heavyweight championship belt, this, unfortunately, was it. Valuev, the 7-foot giant from St. Petersburg, Russia, was steady but unspectacular while Holyfield's more eye-catching combinations could have created the illusion that he was as close to pulling off an upset as two of the three official judges saw it. Guillermo Perez Pineda scored the bout 114-114 and Mikael Hook had Valuev winning only 115-114. Pierluigi Poppi's interpretation of 116-112 was closer to the mark in this ringsider's point of view, but Holyfield was able to cling to the chorus of acclamation which followed his valiant performance. Incredibly, if he had won the last round on the judges' scorecards, the 10-1 underdog would be the new WBA titleholder. "I thought I did everything necessary to win," Holyfield said. "I followed the game plan, I didn't get drawn into a toe-to-toe slugfest and I kept him off-balance for much of the fight. I feel I won more rounds than he did. "My goal is to be heavyweight champion of the world again and that has not been changed by this fight. I know who I am. Unfortunately, I fought with injuries in my previous fight [a wide points loss in October 2007 against then WBO titleholder Sultan Ibragimov] but I didn't complain or say anything about it. Now I'm healed and here I am at 46 and still doing it." The close decision only served to further stoke Holyfield's competitive drive and give him reason to believe he still has a shot at clinching a title. "I have a history of proving people wrong and, although I didn't get the decision tonight, I'll make the adjustments that are necessary and go again for another belt," Holyfield said. "Hopefully, I can get another title shot." The old warrior summoned enough skill and spirit out of his relic of a body to present serious problems for the plodding giant. In reality, though, this was an indictment of what heavyweight boxing is today rather than a marvel.
[+] Enlarge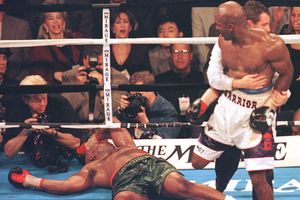 AP Photo/Lenny IgnelziIt's hard to imagine the Evander Holyfield of 10 years ago struggling with an opponent like Nikolai Valuev.
Would Joe Louis not have been ostracized if a 46-year-old Jack Dempsey returned from retirement and gone the distance with him? Ditto Sonny Liston, if a 46-year-old Joe Louis had done the same against him? Holyfield gloried in a display which would have been anathema to the Real Deal in his heyday. More than a decade ago, Holyfield (who was outweighed by almost 100 pounds) would have stood toe-to-toe with Valuev and he would have toppled the giant. Lasting the course by gliding from side to side and darting in and out was victory enough for the veteran challenger. Holyfield's nimble footwork and lateral movement negated Valuev's jab and enabled him to set a series of ambushes with fast, accurate hooks to the head and body. A lazy left jab by the Russian was punished by an overhand right to the jaw by Holyfield in the opening round. When he landed another right to Valuev's chin, the possibility of a Holyfield upset became tantalizingly real. It was not that Holyfield was doing so much; it was more the case of Valuev doing so little. This remained the case in Round 2 as Holyfield stayed on his toes, moving left and right around the circumference of the ring and stepping in only occasionally to deliver short, sharp bursts of punches which accumulated points, though they did little significant damage. Valuev was nailed by several right hooks to the body followed by left hooks to the jaw before Holyfield pulled out of range again. Of course, if Holyfield was on his bicycle, Valuev showed all the dexterity of a four-by-four trapped in setting cement. The action was increasingly tedious with Holyfield reliant on his brief, sporadic attacks and Valuev content to follow him around the ring and throw the occasional jab. Holyfield's punches were more eye-catching, but as the rounds wore on, Valuev began to produce the more effective work.
[+] Enlarge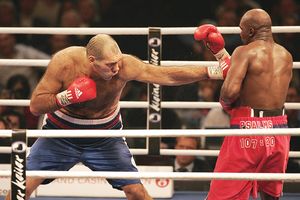 Dean Treml/Getty ImagesNikolai Valuev's jab dicated the pace of the later rounds.
By the sixth round, Valuev's jab had begun to exact a toll on the veteran challenger. The spring in his step was fading rapidly and he resorted to desperate, flailing right hands which missed their target by a distance. Valuev commanded the exchanges with an economy of straight, powerful blows and twice in the ninth round Holyfield lost his balance, having been struck by left jabs timed to perfection. Drawing on rich experience gleaned from a remarkable 24-year career, Holyfield escaped serious harm, but when they traded blows with rare abandon in Round 9, he clearly came off second best. Despite landing a left hook to Valuev's jaw, Holyfield lacked the power of his glory years and the Russian maintained his grim, relentless momentum. "Holyfield did very well and I'm proud to have fought him, but I know that I won the fight," Valuev said. Promoter Wilfried Sauerland suggested that a draw would have been the fairest result. "Holyfield won the first six rounds and Valuev won the last six," Sauerland said. "But Holyfield, as the challenger, did not do enough to win the fight." Alas, Valuev did not do enough to disabuse Holyfield of the notion that he still has a future in heavyweight boxing, the sport's tired old circus act.
Brian Doogan is a sportswriter for The (London) Sunday Times.