Commentary
Adamek took it to Banks in style
Polish faithful have something to cheer about
Originally Published:
February 28, 2009
By
George Kimball
| Special to ESPN.com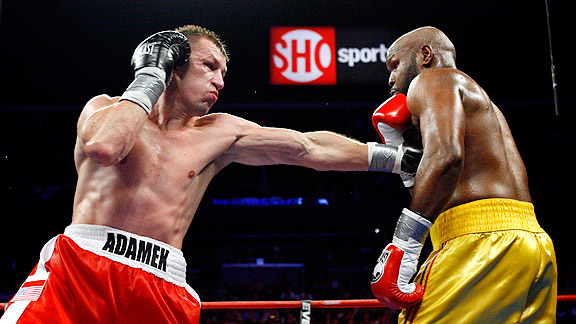 Ed Mulholland/FightWire ImagesIt was all downhill for Johnathon Banks after Tomasz Adamek decided to let his hands go.
NEWARK --- Hours before fight time the festivities were in full swing on the plaza across the street from the Prudential Arena. There were soccer chants from roaming gaggles of red-and-white-clad boxing fans.
No, Gdansk, Poland, has not replicated itself on the banks of the Passaic, although when the cruiserweight champion fights in Newark it sometimes seems that way.
And on Friday night, the object of their affection gave them even more cause for celebration. Two and a half months after wresting the IBF title from Steve Cunningham in the same building, Tomasz Adamek (37-1) convincingly defended it, interrupting what had been a modestly entertaining fight with an eruption of fury to batter previously undefeated Johnathon Banks into submission at 1:30 of the eighth round to solidify Adamek's claim to supremacy in the 200-pound division.
Banks, who had been booed every step of the way from his dressing room, must have felt a bit like he was about to be served up to the lions in the Coliseum. Inside the arena there were people wrapped in red flags and red sashes, wearing red blazers, red sweaters, red sweat suits and red soccer jerseys. They looked, in short, a lot like the similarly clad mob that used to accompany Andrew Golota on his heavyweight forays a dozen years earlier.
"Totally different crowd," said Pat English, the Main Events attorney who has promoted both Adamek and the Foul Pole. Golota's menacing army, best recalled for their head-cracking rampage through Madison Square Garden in the wake of their man's 1996 disqualification against Riddick Bowe, has long since disbanded. It has been replaced on the boxing scene by the younger and decidedly more cheerful band that has cast its lot with Adamek.
Although Banks had won each of his 20 pro contests, his chin was somewhat suspect in the minds of those who recalled his 2006 fight with Eliseo Castillo across the river in New York. On that night, against an ordinary opponent, Banks was down twice and was all but out in the first round before rallying to stop Castillo in four rounds.
Banks started much better this time, controlling the action as he carried the first on all three scorecards. And while Adamek looked occasionally confused in the early going, he insisted later that he was merely biding his time.
"My plan was not to be stupid and go forward, but just be patient," Adamek said. "I could tell they'd been studying my fights by the way he was blocking my body shots."
[+] Enlarge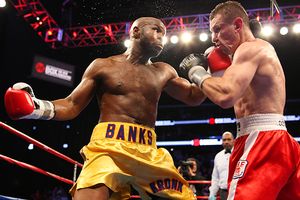 Tom Casino/ShowtimeLazy right hands ultimately spelled doom for Johnathon Banks.
Adamek contented himself by sticking out his left hand, and while that weapon didn't do much damage, he did manage to keep Banks at a respectful range, even when he was merely poking the Detroit fighter's chest with the jab.
Trailing on two scorecards going into the sixth, Adamek cast off his caution and began to wade into Banks, accepting the attendant punishment required to mete out a blistering two-handed attack of body punches. The tactic appeared to markedly slow Banks down.
"Those body punches weren't hurting me at all," Banks insisted later, "but I guess I did allow him to seize the momentum there."
Banks began the eighth by landing the best punch of the night, a hard right that send Adamek staggering backward, but failed to capitalize on the damage, allowing the champion just enough time to gather his wits about him. Still eager, Banks moved in to throw a rather awkward left-right combination. The latter punch was still hanging in midair when Adamek stepped inside it and fired a left straight up the middle that caught Banks squarely on the jaw and knocked him head over heels.
Although Banks got up, he was mortally wounded. Adamek drove him to the corner with a fusillade, and then, with Banks' arms dangling helplessly, banged two hard punches off his unprotected head. Eddie Cotton was already rushing in to stop it when Adamek administered the coup de grace, a roundhouse left hook that spun Banks' head around and sent him sliding down the ring-pad until he rested on the canvas.
The red-and-white army erupted with delight even as the ringside physician rushed to Banks' side. (Fortunately, the only lasting damage was to his pride.)
The Adamek fan club remained in the stands long after the fight had ended. Before the ring was cleared, the winner joined the crowd in a heartfelt rendition of the Polish national anthem.
George Kimball, who writes for the Irish Times and Boxing Digest as well as ESPN.com, won the Nat Fleischer Award for Excellence in Boxing Journalism in 1985. He is the author of the widely acclaimed new book "Four Kings: Leonard, Hagler, Hearns, Duran and the Last Great Era of Boxing."
SPONSORED HEADLINES
MORE BOXING HEADLINES
MOST SENT STORIES ON ESPN.COM