Ed Mulholland/FightWireImages.com
Pavlik getting back on the horse
Middleweight champion Kelly Pavlik says he rarely thinks about last Oct. 18 unless people ask him about it. That, of course, happens a lot these days.
On that night, everything that could possibly go wrong did go wrong for Pavlik. A heavy favorite, Pavlik faced Bernard Hopkins in a 170-pound catch weight fight, so his middleweight championship was not at stake. Still, Hopkins, who was 43 and thought by many to be over the hill, gave Pavlik, 26, the lesson of a lifetime.
He beat and battered Pavlik for 12 rounds, winning a virtual shutout in one of the most dominating performances of his Hall of Fame-worthy career.
Pavlik (34-1, 30 KOs) was left to pick up the pieces, which he'll try to do Feb. 21. That's when he headlines Top Rank's split-site pay-per-view card from his hometown of Youngstown, Ohio, where he'll return to 160 pounds and defend the middleweight title against mandatory challenger Marco Antonio Rubio (43-4-1, 37 KOs), a 28-year-old from Mexico who earned his shot by outpointing Enrique Ornelas in a title eliminator on the Hopkins-Pavlik undercard.
Like Pavlik, Miguel Cotto will also try to rebound from his first loss -- to Antonio Margarito -- by facing Michael Jennings for a vacant welterweight belt at New York's Madison Square Garden in the co-main event of the four-bout pay-per-view.
Pavlik will have overwhelming fan support at the sold-out Chevrolet Center, which will be packed with 7,500 fans giving him all the support he could ask for. Pavlik might have lost his last fight, and lost badly, but the Youngstown faithful still love him, and that means a lot to him.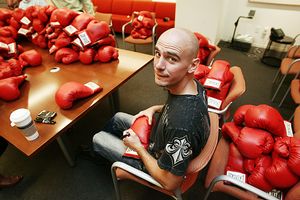 Chris Farina/Top Rank
Kelly Pavlik can count on the support of his faithful fans when he returns to Youngstown.
"The support is amazing," Pavlik said. "To go back home and fight and give back to the fans who traveled all over the place, to Las Vegas, to Atlantic City, is great. I have lots of support and it makes me feel good. Some people have jumped off the bandwagon, but not the real fans. The fans deserve to have a world title fight in Youngstown and it's good for me to fight at home."
Pavlik sounds as though he's already put the loss to Hopkins behind him. He says it took him about a week to get over it.
"My mind-set was to go back to the gym, throw that in the past and work hard," Pavlik said. "Every fighter goes through it. Great fighters get through it. That's what I'll do and put on a good show Feb. 21. The loss doesn't really bother me much anymore. People bring it up, which is when I think about it. But I just throw it out the window. It happened. It's over. It's something that sucks, that you have to lose, but it's not the end. I'm back at middleweight."
Jack Loew, Pavlik's trainer, also sounds like he's put the loss behind him. Like Pavlik, Loew said he doesn't even really think about it much. He said he's never watched the video of the fight and never will.
"It's over," said Loew, whose one adjustment from the Hopkins training camp is to run a more private training camp instead of having it be so open to fans and media as it was for Pavlik's recent fights. "Kelly and I didn't even talk about it much. We have only talked about what we will do for this fight, which is the only thing that matters. Hopkins is not in my mind. We're coming off a loss and Rubio is sitting there with nothing to lose. Maybe this is his only opportunity for a world title. We know he's dangerous because we have a hungry fighter with nothing to lose in front of us. So for us, it's full speed ahead. It's a very serious training camp. Mentally, Kelly is 100 percent ready. We know back-to-back losses would be devastating."
Top Rank promoter Bob Arum has dealt with numerous fighters coming off of losses and he said it sounds to him like Pavlik and Loew have dealt with it well.
"It seems like they've overcome that, but who knows," Arum said. "To talk to them it's like it never happened, but it happened. What they are really thinking, I don't really know, but the vibe I got from them was good."
Before the fight with Hopkins, it was no secret Pavlik was struggling with an elbow injury and had been ill throughout the week before the fight.
Pavlik, however, refuses to make that an excuse.
"I'm not making excuses, I lost," he said. "But I was just lethargic and there was nothing I could do. I am not going to harp on it. I'm moving on."
Loew said he takes the blame for not pulling Pavlik out of the Hopkins fight when he was so sick.
"No excuses, but I made the biggest mistake letting the fight go on," Loew said. "I should have stepped up and called the fight off. I'll never let a fighter go into the ring again unhealthy. But we did fight and we lost and we accept it as a team. Now, we're moving on as a team."
Lightweight tournament?
Golden Boy promotes lightweight champion Juan Manuel Marquez and his challenger, former titlist Juan Diaz, who will meet in a major fight Feb. 28 (HBO) in Diaz's hometown of Houston.
Nate Campbell, who owns two belts, defends them against South Africa's Ali Funeka on Feb. 14 (HBO). Campbell will be a free agent after the fight and has talked to Golden Boy about a deal.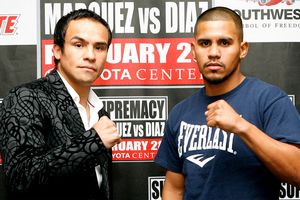 Hoganphotos/Golden Boy Promotions
Golden Boy is interested in organizing a lightweight tournament with the finalist getting a crack at the winner between Juan Manuel Marquez and Juan Diaz.
So while the obvious fight would be the Marquez-Diaz winner against the Campbell-Funeka winner, Golden Boy Promotions CEO Richard Schaefer is looking further down the road in an effort to line up potential challengers. He'd like to have several of the lightweights Golden Boy promotes, and perhaps open it up to others as well, involved in an eight-man tournament with the winner claiming a jackpot on top of his purse. The winner, he said, would also be in position to challenge for a title.
"What we would like to do, and what [matchmaker] Eric [Gomez] is working on, is there is a group of lightweights we would like to match up in an elimination tournament with a jackpot at the end. We would do quarterfinals, semifinals and a final and put together a tournament using fighters like Jorge Barrios, Michael Katsidis, Joel Casamayor, Jesus Chavez, [Carlos] Hernandez, some of those names," Schaefer said. "Besides the jackpot to the winner of the tournament, he'd be in line to get some sort of title shot or get into a big fight, for example, with the winner of Marquez-Diaz. I wouldn't rule out Nate Campbell either, but I don't want to speak for a fighter I don't have."
Schaefer admits several of the fighters are in the late stages of their careers but he believes "they're exciting and the winner could come out as a serious challenger to either Campbell or the Marquez-Diaz winner. We'd like to do it over about six months. I want to talk to ESPN or Versus about [televising] it."
Olympian update
Middleweight Shawn Estrada (2-0, 2 KOs), the 2008 U.S. Olympic middleweight, underwent arthroscopic surgery on his right shoulder last week in Los Angeles. Promoter Dan Goossen said Estrada should be ready to return in April.
"I've been through a lot in my life in a very short period and this is just another one of life's lessons and obstacles," Estrada said. "I know how to deal with it mentally and physically and because of that I will come back stronger than ever. By the time I get back into the ring, I will definitely be ready to wreak havoc again."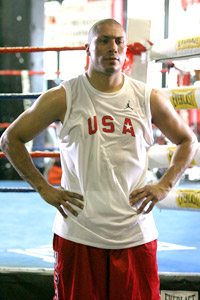 AP Photo/Mary Altaffer
Shawn Estrada is chomping at the bit to get back in the ring.
His teammate, Cleveland featherweight Raynell Williams, has decided to remain amateur and pursue a spot on the 2012 Olympic team that will compete in London, USA Boxing announced.
Williams had explored turning pro and spoke with managers and promoters before deciding to retain his amateur status. Two other team members -- flyweight Rau'shee Warren and super heavyweight Michael Hunter -- had previously announced their intentions to remain amateur. Hunter did not qualify to compete in Beijing.
"I felt like I didn't get a fair decision in Beijing, and I want go back one more time," Williams, 19, said. "I hope to get the opportunity to compete in two Olympic Games and my teammates, Rau'shee and Mike, helped convince me to stay amateur."
Dan Rafael is the boxing writer for ESPN.com.
QUICK HITS

Valero
• Ex-junior lightweight titlist Edwin Valero signed a three-year contract with Top Rank, chairman Bob Arum told ESPN.com. He also said Valero (24-0, 24 KOs) received an undisclosed signing bonus. Venezuela's Valero, 27, who is moving to lightweight, faces Antonio Pitalua for an interim title (soon to be a full title once, as expected, Manny Pacquiao vacates) in April in Mexico after Ricardo Maldonado won a purse bid for $211,000, beating a $197,777 bid from Italian promoter OPI 2000 and Golden Boy's $151,000 bid. "We're going to help Maldonado put the fight on in Mexico," Arum said. "Hopefully, Valero wins and then we'll do some defenses in Mexico and Texas, where he's licensed. Then we'll explore getting him licensed in other jurisdictions." Although Valero was licensed in Texas last year, he had been unable to box in the U.S. for several years because of a suspension in New York due to a head injury unrelated to boxing suffered years ago. "Ultimately, the goal is to make Valero a viable opponent for Pacquiao, assuming Pacquiao beats Ricky Hatton, even if we have to do that fight in Texas," Arum said. "Valero is exciting. He knocks everyone cold." Arum said he's also interested in Valero against Houston's Juan Diaz, if he beats Juan Manuel Marquez Feb. 28. "Diaz and Valero in Houston would be huge," he said.

V. Klitschko
• There will be American television coverage of Vitali Klitschko's heavyweight title defense against mandatory challenger Juan Carlos Gomez on March 21 in Stuttgart, Germany. The bout will air live on ESPN at 5 p.m. ET, ESPN boxing programming director Doug Loughrey said. Klitschko's team had been approached about putting the bout on pay-per-view in the United States, but elected to take less money for far wider exposure on ESPN.

Wright
• Winky Wright (51-4-1, 25 KOs) will end a 21-month layoff and face Paul Williams (36-1, 27 KOs) on April 11 (HBO), Golden Boy CEO Richard Schaefer told ESPN.com. "We have agreed on all terms and are finalizing the paperwork with [Williams promoter] Dan Goossen," Schaefer said. The fight will take place at 160 pounds, meaning Williams will move back up to middleweight. Two fights ago, the former welterweight titleholder won at middleweight before dropping down to junior middleweight, where he thrashed Verno Phillips in November to claim an interim title. Heavyweight Cristobal Arreola is likely to open the HBO telecast against an opponent to be determined. The site hasn't been determined, but Schaefer said possibilities are the Nokia Theater in Los Angeles or Mandalay Bay in Las Vegas.

W. Klitschko
• Heavyweight titleholder Wladimir Klitschko continued to move closer to a showdown with former cruiserweight champion David Haye of England. They are negotiating a June 20 fight, which would be televised by HBO in the U.S. and take place at Stamford Bridge Stadium, an outdoor arena in suburban London that seats 42,500. Haye has been calling for Wladimir or his brother, fellow titleholder Vitali Klitschko, for months. Wladimir is unruffled by Haye's tough talk, saying at a news conference this week, "Haye can say whatever he wants. I have the experience of knocking out guys who promised to turn my birthday into a funeral. His behavior is inappropriate. I will give my reply in the ring. He's in for a rough ride."

Peterson
• When Juan Manuel Lopez defends his junior featherweight belt in his native Puerto Rico on April 25 against Gerry Penalosa on HBO's "Boxing After Dark," the opening bout was supposed to be featherweight titlist Steven Luevano against Bernabe Concepcion. However, that bout probably will shift to the Ricky Hatton-Manny Pacquiao May 2 pay-per-view undercard, Arum told ESPN.com. The reason: Concepcion, of the Philippines, is now training with Pacquiao trainer Freddie Roach, who will be unable to leave Pacquiao for a few days so close to his fight. Arum said he hopes to match his fighter, Lamont Peterson (26-0, 12 KOs), with France's Willy Blain (20-0, 3 KOs) for a vacant interim belt on the April 25 Lopez-Penalosa card. HBO still has to approve it.

Holt
• When Timothy Bradley and Kendall Holt meet to unify junior welterweight titles on April 4 (Showtime), they'll do so north of the border. Bradley promoter Gary Shaw and Top Rank's Todd duBoef, who promotes Holt, told ESPN.com that the Bell Centre in Montreal will host the fight. DuBoef cut a deal with Montreal promoter Alexandre Choko, who wanted to bring a major fight to the city. Top Rank and Shaw will put on a televised co-feature to be determined, but Choko will use local draws to round out the undercard and help bring in more fans, duBoef said.

Adamek
• Cruiserweight champ Tomasz Adamek's first defense will come against Johnathon Banks on Feb. 27 (Showtime) at the Prudential Center in Newark, N.J. Adamek (36-1, 24 KOs), who is from Poland but lives in Jersey City and has a big following in the Polish community, won the title in the same building in December when he scored three knockdowns in a slugfest with Steve Cunningham. The card will be the first in Main Events' new "Brick City Boxing Series" at the arena. Banks (20-0, 14 KOs), who took the fight when B.J. Flores turned it down, had an opportunity to face Enzo Maccarinelli for a vacant belt for far more money. But that bout had been postponed several times and he opted to fight Adamek in the U.S. rather than travel to the United Kingdom, according to trainer/manager Emanuel Steward.

Duddy
• Top Rank made official this week the two other televised bouts that will be part of its Feb. 21, split-site, pay-per-view card, headlined by middleweight champ Kelly Pavlik defending against Marco Antonio Rubio in Youngstown, Ohio, and Miguel Cotto facing Michael Jennings for a vacant welterweight belt at New York's Madison Square Garden. The two other bouts on the PPV, which will take place on the New York portion of the show, will feature junior middleweight John Duddy (25-0, 17 KOs), the popular Irish brawler, taking on Matt Vanda (39-8, 22 KOs), and rising lightweight contender Anthony Peterson (28-0, 19 KOs) battling Edner Cherry (24-6-2, 12 KOs). Duddy, who has a huge New York following, will fight for the first time since a nasty split with former promoter Irish Ropes.

Ward
• Super middleweight prospect Andre Ward (17-0, 12 KOs), the 2004 U.S. Olympic gold medalist, faces Henry "Sugar Poo" Buchanan (17-1, 12 KOs) on Feb. 6 (Showtime) in Lemoore, Calif. It will be Ward's second bout since suffering a knee injury last summer. Ward promoter Dan Goossen had discussed a possible showdown between Ward and Jermain Taylor for March, but when those talks died, they went ahead with the Buchanan bout.

Gamboa
• Hot featherweight prospect Yuriorkis Gamboa is staying very busy. The 2004 Cuban gold medalist, who stopped Roger Gonzalez on ESPN2 on Jan. 9, returns to "Friday Night Fights" against an opponent to be named on Feb. 20 in Fort Lauderdale, Fla. The card also features junior middleweight Richard Gutierrez versus Jesus Gonzalez, lightweight prospect Breidis Prescott, who knocked out Amir Khan last year, and junior middleweight prospect Erislandy Lara, a Cuban defector and 2005 world amateur champ. If the dynamic Gamboa (13-0, 11 KOs) comes out clean, he'll headline April 3 on Showtime's "ShoBox," possibly against Jose Rojas for an interim title.

Bute
• In his first defense since barely escaping a 12th-round knockout by Librado Andrade in October, super middleweight titlist Lucian Bute (23-0, 18 KOs) returns to defend his title for the third time in front of his hometown fans at the Bell Centre in Montreal on March 13 against former title challenger Fulgencio Zuniga (22-3-1, 19 KOs). Showtime, which aired the Andrade fight, will also carry the Zuniga bout. Zuniga lost a decision to Denis Inkin for a vacant belt in September, but rebounded with a win in his native Colombia in November. "I will go to Canada to fight Bute in an all-action boxing war," Zuniga said. "I will pressure Bute from the first round until he says 'no mas.'"
QUOTABLE

Campbell
"I'm a New Age guy that likes to be on the Internet. Then I went on the Web and read what Ali Funeka said he's going to do to me on Valentine's Day. He said he sees nothing special in me. He said he knows me like the back of his hand. That's rhetoric, but he's going to pay for it. I'm going to beat him like he tried to steal something from me." -- Unified lightweight titleholder Nate Campbell, on his Feb. 14 (HBO) opponent, Ali Funeka of South Africa.
QUOTABLE

Darchinyan
"It's the 'Year of the Ox,' how appropriate that I'm fighting Jorge Arce, who is as dumb as one. I'm going to blow him away like a Santa Ana wind. On Feb. 7, I'm going to teach Arce just how interim his title really is. What's black and blue and red all over? Jorge Arce by Round 3 --assuming he lasts that long." -- Junior bantamweight titlist Vic Darchinyan, in his trash-talking prime as he prepares for his Showtime bout with interim titlist Arce.