Discussion
Fantasy predictions 2009: Cedric Benson runs for 1,000?
Updated:
January 4, 2009, 11:43 PM ET
By
Nate Ravitz
| ESPN.com
What does 2009 hold in store for the world of fantasy sports? We surveyed our team of fantasy analysts and editors for the answers. Check out all twelve completed surveys by using the drop-down menu. (Some surveys were abridged to protect the innocent.)
Your name: Nate Ravitz
But you wish to be referred to as: No, not the jerk. The other guy.
You're a shameless, unabashed fan of: Me
But we shouldn't hold it against you because: It'd be an ...

Read full story
ESPN.COM'S LOOK AT THE YEAR AHEAD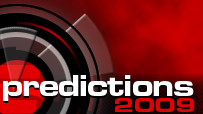 What to expect across the sports spectrum in 2009? ESPN.com offers things you might see coming, some you won't and some that will just flat-out surprise. Predictions to consider:
PRO SPORTS
COLLEGE SPORTS
MORE SPORTS