Discussion
"I'm more of an artist"
With all his athletic gifts, Gael Monfils should be flipping tennis on its head.
This article appears in the July 26 issue of ESPN The Magazine.
The cycle is starting again. Gael Monfils has pulled out of another tournament with an injury. He'd flown to Miami with hopes his left hand would feel strong enough to play the Sony Ericsson Open. But the pain is too great to ignore. So at 10:30 on a late-March morning, while word of his withdrawal makes the rounds of players and fans, and while his agent schedules an MRI and a flight to Paris, Monfils is sitting ...

Read full story
ESPN The Magazine: July 26, 2010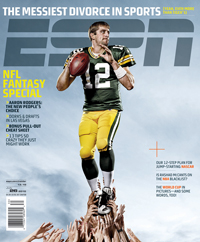 Check out all the content from ESPN The Magazine's July 26, 2010 issue below.
Features
Videos