Commentary
History in the making
Updated:
October 28, 2010, 9:40 PM ET
By
Amanda Duckworth
| Special to ESPN.com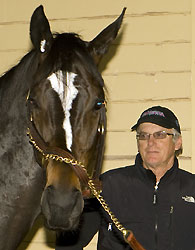 Horsephotos.comZenyatta with trainer John Shirreffs before the 2010 Breeders' Cup Classic.
Next weekend, there is a chance five Breeders' Cup races will feature a repeat winner. While all eyes will be on Zenyatta and Goldikova, it is worth noting that California Flag, Forever Together, Informed Decision and Midday are looking to add "multiple Breeders' Cup winner" to their résumés as well. For those doing the math, that is six horses for five races. Forever Together won the 2008 Breeders' Cup Filly and Mare Turf, while Midday won the 2009 edition. However, much like they are a breed apart on the racetrack, Zenyatta and Goldikova have added intrigue to their respective challenges and will garner most of the headlines leading up to the two-day event at Churchill Downs. If Goldikova wins the Breeders' Cup Mile for the third consecutive year, it will be an unprecedented feat. No horse has pulled that off in any division, much less a filly or mare taking on the boys. Interestingly enough, the Mile does hold the distinction of having the most repeat winners. Goldikova shares that honor with Miesque (1987-88), Lure (1992-93) and Da Hoss (1996 and '98). (It is true that McDynamo won the Breeders' Cup Grand National Steeplechase an astounding five consecutive times, but that event was run by the National Steeplechase Association and not the Breeders' Cup.) Goldikova and Miesque have something else in common as well. Goldikova's trainer, Freddie Head, rode Miesque to both of her victories and remains the only person to both ride and train a Breeders' Cup winner. Additionally, Goldikova surpassed Miesque's European record for most Grade/Group 1 victories in her last start. To date, Goldikova has 11 to her name, while Miesque retired with 10. Because of their accomplishments and ties to Head, Goldikova and Miesque will forever be linked. And for fans of symmetry, Miesque's second Mile was her swan song, and it also happened to take place at Churchill Downs. Then there is undefeated Zenyatta. She too is going for her third Breeders' Cup victory, although they would come in different races. In 2008, she took the Ladies' Classic, and in 2009, she won the Classic. Due to the order of the races, Goldikova gets a crack at putting her name in the record books first, but it would be thrilling if both mares became three-time winners within hours of each other. Setting aside the fact that Zenyatta is a girl taking on the boys, winning the Classic in back-to-back years has proved to be an almost impossible task. Tiznow is the only horse to pull off the double, while nine other winners have tried to achieve the honor only to fail. The list is an interesting one, consisting of a mix of long-shot winners and Hall of Fame runners. It is as follows: Skywalker (1986-87), Unbridled (1990-91), Concern (1994-95), Cigar (1995-96), Skip Away (1997-98), Cat Thief (1999-2000), Volponi (2002-03), Pleasantly Perfect (2003-04) and Curlin (2007-08). Of the group, Cigar, Pleasantly Perfect and Unbridled have the best overall Classic record, since they all finished third in their second attempts. However, excluding Tiznow, the horse with the best record in the race is actually Alysheba. In 1987, Alysheba won the Kentucky Derby and Preakness but finished second in that year's Classic to Ferdinand, who won the Run for the Roses in 1986. It came down to a photo finish, and the race call of "the two Derby winners hit the wire together!" remains an iconic moment in the sport. Alysheba would come back to win the Classic in 1988. And so, if Zenyatta does manage to win the Classic for a second year in a row, it will be the most impressive of her accolades, at least for me. Her then 20-for-20 record would be a thing of beauty for sure, but it would be her Breeders' Cup victories that made the number meaningful. The fact that she is a mare would just make it all the sweeter. All season, Zenyatta's campaign has led to much discussion. After posting her historic victory in the Classic, she returned to restricted company on the West Coast. Additionally, last year's Breeders' Cup happened to take place in her own backyard over a synthetic surface. Neither of those things diminishes her accomplishment, but they did leave some lingering questions. Now, the grand mare will be given the chance to prove once and for all what most already suspect; and if ever a horse deserved the opportunity, it is her. Unlike last year, the Classic will be run on dirt, and it will take place under the twin spires of Churchill Downs. A full field of talented runners awaits Zenyatta, and they provide her with the perfect backdrop for a thrilling finale. I am hard pressed to come up with a better scenario than that for Zenyatta to write the final chapter of her own legend. History shows it won't be easy for either Zenyatta or Goldikova, and in truth, the two mares have already accomplished so much that it almost doesn't matter. Almost.
Amanda Duckworth is a freelance journalist who lives in Lexington, Ky. Write to her at amanda.duckworth@ymail.com
SPONSORED HEADLINES
MORE HORSE RACING HEADLINES
MOST SENT STORIES ON ESPN.COM
BREEDERS' CUP WORLD CHAMPIONSHIPS
November 2 & 3
Full Cup Coverage
The Breeders' Cup World Championships year-end races are recognized as one of the ultimate tests of a thoroughbred's talent and ability, showcasing horse racing at the highest levels of international competition.
Headlines
•
Fort Larned wins Classic in upset
•
Wise Dan looks great in BC Mile win
•
Trinniberg upsets in Breeders' Cup Sprint
•
Little Mike comes up huge in BC Turf
•
Shanghai Bobby wins Juvneile
•
Royal Delta repeats in Ladies' Classic
•
Zagora tenacious in BC F&M Turf
•
Mizdirection scores Turf Sprint for Jim Rome
•
Groupie Doll cruises in F&M Sprint
•
Tapizar overpowers in Dirt Mile
•
Beholder wins BC Juvenile Fillies
•
George Vancouver best in Juvenile Turf
•
Flotilla takes BC Juv Fillies Turf
•
Calidoscopio upsets in BC Marathon
•
Hightail takes Juvenile Sprint
Audio/Video
• TCI: A look at BC pre-entries


• Podcast: Handicapping the Cup Part 2
• Podcast: Handicapping the Cup Part 1
• Podcast: Bloodhorse writer Claire Novak
• Podcast: Owner Aron Wellman
• Podcast: Trainers Lopresti & Pletcher
• Podcast: British racing analyst Nick Luck

Features
• West: Front-running has its privileges
• Cronley: Home cooking at the Cup
• Finley: Best and worst at Breeders' Cup
• Ehalt: Velazquez made a 'Wise' decision
• West: Thoughts on Saturday
• Duckworth: Continued Hope
• Novak: Patience a virtue for Leon
• West: From the Cup to Eclipse
• Duckworth: Girl Power
• West: A Classic Halloween treat
• Cronley: Breeders' Cup picks
• West: Race is on in Ladies' Classic
• Finley:Marathon, Juvenile Sprint must go
• Moran: Breeders' Cup sends unclear message
• West: Breeders' Cup is upon us
• Cronley: Breeders' Cup mazes
• Finley: Top 10 Breeders' Cup moments
• West: No place like home for Mandella
• Moran: The legacy of the Ladies' Classic
• Cronley: Breeders' Cup possibilities
• West: Breeders' Cup nostalgia
• Finley: Conquering the Europeans?
• Cronley: Breeders' Cup advice