Commentary
How Europe builds 'em for the Breeders'
Updated:
August 18, 2011, 5:38 PM ET
By
Barry Abrams
| Special to ESPN.com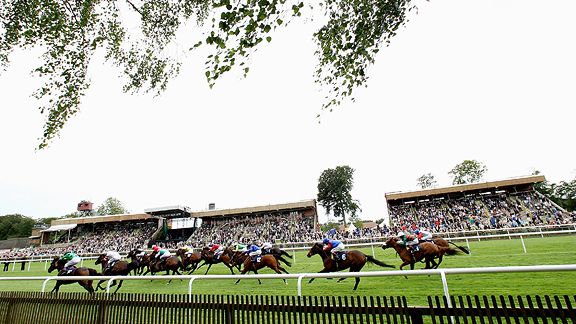 Julian Herbert/Getty ImagesEuropean runners trained on Newmarket's grass tracks often perform well on artificial surfaces.
The first thing you notice is the open space: miles of lush, green, rolling meadows and tree-lined dirt paths that appear to have leapt from a Thomas Kinkade painting. On the narrow, winding streets are a collection of low brick and stone buildings, from behind which you almost expect to see Robin Hood jump out with his band of merry men.
You can think of Newmarket, England, as sort of a small college town, where much of the industry is centered around one business: thoroughbred racing. This town is to horse racing what St. Andrews, Scotland, is to golf. On this day, there is a palpable buzz in the air. The highlight of England's fall racing season -- Champions Day -- will take place the day after we leave.
On our first morning, we drive up Bury Road to the stable of legendary trainer John Gosden, who won a race at the first Breeders' Cup and the most recent one. On each side of the two-lane street are white stone fences leading to Tudor-style residences. You would think the residences belonged to owners and breeders, as they would if you drove through Lexington, Ky.
Here in England, though, it's the trainers who walk about 50 feet from their front doors to the stables where they keep their horses. These runners are not kept on the backstretch of a racetrack as they are in the States; they live at the trainer's stables as though they were house pets.
Gosden's Clarehaven Stable is a sprawling, two-tiered Eden. A U-shaped stone stable overlooks a vast, open lower level with a dirt walking ring ensconced by a split-rail fence. If stables were colleges, Gosden's definitely would be Ivy League, and the valedictorian would be Raven's Pass, who last year became the first European-based charge to take the richest race in North America, the $5 million Breeders' Cup Classic.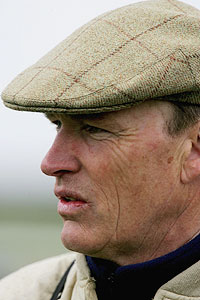 Julian Herbert/Getty ImagesJohn Gosden, owner of sprawling Clarehaven Stable in Newmarket, has won races at both the first and most recent Breeders' Cup.
Gosden, 58, has trained in both California (from 1979-88) and in Europe. "I personally think," he said, "that if you're thinking about a nursery, to develop young horses, it's very hard to beat -- developing them here in Europe."
The horses quietly warm up by parading around the walking ring for about 10 minutes. Then suddenly they all take what looks like a wrong turn. The horses and exercise riders start walking up the driveway toward Bury Road.
Gosden's stables are near one of the very few traffic lights in Newmarket, and when the light turns red, the riders march their animals across the street toward the tree-lined dirt path. Such a promenade takes almost a minute and a half to cross the road. But in what seems like a silent movie, no driver honks a horn, yells an angry exclamation or so much as shakes a fist out the window. In fact, if they could, the drivers might fancy getting the horses to sign autographs.
The brown, chestnut and gray animals pass under the red, yellow and orange canopy of leaves en route to the town's main training ground, Warren Hill. Located a few hundred yards from Bury Road, its huge swaths of green start from a valley at the bottom and rise steadily uphill. The land is owned by the Jockey Club, whose plentiful war chest ensures that untold generations of runners will be able to train in this idyllic setting. It's immediately clear how the land's natural contour would be a huge plus for conditioners looking for an edge.
"I could canter a horse up Warren Hill," said trainer Jeremy Noseda, who won the 2004 Breeders' Cup Juvenile with Wilko. "I can get as much of that as maybe an American trainer would need to gallop his horse a mile and a half on a hard dirt surface at a decent clip to get what I'm getting from an easy canter up a hill."
At various points across the range are thin, railed-off strips of Polytrack, the artificial dirt surface that has become the bane of so many horsemen in the United States. Owner Jess Jackson refuses to bring the one horse in America who can move the proverbial meter -- Rachel Alexandra -- to this year's Breeders' Cup because it is being run on the fake dirt of Santa Anita. Jackson derisively calls all artificial surfaces "plastic."
While American horses are bred mainly to bull through the sandboxes of conventional dirt tracks, European runners are generally built longer and leaner to glide over more forgiving grass courses. Since artificial dirt strips generally play like grass, the Europeans gain a huge advantage over the Americans at places like Santa Anita. They also claim the Polytrack is easier on the horse's legs as they train. Very few places in America even have training tracks made of an artificial surface. Between the setting and the surfaces, European trainers agree that Newmarket is the perfect place to prepare their animals.
"Sometimes," Gosden said, "when you can train where the requirements are purely for the benefit of the horse rather than race times in the afternoon, that is an advantage."
From the top of Warren Hill, your eyes can follow the quiet little road down to the antique town of Newmarket, which seems to belong under one of those souvenir snow domes. If you gaze to the far left, you see a few buildings in an open field that is carved out of the woods. That would be Dalham Hall Stud, the European base for Sheikh Mohammed bin Rashid al Maktoum -- the ruler of Dubai, and the George Steinbrenner of horse racing. Just beyond the town, on the horizon, stands the relatively small but dignified grandstand of the racetrack. Horse racing's stately paradise is all right there in front of you.
"

Sometimes, when you can train where the requirements are purely for the benefit of the horse rather than race times in the afternoon, that is an advantage.

"

-- Trainer John Gosden
Don't ask if any Breeders' Cup horses are working out on Warren Hill, though. First of all, you would never be able to pick them out of the lineup. Just as Gosden's runners stay together in a string, Warren Hill quickly fills with what looks like armies of exercising horses, each decked out in its matching uniform. Some mosey down the hill after their exercise. Others charge stealthily up the Polytrack strip. More swarm the gathering area at the bottom.
Picking an individual horse out of a string here would be like plucking a single grain of sand from the beach. In the States, you can dine on an elegant trackside breakfast at Saratoga while morning tour guide Mary Ryan giddily points out each Travers Stakes nominee as he stretches his legs or turns in a timed workout. But in Europe, no trainer times his horses' workouts. A top-level runner will jog up the Hill in company with another, and like brothers wrestling in the family den, the exercise riders basically let their steeds go at it. It's almost like home-schooling your kids, for which the only true measures of their education are standardized tests and college entrance exams.
"It's quantitative, if you like," Gosden said of the American training style. "Here, it's qualitative. You tend to train more by the eye because you're on grass gallops that tend to move all the time. … Once the ground's worn, they move somewhere else. So it's a slightly different style."
Because so much of the racing and training in Europe happens on grass, the venue has to change constantly because the turf is so easily chewed up. Certain sections of Warren Hill are declared horse-free in order to let the grass recuperate. When the training path is so varied, how could a trainer or a bettor -- known in England as a "punter" -- use that information to gauge a horse's readiness?
Not only does the grass change the approach to training, breeding and racing style; it also affects the schedule. You can't race at any single venue too many days in a row. That idea brings us across town (which takes about 30 seconds) to the Rowley Mile, one of two strips at Newmarket Racecourses. The Rowley Mile is used for the spring and fall championship meets, which measure two or three days each. Unlike North American race meets that last several months, timing a visit to any track in Europe is like shooting at rubber ducks in the dark. We're lucky our visit to the home of British racing coincides with the two-day Champions Meeting, what amounts to a home game for the sport.
[+] Enlarge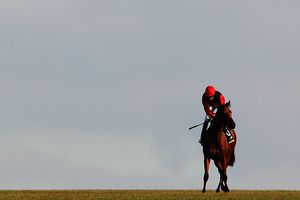 Jamie McDonald/Getty ImagesThe land's natural contours in and around Newmarket provide an idyllic setting for horse training -- and perhaps a competitive edge.
As familiar as the open training grounds around town become, it's still somewhat befuddling to see nothing but green surrounding the Rowley Mile on all four sides. It's almost as if some enterprising soul put up a few rails in the middle of an open pasture in the 1600s and said, "OK, now race!" If you look at the track from the top of a nearby hill, the brownish-green meadow stretches as far as the eye can see, save for one vivid green line that cuts in front of the thimble-sized grandstand.
And line is the operative word here, because all races at Newmarket that are 1¼ miles or shorter are run in a straight line, no turns. A gentle dogleg extends the track for races up to 2¼ miles or so. The grandstand is at the finish line, but a local yokel tells us the starting gate is so far away it may actually be in the next county. In order to preserve the ground, the first day of racing will take place on one side of the course, the second day on the other side. Because the races are run in a straight line, the system works.
When you stand on the track, the grass is so thick your footsteps leave prints in it -- like a thick pillow that makes a mold of your facial features. While your lawn at home will never be as manicured as the outfield at Yankee Stadium, you probably have fewer dips and rises on your property than the Rowley Mile. Horses running at about 35 mph barrel headlong into a huge dip with a quarter-mile to go, then rise up through the final furlong to the finish. It's like skateboard vert with horseshoes.
After pasties (pronounced "PAST-ees;" they're pastry pockets filled with vegetables, steak or the like) for lunch, we head out toward that remotely situated starting gate to photograph a break. A very small but spirited group of young women and toddlers is gathered on the wind-whipped plain, appearing as though they'd gotten lost on their way to a dairy farm.
Just before the start of the fifth race, one of the jockeys -- Neil Callan -- trots up on his mount and starts speaking loudly in baby talk toward the group. We realize the little girl in the white parka is his daughter. It's amazing that this group stands there freezing their crumpets off in the middle of nowhere, having absolutely no chance to see their loved one finish his appointed rounds. More amazing is that just moments before nature violently collides with sport in that claustrophobic starting gate, Neil Callan can speak with his little girl as if they were lounging in their family room.
However, of all the unique sights at Newmarket, none tops a particular female groom we spot leading away a horse that had already completed his race. As we begin to exit the track, we see the groom and horse walking toward the open pasture that leads toward town. Where is she going with the horse? The answer: back to the trainer's stable. Is she kidding? Where's the van?
From afar, the groom could be mistaken for Melissa Gilbert, alone in the endless field as she runs down the hill in the title sequence of "Little House on the Prairie." There is absolutely no sight of any building in Newmarket here, much less a trainer's quarters. Horse and groom start what surely will be a 4-to-5 mile walk -- possibly across busy streets, in front of lunch counters and past apothecaries -- before reaching the comforts of home. After two days in town, we find it fitting that the horse and groom disappear into the vastness of the open land.
Barry Abrams is a feature producer for ESPN. E-mail him at barry.abrams@espn.com.
SPONSORED HEADLINES
MORE HORSE RACING HEADLINES
MOST SENT STORIES ON ESPN.COM