Commentary
A lily by any other name …
Updated:
August 30, 2010, 5:26 PM ET
By
Amanda Duckworth
| Special to ESPN.com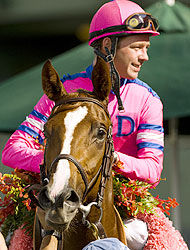 Benoit PhotoBlind Luck and jockey Tyler Baze pose after winning the 2009 Oak Leaf Stakes at Santa Anita.
For the second year in a row, it has become pretty clear that the winner of the Kentucky Oaks has been far more legitimate than the winner of the Kentucky Derby. On Aug. 21, Blind Luck defeated her main rival for end-of-the-year honors, Devil May Care, in the Alabama. A week later, Super Saver finished 10th of 11 in the Travers. If they were ever to face each other, it is a fair guess the filly would go off as the favorite. In all fairness, Super Saver is scheduled to undergo testing to make sure nothing is wrong below the surface. The Maria's Mon colt has clearly gone off form since his victory on the first Saturday in May. Of course, it seems equally as likely that Super Saver benefited from the off track and another amazing ride from Calvin Borel in the Derby. At the end of the day, he may just be a horse for the course. Given that the Breeders' Cup will be held at Churchill this year, that may not be a bad thing. Just ask Street Sense. Last year's Derby winner, Mine That Bird, has also failed to find the winner's circle since his historic win. He finished second in the Preakness and third in the Belmont, but has also gone off form. His next start is scheduled to be the Woodward on Sept. 4. With his dead game victory in the Travers, Afleet Express became the first horse since Coronado's Quest in 1998 to win the race after skipping the entire Triple Crown series. As of now an appearance in the Breeders' Cup is unlikely, according to trainer Jimmy Jerkens. Given the results of the Travers and the fact Afleet Express is likely to sit out of the Breeders' Cup, it appears that Preakness and Haskell victor Lookin At Lucky will be champion 3-year-old male at the end of the year. Barring some unforeseen phenom stealing the title away, Lookin At Lucky will become the first horse since Spectacular Bid in 1979 to be named champion 3-year-old colt after previously being named champion 2-year-old colt. Blind Luck, meanwhile, is the definition of a heart attack runner. Her come-from-behind style means that she has a tendency to nail horses at the wire. She has won nine of 12 lifetime starts, and is undefeated on a traditional dirt track. Currently, she is being pointed toward the Ladies Classic. One day after Super Saver ran the worst raced of his career, last year's Horse of the Year Rachel Alexandra finished second to Persistently in the Personal Ensign while attempting the 1¼-mile distance for the first time.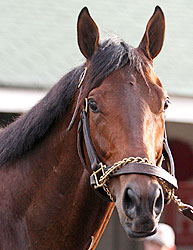 Horsephotos.comSuper Saver will undergo a thorough physical examination after his tenth-place finish in Saturday's Travers.
Persistently runs as a homebred for Phipps Stable, just as Personal Ensign did. Considering the operation lost Personal Ensign -- an undefeated champion and stellar broodmare -- earlier this year, it was more than appropriate that the famed black and cherry silks made their way to the winner's circle. As for Rachel Alexandra, last year's Kentucky Oaks, Preakness, Haskell, Mother Goose and Woodward winner has not been the same filly in 2010 that she was during her championship season. This year, her record reads two wins and three seconds from as many starts, which is perfectly respectable, though not perfect. It is hard not to wonder what would have happened had Rachel Alexandra stayed with her original trainer, Hal Wiggins, who conditioned her through her record-breaking performance in the Kentucky Oaks. This in no way is meant to disrespect her current trainer, Steve Asmussen. However, Wiggins clearly could get the filly in peak condition. I have rarely understood the need to take a phenomenal racehorse away from its trainer just because the ownership changed. It's a bit like hiring Picasso to be your personal painter but making him use your brushes. If it ain't broke, don't fix it … especially with temperament and sensitive animals. Then again, perhaps as she aged, Rachel Alexandra lost the extra gear that made her unbeatable in 2009. It appears she is not the only one. Last year's champion female sprinter, Informed Decision, was also defeated at Saratoga over the weekend while competing in the Ballerina. It is important to remember that horses are not machines, and that sometimes they slow down for no specific reason. Part of the allure of Personal Ensign is that she never knew defeat, and now that captivating description is being applied to Zenyatta. Although she has not been handed the challenging race schedule fans were promised, she has done everything that has been asked of her. That is all a racehorse can do. In disappointing news, Zenyatta's Hungarian counterpart, Overdose, did lose over the weekend. The 5-year-old horse won 14 consecutive races before losing the Group 2 Bestwetten de Goldene Peitsche in Germany on Aug. 29. No matter what, fillies and mares such as Zenyatta, Rachel Alexandra, Blind Luck, and their European counterpart Goldikova, have sure served their gender well.
Amanda Duckworth is a freelance journalist who lives in Lexington, Ky. Write to her at amanda.duckworth@ymail.com
SPONSORED HEADLINES
MORE HORSE RACING HEADLINES
MOST SENT STORIES ON ESPN.COM