Commentary
Racing's legendary ladies
Updated:
September 2, 2009, 11:46 AM ET
By
Jeremy Plonk
| Special to ESPN.com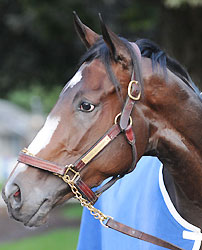 Horsephotos.comRachel Alexandra will attempt to be the first female to win the Woodward Stakes.
It's not easy being great, with all apologies to noted philosopher Kermit the Frog. And on Saturday, another wildly popular animal will put that fact to the test when Rachel Alexandra takes on older males in the Grade 1 Woodward Stakes at Saratoga.
Discredit the field for the Woodward all you wish, and consider that last week's Travers Stakes featuring Belmont winner Summer Bird and Florida Derby demon Quality Road could have been the tougher spot. You won't get an argument here, but the past is the past, and it's time to look forward. The Woodward contenders of 2009 won't be mistaken for any historical measuring stick of greatness. This is not 3-year-old Spectacular Bid stepping up to meet past Triple Crown champ and then 4-year-old Affirmed in the 1979 Jockey Club Gold Cup.
So, while a scant few 3-year-old fillies ever have tried to capture such noteworthy and entrenched handicap races as the Woodward or Jockey Club Gold Cup, a historical trip down memory lane does little to feed or starve the arguments as to just what the accomplishment might really mean. But just in terms of the comparative genre of great fillies and mares vs. great colts and horses, the laundry list of female failures is startling -- so startling that any measured success has to be given the utmost respect, including Rachel Alexandra's existing wins against fellow 3-year-olds in the Preakness and Haskell.
Make not mistake: Rachel Alexandra's place in the pantheon of filly and mare greatness should already be secured, even if she never beats older males, even average ones. When you look at the top distaffers of the past 30 years, you'll see the roadside littered with losses to non-descript males. I set out on a journey to uncover the common nature of great ladies outrunning great gents in the Sport of Kings. But what I found was that the handful of really memorable success stories was monsooned by so many lost memories of lost races.
Case in point: Many racetrackers remember the super mare Lady's Secret and her triumph in the 1986 Whitney Handicap at Saratoga. But most have long forgotten that it was the first and only time she'd beat males, losing all six other attempts, not to mention the never-will-be names that chased her home at the Spa (Ends Well, Fuzzy et al) and the fact that a sloppy track helped carry her tremendous early speed.
Genuine Risk burned her name into the all-time consciousness of horse racing fans with a victory in the 1980 Kentucky Derby, and the timing proved to be everything for her in terms of historical remembrance. While she wore the roses, few recall that Genuine Risk was just 1-for-4 against the boys, losing the Wood, Preakness and Belmont. Turn it around with a win in one of the other races and a Derby loss, and her legacy certainly changes, right or wrong.
The 1980s, indeed, were high times for the distaff set in horse racing. Winning Colors also took down a Derby in that decade, but she was even-steven against the boys in her career at 2-for-4, beaten some 41 lengths in the Belmont when finishing last.
The top fillies and mares of the 1990s also took their tea with a few lumps when facing the boys. Unbeaten champion Meadow Star boasted a 9-for-9 mark heading into the 1990 Wood Memorial and left with a 10-length drubbing; Silverbulletday failed miserably in her attempt to extend herself in the 1999 Belmont Stakes, also beaten more than 10 lengths; the legendary west coast mare Paseana saw her seven-race win streak go up in smoke when beating only two horses in the 1992 Pacific Classic; and her predecessor/stablemate Bayakoa dropped both attempts against the boys in 1990, a last-of-10 effort in the Santa Anita Handicap and a distant runner-up as the odds-on choice in the Grade 3 San Diego Handicap.
More recently, this decade's preeminent mare, Azeri, failed to light the board in two attempts against the boys, finishing out of the money in both the Grade 1 Metropolitan Mile and Breeders' Cup Classic.
And if you want to make the argument that horses just aren't made like they used to be, let us not forget that the golden era of the 1970s saw some of its leading ladies suffer similar outcomes. Susan's Girl won 29 times, 6 of those in Grade 1 stakes, but was a horrific 0-for-6 against the boys; Davona Dale was 0-for-2 against the boys, beaten some 28 lengths in the Travers; and Shuvee may be best remembered as a 2-time Jockey Club Gold Cup winner, but she lost all 6 other tries against the opposite sex and twice failed to hit the board in the 1970-'71 Woodward renewals.
These are not random examples, but rather a strong sampling of the biggest-named fillies and mares to race down any pike in the past four decades. No matter what your take is on Rachel Alexandra or the quality of this year's 3-year-old crop, the filly's two victories over the boys this year already have put her in a rare air. If she goes on to win the Woodward against supposedly weak competition, it won't be any softer than Personal Ensign's scant two challengers in the 1989 Whitney, consisting of a seven-pound weight break against sprinters Gulch and King's Swan.
History doesn't care about weight breaks and who you beat. We remember those horses who do things outside the box. When you accomplish something that Susan's Girl, Davona Dale, Bayakoa, Paseana, Silverbulletday and Azeri couldn't do, that's special. For that, Rachel Alexandra's Preakness and Haskell performances already have her among the game's all-time greatest ladies.
If Rachel Alexandra succeeds in Saturday's Woodward, my research tells me we need to drop the word "ladies" from the previous sentence. Like we stated from the get-go, it's not easy being great. This filly will have earned every ounce of adoration.
Jeremy Plonk has been an ESPN.com contributor since 2000 and is the managing partner of the handicapping website Horseplayerpro.com. You can E-Mail Jeremy about this topic or anything racing-related at Jeremy@Horseplayerpro.com.
Horse
In addition to being a longtime contributing writer to ESPN.com's Horse Racing section, Jeremy Plonk is the editor of The HorsePlayer Magazine.
MORE HORSE RACING HEADLINES
MOST SENT STORIES ON ESPN.COM