Heaven on turf
Originally Published:
October 24, 2003
"I'd be very happy to create another Cigar. But we would do it only for the purpose of research, not for profit -- in the interest of science. We would do it to see if we could create a clone of Cigar who could perform (on a racetrack) like Cigar."

Geneticist Jerry Wang, pioneer in the cloning of animals
By Bill Nack
Special to ESPN.com
Back in the late 1980s, a few years before his death, ESPN racing commentator Pete Axthelm held forth one evening on his notions of life in the hereafter, opining that hell would be a dismal landscape where there was no pari-mutuel wagering and heaven a place with a large betting parlor and banks of televisions to show the action -- a racing book built along the lines of Caesars Palace in Las Vegas.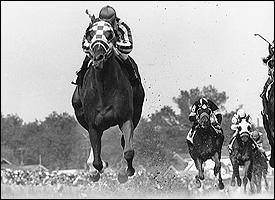 Secretariat outdistance the field in the 1973 Kentucky Derby, but how would he have fared against Man o' War? Perhaps someday that question may be answered.
"And you walk into this betting parlor and you look up and there's this giant board on one of the walls," the Ax explained. "And the board has hundreds of horses' names on it -- the names of the greatest horses of all time. And you have the past performances of them all. You write the conditions of the races and you pick the horses to run in the races. So you could have
Man o' War
and
Secretariat
going a mile-and-a-quarter on the dirt at Churchill Downs against Damascus and Dr. Fager, Forego and Buckpasser, Tom Fool and Kelso. You pick the weights they carry. You pick the track condition: muddy, good, fast. And
then
you bet. Since this is heaven, you can bet all sorts of exotics, quinellas, exactas, trifectas. And then you watch the race and listen to the call. 'And now Secretariat is moving to Man o War's side! And here comes Buckpasser down the middle of the track!' Can you imagine that? And when that race is over, you do it all over again, with different combinations of horses, different distances, different conditions ..."
He drew a long puff on his diminishing cigar. "Now that is heaven," he said.
Ax's vision of paradise, of the heavenly betting parlor, inescapably came back to mind in August when a team of Italian scientists announced that it had succeeded in creating the first cloned horse -- a stout, blocky, 220-pound beast who, in a procedure that would have left even Hamlet speechless, was born an identical twin of the very mare who foaled her.
In brief, researchers took a single skin cell from the 6-year-old Haflinger mare, transferred its nucleus into a female egg from which the nuclear core had been removed, thereby creating a living embryo by cell fusion, and then planted that embryo in the uterus of the same Haflinger mare who had donated the skin cell. Voila! On May 28, she gave birth to a healthy female foal that was genetically identical to her. "Basically, she foaled herself," one of the Cremona researchers, Cesare Galli, said.
They called the clone Promethea, so named after the character in Greek mythology, Prometheus, who gave fire to humans after stealing it from the gods. The mare's labors certainly fired the imagination.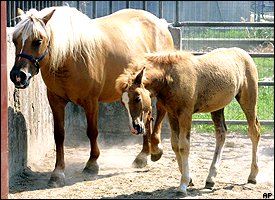 The more things change, the more things remain the same. Promethea, and the Haflinger mare who gave birth to her, may stand as a harbinger of old things to come.
What made this doubly intriguing, were the possibilities it offered for the creation of a super race of thoroughbreds. For instance, if you took a cell from Storm Cat, the most coveted and expensive stallion in the world -- his stud fee, the amount he commands for breeding to a single mare, is $500,000 -- and created a similar Promethean embryo containing his exact DNA, you would have an identical genetic twin of the aging, 20-year-old stallion, ideally a young horse with the Cat's extraordinary gift for siring very fast horses in abundance. And, the way the technology is advancing, it turns out that the dead as well as the quick -- many of the late, great horses of the past -- could be physically re-created in laboratories in the form of clones, bringing Axthelm's idea of heaven right down to earth. Indeed, all researchers would need is a root follicle from a dead horse's mane or tail, or dried cells from the long-dead marrow, to begin the process of making living clones from ancient bones.
Secretariat running against Man o' War in a match race pitting the two greatest horses of the 20th Century? Or Count Fleet against Citation? Gallant Fox versus Seattle Slew? Jesse Owens versus Bob Hayes raises a far thornier set of legal and ethical questions. Given the current state of the cloning science, Belmont Park lies just a dusty furlong down the road from Jurassic Park.
Of course, the grand poobahs of thoroughbred racing have traditionally viewed all such ideas as a particularly flagrant form of heresy -- even worse, as an act of scientific terrorism aimed at the very heart of the game. Unlike the standardbred and quarter-horse games, the thoroughbred industry does not permit horses to breed or race who are products of artificial insemination. A thoroughbred stallion and mare must have sexual intercourse in order to qualify the offspring for inclusion in the American Stud Book, the gate at which The Jockey Club stands as keeper. One of the Club's central fears of artificial insemination -- and now of cloning -- is that the gene pool would become dominated by the DNA of fewer and fewer stallions, robbing the pool of its rich genetic diversity and leading it to produce a race of whacky, inbred horses whose genetic weaknesses would grow only more and more acute. After all, a single ejaculation from a thoroughbred stallion can be spread out in tubes and used to impregnate more than a half-dozen mares. Does the pool really need 600 offspring from Storm Cat every year?
"The same thing would happen to the thoroughbred industry as happened to the standardbred industry when they started (artificial insemination)," said Kentucky breeder Tom Gaines. "That is, the entire male productive gene pool would be concentrated in two or three pre-potent sires. For example, Storm Cat, Sadler's Wells, and Danzig. The gene pool would become highly inbred with disastrous consequences. Economically, it would kill the market for new, young stallions because the few pre-potent sires would get all the best mares."
| | | |
| --- | --- | --- |
| | " | Watching Muhammad Ali fighting Muhammad Ali would not be very much fun. Or watching five Michael Jordans playing five Michael Jordans would not be fun. Or watching 10 Seattle Slews loading into a gate; where's the fun in that? " |
| | | — Dan Rosenberg, of the famed Three Chimneys Farm |
Mass clonings could certainly herd the breed down the same winding road. How would the gene pool react to five genetically programmed Storm Cats standing at stud? Or 10 Danzigs? Or to a dozen DNA replicas of Bold Ruler and Northern Dancer, the 20th Century's two most dominant sires? What would racing be like with clones of all the greatest horses running from Santa Anita to Aqueduct?
"Watching Muhammad Ali fighting Muhammad Ali would not be very much fun," said Dan Rosenberg, the president and chief operating officer of the famed Three Chimneys Farm, home for years of Triple Crown winner Seattle Slew. "Or watching five Michael Jordans playing five Michael Jordans would not be fun. Or watching 10 Seattle Slews loading into a gate; where's the fun in that? This does not lend itself to sport. If you're talking about cloning food animals, that makes a lot of sense. But part of the intrigue of the thoroughbred business, part of the challenge, is to breed another Seattle Slew or Man o' War. It's not about mass-producing. It's a puzzle. It's about putting together a pedigree, a perfect mating, and then raising a perfect equine athlete. Another Secretariat or Cigar."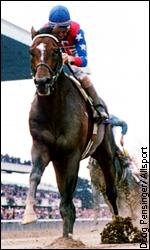 Cigar won a record 16 consecutive races, but has been a dud at stud.
In fact, there can be a true utilitarian value in cloning horses that could serve to enrich the diversity of the gene pool rather than constrict or limit it. Take, for example, the lamentable case of the mighty Cigar. When he was finally retired from the racetrack at the close of the 1996 season, after charging through a 16-race winning streak rivaled only by Triple Crown winner Citation almost 50 years earlier, the world's thoroughbred breeders looked forward to his impending career as a breeding stallion with an especially keen and savory sense of anticipation.
This was no small wonder. By the end of his career, Cigar was not only about to be crowned America's Horse of the Year for the second-straight season, but he was clearly the finest older U.S. racehorse to grace the sport since Spectacular Bid had made light of all comers in 1980; indeed, in one magnificent performance in the spring of '96, as the faerie lights of distant mosques shone beyond the backstretch of Nad al-Sheba Race Course, in the United Arab Emirate of Dubai, Cigar asserted his claim to a title that no horse had worn before -- undisputed Horse of the World.
On March 27, against the world's best horses in the world's richest race, the $4 million Dubai World Cup, Cigar snatched the lead on the turn for home, under jockey Jerry Bailey, only to yield it in a moment of pitched drama as songwriter Burt Bacharach's Soul of the Matter loomed up on the outside, 300 yards from the wire. Though looking beaten in the tiring desert sand, Cigar battled grudgingly back, regained the lead deep in the stretch and won it by half a length. Moments later, the founder of the Cup, Sheikh Mohammed bin Rashid Al Maktoum, swept into the winner's circle in his flowing red-and-white dish-dash, sidled up next to Bill Mott, Cigar's trainer, and said what no man had ever definitively said to another man in history: "Congratulations, Cigar is the greatest horse in the world."
It was a transcendent moment in one of the planet's oldest sports. Fast and powerful, with champions hanging like apples in his family tree, Cigar appeared to have it all. That fall, owner Allen Paulson sold three-quarters of the horse as a stallion prospect in a deal that gave him a sticker value of $25 million. His '97 stud fee was set at $75,000. Lined up at his door, awaiting their trysts with him, were some of the finest broodmares in the world. For Cigar, the future was now. When it was learned in March that Cigar had been bred to 36 mares but none of them was in foal, the thoroughbred breeding world was stunned to silence. Microscopes revealed that his sperm were irregular in shape and lacked motility.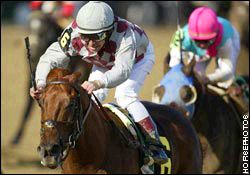 Funny Cide is one win away from the elusive Triple Crown. Big deal.
It took a while to sink in, with his handlers in denial, but the conclusion was inescapable. The greatest racehorse of his era was sterile.
Cigar thus joined a line of superior racehorses who turned out to be infertile, a string of dubious beads led by the 1946 Triple Crown winner, Assault, and the magnificent Grey Lag of the 1920s. Of course, this does not include the even longer roll of great racehorses whose genes were lost to the stud because they were castrated as youngsters, before they had risen as stars, including such indubitable racing giants as Kelso, Forego, Exterminator, Armed, and John Henry. This year, of course, the hero of the Kentucky Derby and Preakness Stakes, Funny Cide, became the first gelding to take the May classic at Churchill Downs. He was dead to the gene pool the instant he was castrated. Cigar was shipped to the Kentucky Horse Park, to be displayed like a zoo animal, not long after doctors gave up on curing what ailed his factories of reproduction. It's a shame that neither horse will ever have the chance to enrich the gene pool from which he was drawn. The loss of so gifted an animal as Cigar was particularly painful.
Enter Dr. Jerry Yang, the cloning pioneer from the University of Connecticut in Storrs who would like to form a team to make a clone of Cigar, similar to the way Yang's team cloned pigs this summer. He would take cells from Cigar's ear or tail, allow them to divide and thrive in a laboratory environment, and then insert their nucleus into female eggs -- oocytes harvested from the ovaries of slaughtered cows -- from which her nuclear material had been microscopically removed. "The re-created embryo would contain the nucleus -- the genetic material -- from the donor cell of Cigar," Yang said. "The mare (in which it is planted) will have no genetic contribution to the embryo. The newly created embryo would undergo development very much like a regularly fertilized embryo. There would be no difference in the developmental path between a cloned embryo and a fertilized embryo. When he is born, he will look like Cigar. And, most likely, he will behave like Cigar."
Nor would the foal necessarily be sterile, like his sire: "If Cigar's fertility problem is not of a genetic origin, then the new Cigar would be fertile and able to reproduce."
There is also reason to believe that the clone would have Cigar's innate ability. "The chances are pretty good," Yang said. "We have been studying cloned cattle, and the clones produce as much milk as the donor animals. They look very much alike and they behave very much alike. Their performances are very similar."
Precisely how the new Cigar would perform, of course, touches on the controversial issue of nature versus nurture. Dr. Tom Tobin, a veterinarian at the Maxwell Gluck Equine Research Center at the University of Kentucky, in Lexington, said that a recent study of cloned mice -- all genetically identical -- revealed that the clones were physically affected by the nutrients they were given while still in utero. "Because of the dietary differences, certain genes were turned on and turned off during embryogenesis," Tobin said. "They came out different colors."
No doubt nurture does play its part, but Yang believes that the cloned Cigar would be able to run like his sire. "I would think that genetics is the major factor," Yang said. "Many people do not believe that. Of course, nurture is important, but it is all based on genetics -- if the nature doesn't work, if the genes are not there, the horse will not be successful no matter how much nurturing you give."
The Jockey Club is doubtless not ready for this, but Yang has come forward to prove his point. Give that man a cigar.
Bill Nack, a former horse racing writer for Sports Illustrated, recently published an anthology of his magazine stories: "My Turf: Horses, Boxers, Blood Money and the Sporting Life."
SPONSORED HEADLINES
MORE HORSE RACING HEADLINES
MOST SENT STORIES ON ESPN.COM