A cash cow with plenty of giddyup
The $87,000 that George Steinbrenner paid for Bellamy Road, the favorite in this Saturday's Kentucky Derby, is little more than the New York Yankees owner pays Jason Giambi per game.
Not only has baseball's free-spending owner positioned himself for a run at the Triple Crown with a minimal investment, The Boss isn't doing much to capitalize off the success of his prized bay colt, which won last month's Wood Memorial by a record-setting 17½ lengths.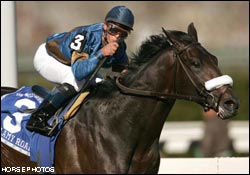 Beaten only once in five starts, Bellamy Road has put George Steinbrenner in the money.
"He treats the Yankees and the horses as two separate entities that he equally loves," said Edward Sexton, the manager of Steinbrenner's Kinsman Stable in Ocala, Fla., who spotted the bargain of Bellamy Road at a sale of 2-year-olds in training in April 2004.
Steinbrenner has bankrolled the success of the Yankees – who won four World Series titles between 1996 and 2000 – into a bustling business that commands its own television channel; a 10-year, $94 million contract with adidas; and the third-highest ticket prices in Major League Baseball.
Although Bellamy Road has won $611,400 in prize money in five races, it appears as though Steinbrenner hasn't been as eager to set up additional revenue generators on the race track as he has for his baseball team. If Steinbrenner really wanted to make a buck, perhaps he might have renamed the horse – who Sexton predicted would run in the Derby – with a Yankees-inspired moniker.
But Sexton said there was not one conversation about a name change. The horse already had his given name, which refers to a trail near the original owner's house.
"This is an outlet for him – horse racing," said Bellamy Road's trainer Nick Zito, who will saddle five horses for Saturday's Derby. "He takes pleasure in this. The Yankees are a business."
Buying futures
At $87,000, Bellamy Road is a true value. Since then, farm manager Edward Sexton has purchased nine more horses, all for under $200,000. Here is a list of some of the horses in the race with their most recent reported sale prices:
Coin Silver
$65,000
Afleet Alex
$75,000
Wilco
$75,000
Bellamy Road
$87,000
Closing Argument
$100,000
High Limit
$145,000
Flower Alley
$165,000
Greeley's Galaxy
$220,000
Andromeda's Hero
$310,000
Don't Get Mad
$350,000
Sun King
$400,000
Bandini
$500,000
Spanish Chestnut
$500,000
Going Wild
$600,000
Noble Causeway
$1.15 million
David Williams, the owner of Horsehats.com, said he witnessed this firsthand.
Williams designs and sells caps with the horse's name and stable on them. A sample of the cap he designed for Bellamy Road looked exactly like a Yankees cap, but other than an interlocking "BR," there are no similarities between the Yankees' logo and the cap Steinbrenner's group eventually settled on. Nonetheless, sales have been brisk for the hats, which are already on back order before the first leg of the Triple Crown has even been run.
Williams said that while he was initially surprised that the Yankees' marketing machine didn't take on the project, it soon became clear to him that Steinbrenner didn't want to use the horse to promote his baseball team – or vice versa.
"Many of the owners we deal with have been very successful in another business," Williams said. "None of them has wished to use their horse to promote their real business."
Not only did Steinbrenner's farm not haggle over the standard 10 percent commission Williams gives to the horse's owner on all hat sales, the stable hasn't even built a Web site for the horse.
"Mr. Steinbrenner lets me call the shots," said Sexton, a 37-year-old from Ireland. "We're in this to make money, but the horse has got to win before we start selling this and selling that. We're confident he's the horse to beat, but talk is cheap and everyone deserves their chance."
Sexton has a point. Owners of previous Kentucky Derby-winning horses have only started, in recent years, to cash in after winning the Preakness. Despite books and every souvenir imaginable, the big off-the-track payoff didn't come for Funny Cide and Smarty Jones, which lost the Belmont Stakes in 2003 and 2004, respectively.
Michael Dotsch, a 48-year-old horse racing fan from Alpena, Mich., logged on to the Internet shortly after Bellamy Road won an allowance race by 15¾ lengths at Gulfstream Park in March.
"I was shocked when I saw that 'Bellamyroad.com' was still available," said Dotsch, a Yankees fan who has previously owned Web site domains of horses, including Point Given and War Emblem.
Since registering the domain, Dotsch said, he has had offers for the site ranging from $200 to $2,000.
"There's a big difference between now and if he were to win the Triple Crown," said Dotsch, who claims that he's not out to make the most he can.
As evidence, he said he has never called Steinbrenner's farm. And he doesn't even plan to.
But if the horse wins the Kentucky Derby on Saturday, Dotsch shouldn't be surprised if he sees "THE BOSS" on his caller ID.
Darren Rovell, who covers sports business for ESPN.com, can be reached at darren.rovell@espn3.com.
ESPN.com Sports Business reporter
ESPN.com's sports business reporter since 2012; previously at ESPN from 2000-06
Appears on SportsCenter, ESPN Radio, ESPN.com and with ABC News
Formerly worked as analyst at CNBC
SPONSORED HEADLINES
MORE HORSE RACING HEADLINES
MOST SENT STORIES ON ESPN.COM