The ride of his life
Preakness victory is sweet, redemption may be even sweeter for Afleet Alex's jockey, Jeremy Rose.
Updated:
July 22, 2005, 7:10 PM ET
By
Bill Finley
| Special to ESPN.com
Jeremy Rose deftly dodges the subject every time it comes up, but he had to want to find a rock to crawl under the day the folks from Cash Is King did their best Donald Trump imitation and told him, "You're fired!"
That was back before Afleet Alex made his 3-year-old debut and the owners wanted the best rider they could find. It wasn't this small-timer out of Delaware Park. They could do better. When Eclipse Award winner John Velazquez, big star out of New York, said he'd be glad to ride Afleet Alex, Rose was sacked.
"I wanted to ride the horse, obviously," he said during Kentucky Derby week. "But I understood the circumstances and the reasoning. I probably would have done the same thing, if it were me. You go with the best rider you can possibly get at the time and he was ranked first in the nation. You can't get much better."
He might just want to recant that statement.
Would Velazquez have won the Preakness aboard Afleet Alex? Would Velazquez have saved ground, cut the corners, timed his move perfectly? Would Velazquez have shown tremendous athletic ability and dexterity to stay on when Scrappy T took a sharp right-hand turn and dropped Afleet Alex to his knees? It's impossible to know.
But early Saturday evening at Pimlico, Rose did all that and more in what will go down as one of the great rides in Triple Crown history.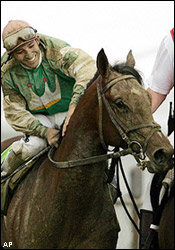 Jockey Jeremy Rose pats Afleet Alex after winning the 130th running of the Preakness.
It was some time between the Rebel Stakes, where Afleet Alex, suffering from a lung infection, ran sixth with Velazquez aboard, and the Arkansas Derby that Velazquez or agent Angel Cordero Jr. picked up the phone and told Ritchey Afleet Alex was no longer in their plans. Velazquez wanted to ride Bandini the same day in the Blue Grass at Keeneland for his main client, the powerful Todd Pletcher stable.
So Ritchey went to his bench. Jeremy Rose would do after all.
Rose won the Arkansas Derby. Rose rode a flawless race in the Kentucky Derby, where Velazquez and Bandini were, by the way, 19th. Then he pulls off the miracle of Pimlico.
Before Scrappy T assaulted Afleet Alex, Rose had already done everything right, something sure to get overlooked in the aftermath of the bumping incident. He shot toward the rail leaving the gate to save valuable ground on the first turn. He patiently waited down the backstretch and then found another position on the inside, saving still more ground on the second turn. He wheeled to the outside near the top of the stretch for a clear run and was ready to gun down Scrappy T, the only horse that stood between him and the wire.
And then it happened. Aboard Scrappy T, Ramon Dominguez made the mistake of whipping his horse left-handed, causing his mount to veer wildly to the right and right into the path of Afleet Alex.
"It was no fault of Ramon whatsoever," Rose said. "He didn't do it on purpose."
How did he possibly stay on?
"Fear makes you very, very strong," he joked. "I was willing to hang on."
"Afleet Alex has all sorts of athletic ability," he said. "This horse could do backflips if you wanted him to."
Imagine sitting on a 1,000-pound animal running 35 miles an hour and all of a sudden the horse is on his knees, ready to crawl around in the dirt and send you to the hospital.
"If he goes down, I don't have any chance," Rose said. "Mostly, I was scared. I hung on. When he clipped heels, his nose was a little dirty after that. When he clipped heels, I had enough time to think about hitting the ground."
How did he possibly stay on?
"Somebody pulled my butt out of the fire on that one," he said.
How did he possibly stay on?
He just did. Under fire, a good jockey, an underrated jockey, made the best of a potentially horrible situation and saved the day for a deserving Preakness winner in Afleet Alex. Of course, Afleet Alex deserves credit, too. He was incredibly nimble to pick himself back up, avoid disaster and get back into the running.
But the real hero was the 26-year-old Preakness rookie who was once asked to take a back seat to another rider. Preakness victory is sweet. Redemption may be even sweeter.
Watch the Belmont Stakes on Saturday, June 11 at 5 p.m. ET on NBC
• Bill Finley is an award-winning horse racing writer whose work has also appeared in The New York Times, USA Today and Sports Illustrated.
• To contact Bill, email him at wnfinley@aol.com
SPONSORED HEADLINES
MORE HORSE RACING HEADLINES
MOST SENT STORIES ON ESPN.COM