Near disaster avoided in Preakness
Afleet Alex clipped heels with the pacesetter and almost fell, but the colt managed to stay upright and Rose stayed aboard in the Preakness.
Updated:
May 24, 2005, 6:02 PM ET
By
Ed McNamara
| Special to ESPN.com
BALTIMORE -- Riding racehorses is a most dangerous occupation, with serious injury always lurking. That's why an ambulance always trails the field. On Saturday, millions of television viewers and a record crowd of 115,318 at Pimlico gasped as disaster loomed at the top of the stretch in the 130th Preakness Stakes. Somehow, it didn't happen, and Afleet Alex and jockey Jeremy Rose not only made a narrow escape but also triumphed.
As the leader, Scrappy T, left the far turn and moved into the stretch, Ramon Dominguez whacked him with a lefthanded whip, and Scrappy T veered to the right and into the path of Afleet Alex, charging from behind with a big move. Afleet Alex clipped heels with the pacesetter and almost fell, but the colt managed to stay upright and Rose stayed aboard.
After that, rallying for a runaway win in a classic seemed easy. Afleet Alex gathered himself, gained a narrow lead over Scrappy T at the eighth pole and bolted to a 4 3/4-length victory. Whoa, that was close.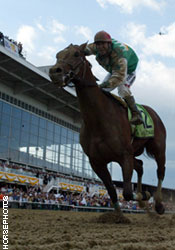 Afleet Alex and jockey Jeremy Rose in the lead down the stretch of the Preakness.
"He's just that athletic," Rose said, "and I was just that scared.
"At the top of the lane, it wasn't me as much as it was Alex's athleticism. If not for him, we could have gone down and been run over by the field. I was scared when we clipped heels. The thought process was that I might be run over and the reaction was to try to stay on.
"I had enough time to think about hitting the ground, and he popped back up. He came back up underneath me. "
NBC caught winning trainer Tim Ritchey reacting with shock and horror to the near accident. "Son of a [----]!," Ritchey screamed. Then he paused, saw his colt right himself, and yelled defiantly, "He's still gonna win!" as Rose and Afleet Alex raced to the wire.
"Afleet Alex was athletic enough to overcome clipping heels and almost going down and still win the race," Ritchey said. "It was an amazing performance.
"Truthfully, I've seen horses take bad steps like that and win. I've never seen a horse stumble that badly and lose his momentum that much and come back on to win in a Grade I race like this."
Rose didn't blame Dominguez, whom he rides against often in Maryland and Delaware. Minutes later, Dominguez was upset and apologetic. "I knew Afleet Alex was very close to going down," Dominguez said. "I'm very sorry for the incident."
Behind the first two and the scary moments, nothing else mattered much. Finishing third, 9 3/4-lengths back, was Giacomo, the 50-1 Kentucky Derby winner who never got involved this time. Trainer Nick Zito, who came up empty with five horses in the Derby, went 0-for-3 Saturday, with Sun King, Noble Causeway and High Fly coming in fourth, sixth and 10th, respectively. Derby runner-up Closing Argument trudged in ninth, almost 27 lengths back. The less said about the rest of the 14-horse field, the better.
For the fifth straight year, the favorite won the Preakness, but for the first time since 2001 there will be no Triple Crown on the line in the Belmont Stakes.
Afleet Alex paid $8.60 for his seventh win in 11 career starts after he ran 1 3/16 miles in 1:55.04 on a fast track. He earned $650,000 for the Cash Is King stable, raising his total to more than $2.65 million. The only time he ran a bad race, he was discovered to have a lung infection after finishing sixth March 19 in the Rebel Stakes at Oaklawn Park. Coincidentally, that was the only time Rose didn't ride him, having been jocked off that day in favor of John Velazquez, who immediately abandoned the colt.
The son of the young stallion Northern Afleet has answered every question so far about possible distance limitations, and Rose is confident that the grueling, 12-furlong Belmont will be within his scope.
"I think he'll go a mile and a half without a problem," the 26-year-old rider said. "I always have. He'll be fit. He can run to Antarctica if he had to."
Watch the Belmont Stakes on Saturday, June 11 at 5 p.m. ET on NBC
SPONSORED HEADLINES
MORE HORSE RACING HEADLINES
MOST SENT STORIES ON ESPN.COM