Belmont to be Reverberate's third start in 34 days
Updated:
June 8, 2005, 8:22 AM ET
By
Richard Rosenblatt
| Associated Press
NEW YORK - The trainer is sick and his horse is tired, yet Sal Russo says he'll have Reverberate ready to run in Saturday's $1 million Belmont Stakes.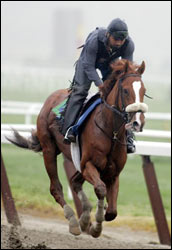 Peter Pan Stakes winner Reverberate gallops at Belmont Park on Tuesday.
"It's asking a lot of him to come back in two weeks, but we're going to give it a try," a weary-looking Russo said Tuesday morning as he continued to fight a stomach flu.
Even though his 3-year-old colt will be making his third start in 34 days, Russo said Reverberate has improved with each race and is bred for the grueling 1 1/2 mile-Belmont.
"I still wish we had more time," he said. "I'm just hoping he'll be fresh for the Travers (in August)."
The Belmont features a rubber match between Kentucky Derby winner Giacomo and Preakness winner Afleet Alex, and as many as nine challengers will be looking to pull off a huge upset.
Reverberate, with Jose Santos aboard, might be worth a closer look.
A son of 1995 Derby and Belmont winner Thunder Gulch, Reverberate finished second to Noble Causeway in a 1 1/8-mile allowance race in Florida, followed with a win at 1 1/16 miles at Belmont Park on May 8, and ran second to Oratory in the 1 1/8-mile Peter Pan Stakes on May 28.
"I don't look at myself as a long shot," Russo said. "Anyone who doesn't like Afleet Alex, the way he ran in the Preakness, has to be crazy. But we've talked about the Belmont for a while, and we'll see what happens."
At least Reverberate has a couple of victories, which is more than can be said for four other Belmont contenders. A.P. Arrow, Chekhov and Watchmon have one win apiece, and Nolan's Cat is 0-for-5.
Also, Russo has been through the Belmont routine before, and is well aware of what it takes to be competitive in the final leg of the Triple Crown. As an assistant for Hall of Fame trainer Scotty Schulhofer, the New Yorker can claim two Belmont wins -- with Colonial Affair in 1993 and Lemon Drop Kid in 1999.
Both were long shots, Colonial Affair at 14-1 and Lemon Drop Kid at 30-1.
"If you're from New York you want to win the Belmont," Russo said, "like everybody from Kentucky wants to win the Derby."
Reverberate is owned by Centennial Farm, which purchased the colt for $400,000. The farm also owned Colonial Affair.
Russo could have an ace on his horse, too, in Santos. The popular jockey guided Lemon Drop Kid to his Belmont upset of Triple Crown hopeful Charismatic, and rode Funny Cide to victories in the 2003 Derby and Preakness before falling short of the Triple Crown with a third-place finish in the Belmont.
His first ride aboard Reverberate came in the Peter Pan.
"He ran a very strong race," Santos said. "We have a lot of hope. So, I'm hoping for another long shot, and I have experience in this race. I have a little bit of an advantage."
The Peter Pan factor also has worked in the Belmont. The race has produced five Belmont winners in 15 years, Colonial Affair and Lemon Drop Kid among them.
"Even if they don't win the Peter Pan," Santos said, "they run real good races in the Belmont."
Watchmon, who could be the longest shot in the field, tuned up with a five-furlong workout in 1:00.09 Tuesday morning under jockey Javier Castellano.
"You have plenty of horse," Castellano told the colt's owner, Paul Pompa Jr. "He kicks in very good. I asked him for a little bit, and he took off. It was nice and easy."
Watchmon, with just one win in six starts, will be trainer Patrick Reynolds' first Belmont starter.
"After watching him work, I know he feels good and we got him right on the money," Reynolds said.
The gray colt's lone win was at 1 7/16 miles at Gulfstream Park on April 8.
"He can get the distance, we're going to find out if he can class up or not," Pompa said. "He exploded in his maiden win at Gulfstream after he went a mile and an eighth. That was good to see. He's gotten some bad trips in his last couple of races, but Pat seems to feel that he's coming to hand now."
Afleet Alex and Giacomo are the only horses to make it through all the Triple Crown races, and Andromeda's Hero (eighth in the Derby) is the only other Belmont starter who ran in one of the first two races.
Afleet Alex trainer Tim Ritchey isn't discounting any horse.
"You have two favorites, but you have fresh horses in the race that haven't gone through the rigors of five already demanding races like my horse and Giacomo," Ritchey said. "Any time you load in the gate, your horse has to run his race. You have to plan your strategy and you have to go out there and perform -- no matter who's in the field."
Watch the Belmont on NBC this Saturday at 5 p.m. ET

Copyright 2005 by The Associated Press
SPONSORED HEADLINES
MORE HORSE RACING HEADLINES
MOST SENT STORIES ON ESPN.COM