Afleet Alex blows them away in Belmont
Afleet Alex was timed in 2:28 4/5 and closed in a remarkable 24 2/5 seconds, the fastest final quarter-mile in the Belmont Stakes since Arts and Letters in 1969
Updated:
June 12, 2005, 12:11 PM ET
By
Ed McNamara
| Special to ESPN.com
ELMONT, N.Y. -- As Afleet Alex loped along in midpack down the long Belmont Park backstretch, the tension and anticipation grew. Would he have enough left for the final half-mile of the grueling Triple Crown finale, or would the even-money favorite disappoint his millions of new fans?
Belmont Stakes In Motion
Afleet Alex waited for precisely the right moment to apply the burst of speed needed to blow away Kentucky Derby winner Giacomo and nine other rivals in the Belmont Stakes. Download ESPN Motion, then watch Sunday beginning at noon ET to see how he won the final leg of the Triple Crown. Get Motion

The answer came suddenly and decisively. Jockey Jeremy Rose kicked him into gear on the outside on the far turn and by the time they turned into the stretch, the 137th Belmont Stakes was history before it was over. By the 3/16 pole, the Preakness winner had turned The Test of the Champion into a procession, and his overmatched rivals were forced to play follow the leader from a long way back.
The admirably consistent and amazingly versatile son of Northern Afleet answered any questions that were left about his possible distance limitations, drawing off by seven lengths over runner-up Andromeda's Hero as the crowd of 62,274 roared and shook their fists in triumph. Whether they had a win ticket on him or not, this was what the fans came to see. It was how they wanted Smarty Jones to become an immortal last year, and this time, although no Triple Crown was up for grabs, Afleet Alex ended the series like an all-conquering champion.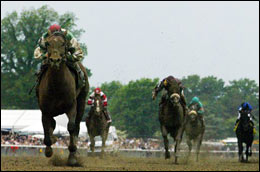 APAfleet Alex dominates Saturday's $1 million Belmont Stakes.
"I had the best horse," Rose said, "and I knew I had the fastest quarter-mile when I needed it. The only thing that could get him beat was me, so I stayed out of his way.
"He's won from five-eighths to a mile-and-a-half. He should be a Triple Crown winner, but I messed up or whatever [in the Kentucky Derby]."
Afleet Alex was timed in 2:28 4/5 and closed in a remarkable 24 2/5 seconds, the fastest final quarter-mile in the Belmont Stakes since Arts and Letters in 1969. Horses nowadays don't win sprint stakes at Saratoga as 2-year-olds and then blow away the field at 12 furlongs the next June, but this 2-year-old, purchase for $75,000, is a throwback of great quality.
All week trainer Tim Ritchey insisted that his first superstar in a long career would have no trouble handling 1½ miles, and Alex made him look like a prophet.
"All I kept saying was, 'Be patient, be patient, be patient,' " Ritchey said. "He just exploded, and that was the plan. With these big, wide turns, you have to save all the ground that you can.
"Jeremy Rose has now ridden three Triple Crown races like a Hall of Famer."
Afleet Alex paid $4.30 and earned $600,000, raising his career total to more than $2.76 million for Cash Is King Stable. It was his eighth win in 12 starts, with his only out-of-the-money finish coming in March in the Rebel Stakes, when he subsequently was diagnosed with a respiratory infection.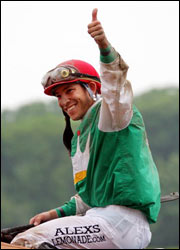 APJeremy Rose celebrates after winning Saturday's Belmont Stakes.
Andromeda's Hero gave trainer Nick Zito his sixth second-place finish in the Belmont. Third was the maiden Nolan's Cat, and the Derby winner, Giacomo, was far back, coming home seventh, almost 18 lengths behind the colt whom he edged by a length at Churchill Downs on the first Saturday in May.
Every Triple Crown series is strange in its own way, but the 2005 spring classics were odder than most. Entering the final major preps, this generation of 3-year-olds looked considerably stronger and more gifted than most crops, but the alleged experts were proven wrong again. By the Belmont, only Afleet Alex and Giacomo were still in the battle.
The 131st Kentucky Derby was off the charts, with an insanely fast pace set by kamikaze rabbit Spanish Chestnut creating a massive meltdown in the stretch. Hardly anyone could identify the horse surging on the outside in deep stretch to win it. It was, of course, the ignored and reviled Giacomo, at odds of 50-1, second highest ever for a Derby winner. He was considered a fluke winner, and rightfully so. He's a grinder who usually runs the same consistent if uninspiring race. If the pace is hot and the front-runners wilt, he can be there to pick up the pieces. The planets were aligned perfectly for him on May 7, and his name will be on the Derby roll of honor forever.
The Preakness Stakes was even more bizarre, though the oddity had nothing to do with pari-mutuel payoffs. This time it was the favorite that beat seemingly impossible odds by not falling down after clipping heels with front-runner Scrappy T at the top of the stretch. The more you watch the replay, the harder it is to believe that Afleet Alex managed to avert going down. That Rose could stay in the saddle also was shocking, and that Alex drew off to win with ease was the most amazing of all.
NBC tried to package the Belmont as the rubber match between the Derby and Preakness winners, who not only had no real rivalry but hadn't even been properly introduced yet. Afleet Alex was staggering along the rail when Giacomo plodded by in the middle of the track in the final strides at Churchill Downs. At Pimlico, Giacomo finished almost 10 lengths behind a horse that nearly fell. Amid the shock and relief that Afleet Alex had avoided potential disaster, few knew that Giacomo had plunked up to be a distant third. Only when NBC flashed the first three did the sickening realization sink in that if Afleet Alex had fallen, the disqualification of Scrappy T would have set up the least palatable Triple Crown bid of all time.
So for the first time in four years, there was no Triple Crown on the line Saturday on Long Island, which for some was a relief. Instead of a charismatic, wildly popular star like Smarty Jones going for immortality while unbeaten, The Test of the Champion was more like a glorified, $1 million allowance race featuring two classic winners. This was a finale that didn't shape up as grand, and there was little anticipation and hardly any buzz. Afleet Alex's spectacular performance changed all that after the fact.
"I don't want to hear any more criticism about my horse," Rose said. "Knock me, but don't knock him. He's one of the best we'll see in a long time."
MORE HORSE RACING HEADLINES
MOST SENT STORIES ON ESPN.COM