So why didn't Alex win the Triple Crown?
If Afleet Alex is so great, why didn't he win the Triple Crown? 
Updated:
July 22, 2005, 7:09 PM ET
By
Bill Finley
| Special to ESPN.com
What happened early Saturday evening before a crowd of 62,274 at Belmont Park was by no means a surprise. Afleet Alex was supposed to win the Belmont Stakes. He was the best horse in a field that included one other Grade I winner in Giacomo and a bunch of colts who belonged in the feature on a Thursday afternoon. He did what very talented horses do to suspect competition: He destroyed them.
Belmont Stakes In Motion
Afleet Alex waited for precisely the right moment to apply the burst of speed needed to blow away Kentucky Derby winner Giacomo and nine other rivals in the Belmont Stakes. Download ESPN Motion, then watch Sunday beginning at noon ET to see how he won the final leg of the Triple Crown. Get Motion

This Belmont went according to script, with no plot twists, collisions at the top of the stretch, surprises, or unhappy endings. Afleet Alex, who also beat up on his rivals in the Preakness, is simply far and away the best 3-year-old in training and it showed on the race track, where he won the final leg of the Triple Crown by seven lengths.
"He's a beast, a freak of nature," winning jockey Jeremy Rose said. "He's made out of steel."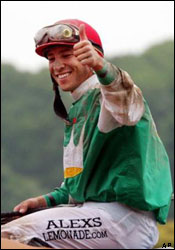 Afleet Alex's jockey, Jeremy Rose, has been more than willing to take the blame for their Derby loss.
All true. He overcame that frightening incident at Pimlico and ran away from the field in the stretch. He moved effortlessly under Rose in the Belmont, passing horses at will before drawing clear to win in a gallop.
So why didn't he win the Triple Crown? The only possible answer? It's just a very, very hard thing to do.
It's hard to argue that Afleet Alex wouldn't have been a worthy Triple Crown winner. He has the talent, class, stamina and durability that a horse must have to accomplish what is increasingly looking like an impossible task. He's a far better horse than the two that finished ahead of him in the Derby, Giacomo and Closing Argument.
Somehow, that didn't matter on Kentucky Derby Day.
What happened? Trainer Tim Ritchey has argued that Afleet Alex had to stop and start a couple of times during the race, which sapped him of his momentum. He said it was like having to hit a car's gas pedal, brake, then gas pedal again to get in and out of traffic. It's not an efficient way to drive. Some believe that even though Afleet Alex was ninth early, he moved a little soon into the torrid fractions, and that's what cost him. Without giving any specifics, Rose said it was his fault.
"He should be a Triple Crown winner," Rose said moments after the race. "But I messed up or whatever. I say I messed up because I had the best horse. You can't blame Tim and you can't blame Afleet Alex. So, if you have to blame someone, blame me."
Minutes later, he still wanted to be the fall guy.
"I still feel very strongly that he should have been a Triple Crown winner," Rose said. "Whether I did anything wrong or not, I don't know. Obviously, he's the best 3-year-old in the country. He should've won it."
Whatever excuses he might have had in the Derby were minor ones. It was a case of him just not having his A game on Derby Day. Hey, it happens.
"He ran a great race in the Derby and Jeremy rode a great race," Ritchey said. "It just wasn't meant to be. If somebody in March had told us we were going to win two legs of the Triple Crown, I would have been ecstatic."
It's been 27 years since a horse last won the Triple Crown, the longest drought in the history of the series. The fact that Afleet Alex has now been added to a very long list of horses who have come up just short since Affirmed last did it will inevitably increase the cry that the series is too tough and must be changed. There are some who want shorter races and more time between races. They say the modern horse, this fragile creature we have somehow created, can't possibly handle the demands.
The Triple Crown is incredibly difficult to win, which is precisely the way it is supposed to be. They better not dare change a thing about it. It may be a long, long time until a horse pulls it off again, but it will happen. And when it happens, everyone will know the colt who pulled it off is a great horse.
In the meantime, we will have to settle for very good horses, ones who have minor flaws here and there, or ones who simply have one bad day.
In the case of Afleet Alex, we are talking about very small flaws. He's special and very easily could have won the Triple Crown. What a shame that it didn't happen.
• Bill Finley is an award-winning horse racing writer whose work has also appeared in The New York Times, USA Today and Sports Illustrated.
• To contact Bill, email him at wnfinley@aol.com
SPONSORED HEADLINES
MORE HORSE RACING HEADLINES
MOST SENT STORIES ON ESPN.COM