Commentary
Outtakes with Bob Baffert
Kenny Mayne saddles up for a brisk talk with Bob Baffert
Updated:
May 8, 2009, 2:52 PM ET
By
Kenny Mayne
| ESPN The Magazine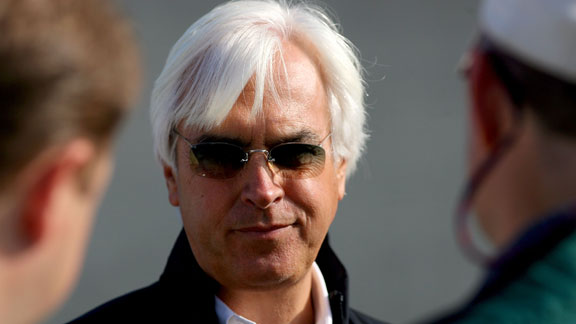 Matthew Stockman/Getty ImagesTrainer Bob Baffert nearly won a Triple Crown with Real Quiet.
This interview appears in the May 18 issue of ESPN The Magazine.
Outtakes Podcast: Bob Baffert
KM: You're usually at the Derby. Does it ever get old?
BB: There's so much history there, it's overwhelming and exciting. And having a good horse brings everybody closer. It's the best medicine for any kind of depression.
KM: Are you worried that the company that runs Pimlico is having financial problems? What if the race gets moved?
BB: It'd be devastating. The Preakness is my favorite race of the series. The pressure's off, everyone's relaxed, and Baltimore embraces you. I like the track. I like the crab cakes.
KM: Your son is 4 now. How is he with the horses?
BB: Bode? All he cares about is the starting gate. He loves it. That and calling races. He calls the races all day in the house.
KM: Do you give him an allowance at the track, so he can have a stake in the races?
BB: He likes rooting. Jill, my wife, has become quite the gambler. If you ask Bode what his parents do for a living, he'll say his daddy trains horses and his mama plays the Pick 4. So he roots with her, and if she gets mad, he does too. He'll throw his program down.
KM: What do you think of all the new synthetic tracks?
BB: It costs almost $10 million to put a track in. You could do a mile of freeway for that. If people would've put that kind of money into dirt surfaces, and made some that drain more efficiently, we would've been better off. The new stuff really affects certain speed horses. It takes their brilliance away. That's what I don't like about it. It's changed racing. But I can't see the tracks staying around because they've become a headache to maintain. And they fall apart.
KM: You know how they say that the great horses know they're really good? Do you believe in all that? Can a really superior horse freak out the opposition just by looking at it?
BB: I don't know if it's the herd instinct, but take a horse like Silver Charm. He would never win by a lot, but when a horse pulled up alongside him, he just wouldn't let him by. And they feel it, the more they win. Silver Charm won the Derby. Then we took him to Dubai. He won there. And he was so cool. He never got upset. He knew he was good.
KM: By this point you've been in every kind of race. Still get nervous?
BB: I do, but there are two types of nervous. There's the good nervous, which is anticipation of the race due to all the waiting. Then there's the bad nervous, which is when your 3-5 horse isn't training like a 3-5. I like having the good nervous.
KM: The walk over to a big race is always a real dramatic moment. You still get caught up?
BB: It is fun, and dramatic. It's like walking to the O.K. Corral, except without the guns.
KM: Do you often think about how close you were to a Triple Crown with Real Quiet?
BB: Constantly. Every time a horse goes for the Triple Crown, everybody brings it up. I really thought, when Cavonnier got beat in the Derby the first year I went, that I got the worst defeat out of my system, that I couldn't have a worse beat than that. Then I got beat by an inch in the Triple Crown, too. I think I've got them all out of the way now.
Anchor/Reporter
Kenny Mayne -- known for his offbeat style, dry humor and unique sayings -- has served a variety of roles in more than 10 years with ESPN. He currently provides features to SportsCenter and "The Mayne Event" segments to Sunday NFL Countdown.
SPONSORED HEADLINES
MORE HORSE RACING HEADLINES
MOST SENT STORIES ON ESPN.COM