Trainer Kelly works out of the spotlight
Updated:
July 25, 2010, 6:46 PM ET
By
Claire Novak
| Special to ESPN.com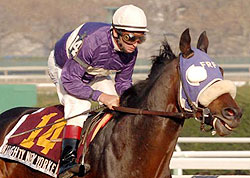 Horsephotos.comNaughty New Yorker drew post 6 for Monday's Evan Shipman Stakes.
SARATOGA SPRINGS, N.Y. -- Almost every morning at Saratoga Race Course, a tough bay colt hauls his exercise rider around an old dirt oval. Sometimes it's the New York Racing Association's tiny Clare Court, sometimes it's the main track -- but always, the feisty old contender is one of the first from trainer Pat Kelly's barn to go. "He likes to get his work done," Kelly said last Friday. It was 7:00 a.m., but the 8-year-old son of Quiet American had already gone out and returned from his daily routine. That, the trainer remarked, was that: "The rest of the time, he's just standing around looking for somebody to bite." Meet Naughty New Yorker. In Monday's $70,000 Evan Shipman, a 1 1/8-mile race for New York-bred horses going two turns, he'll make the 62nd start of a career that began in 2004 -- one that includes victories in events here like the Albany Stakes in 2005, the Noble Nashua in 2006 and the Saratoga Sunrise in 2007. "You don't get a lot of colts that race this long," said Kelly. "Mostly it's geldings, but the stud business isn't really good right now, and his pedigree isn't a speed pedigree, and sort of the only stallions getting the action now are speedy guys. All-day runners aren't really popular." In a world of brief racing campaigns and quick retirements, when it's unusual for high-profile runners to race past their 3-year-old seasons, Kelly excels at keeping older horses on track. He conditioned the well-loved Evening Attire through a 9-year racing career to $2.9 million in earnings. Still, his system employs no unusual methods -- just a little horse sense and common sense. "There's no secret," he remarked. "Just feed them well and take good care of them. They get a little vacation once in a while, it's just sort of old-style training. We don't work them fast, we don't work them long. We just get them fit and keep them happy." One of Kelly's best winners at Saratoga is Christiecat, who took the Diana Handicap in 1991. He also trained Turf contender Riskaverse and on Sept. 12, 1992, saddled half-brothers Solar Splendor and Sultry Song to back-to-back Grade 1 victories in the Man o'War and Woodward at Belmont. But his most recognizable runners from a 33-year independent career and a lifetime of involvement in the sport are undoubtedly Evening Attire, a gelding who retired from racing in 2008 at the age of 10, and Naughty New Yorker, winner of more than $1 million and still going strong at the ripe old age of 8.
"He's the toughest horse in the barn to gallop at 8 years old," Kelly said. "I haven't got anybody that's any tougher; he's a handful. He can be opinionated once in a while and want to do his own thing."
Naughty New Yorker hasn't won a race this year. In seven starts he has a second, earned this February in the Tinchen Prince's Stakes, and a third, in April's Packett's Landing Stakes, both at Aqueduct. The last time he ran, in a 6½-furlong race at Belmont on July 10, he finished fourth after being steadied at the start. Jockey Jean Luc Samyn, who has been aboard for all of the colt's races this year and rode him multiple times in previous seasons, said he wished the race would have been just a half-furlong longer. "I do think that 6#189; maybe is a little short, but 7 furlongs that day would have been really good," Samyn remarked. "At least he's had some good races in 2010. He got close to winning one but not quite, so hopefully we can do it in Saratoga." According to Kelly, it's difficult to find good races with appropriate conditions for the colt due to his many starts. It's also hard to find longer events for horses of his age. "It's tough with the longer races, nobody seems to want to run long sometimes," he said. "People don't know how to train going a mile and an eighth or something like that. More horses will run longer than you think; we're getting a lot of pedigree influence now for speed, but there's still some stamina pedigrees out there. But it's also tough because he's a closer and the pace is always an issue with him. If they go slow up front, then they finish better and he's sort of a victim of circumstance on that part of it." To those who know him, it seems as if Naughty New Yorker loves the Spa. He also loves racing, and he isn't beyond taking a chunk out of the competition -- literally. "He loves to bite and lately he's been coming out of the gate and usually he reaches over and tries to bite another horse," said Samyn. "He's kind of a tough horse to ride, but I've been riding him so long, I know him pretty well." So do the New York racing fans, many of whom will place sentimental wagers as the old-timer goes up against the likes of Giant Moon and Icabad Crane. In this race, Kelly isn't about to tout his horse to the world. He just hopes the pace sets up well and the front-runners tire instead of kicking on. "We've never really had a rabbit for him or had any kind of way to influence the pace other than if they go out fast and sort of set it up," he explained. "If they go too slow he'll make a midrace move and then he'll hang a little bit and the guys in front will speed away. Especially at Belmont the speed carries ... because of the big wide turns because you can run pretty fast and not tire. Up here with the shaper turns and at Aqueduct it hurts the speed horses a little bit and the closers have a chance." Samyn agrees. "We just need the pace; if we'll be lucky to have some good honest pace in front, he'll come running good at the end," he said.
Claire Novak is an award-winning journalist, whose coverage of the thoroughbred industry appears in a variety of outlets, including The Blood-Horse magazine, the Times Union (Albany, N.Y.) and NTRA.com. She lives in Lexington, Ky.
SPONSORED HEADLINES
MORE HORSE RACING HEADLINES
MOST SENT STORIES ON ESPN.COM