Zenyatta gets send-off at Hollywood
Updated:
December 5, 2010, 10:24 PM ET
By
Steve Andersen
| Daily Racing Form
INGLEWOOD, Calif. -- Zenyatta heard the hearty cheers of a California racing audience for the final time at Hollywood Park on Sunday, with an enthusiastic crowd lining the paddock and the winner's circle to bid farewell to the popular mare.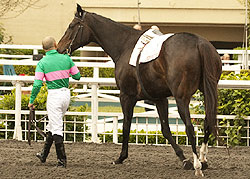 Benoit PhotoZenyatta and jockey Mike Smith parade in front of fans at Hollywood.
During a 40-minute ceremony, Zenyatta was paraded in the paddock for 15 minutes and spent more than 20 minutes walking on the racetrack before the grandstand and clubhouse and into the winner's circle for a brief presentation that recognized the efforts of the people behind her. Zenyatta, 6, was scheduled to be flown on Monday morning to Kentucky, where she will reside at Lane's End Farm and be bred early next year. Another retirement ceremony is scheduled for Monday at Keeneland in Lexington, Ky., at approximately 4 p.m. Eastern. Sunday's program at Hollywood Park was all about Zenyatta. When she walked in the paddock at 2:50 p.m., she was greeted with cheers and applause from a crowd that was four-deep in places, most furiously snapping away with cameras. For 15 minutes, groom Mario Espinoza walked Zenyatta through the expansive paddock, stopping occasionally to give people a chance to see the mare close-up. While Zenyatta was being walked, Jerry Moss, who co-owns the mare with his wife, Ann, stood in the middle of the paddock absorbing the scene. "This is pretty amazing," Moss said. "It's very moving and certainly deserving." The Mosses and trainer John Sherriffs have been inundated with gifts and cards from well-wishers in recent weeks, a reflection of the mare's popularity. "My desk is ridiculous," Moss said. "People sent tapes, photos, and moving tributes. It's amazing what she means to people."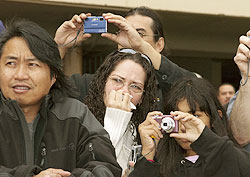 Benoit PhotoFans at Hollywood Park flock to get photos of the World Champion.
After she left the paddock, Zenyatta was walked on the racetrack before a brief winner's circle ceremony when the Mosses, jockey Mike Smith, and several members of Shirreffs's team -- Espinoza, hotwalker Carmen Zamora, pony rider Freddy Wilson, assistant trainer Michelle Jensen, and exercise rider Steve Willard -- were introduced. Along the way, a chant of "Horse of the Year, Horse of the Year" rang out, a reflection on Zenyatta's status as a contender for that award and the California's audience's slant on how that voting should go in coming weeks. Zenyatta won 19 of 20 starts in her career, with her only loss coming to Blame in the Breeders' Cup Classic at Churchill Downs last month, Zenyatta's final start. Blame is the other top contender for the 2010 Horse of the Year title. Sunday was a day like no other for Zenyatta. She had her final jog and gallop on the backstretch training track in the morning, watched by about 75 fans and horsemen. Smith signed autographs for about an hour in the paddock late morning, and then went back to the paddock during a break in his day on two occasions in the afternoon to sign more. At one point in the morning, the line to meet the Hall of Fame jockey stretched 100 yards. By mid-afternoon, Smith could not guess how many autographs he had signed. Through the day, several of Zenyatta's past races were shown on the closed-circuit television system and the infield television. Each time she reached the wire in a replay, a cheer rose through the grandstand.
MORE HORSE RACING HEADLINES
MOST SENT STORIES ON ESPN.COM