Horse racing mourns loss of Baze
Updated:
May 18, 2011, 7:04 PM ET
By
Claire Novak
| Special to ESPN.com
LOUISVILLE, KY -- Eric Guillot cried all the way to the track that day, tears streaming down his cheeks, one constant question running through his troubled mind.
Why?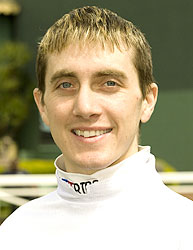 Benoit PhotoMichael Baze will be missed by his peers in the sport of horse racing.
It was the morning after May 10, the day 24-year-old jockey Michael Baze was found in his Cadillac Escalade on the backside of Churchill Downs. The vehicle had been running. The young jockey wasn't breathing. He was pronounced dead at 4:47 p.m. EDT, reason unknown. A toxicology report, due out this week after an autopsy failed to reveal anatomical causes, is expected to reveal whether Baze's death was substance-induced. Foul play is not suspected. But Guillot, the Louisiana horseman for whom Baze won multiple graded stakes races in California and beyond, is struggling to believe that such a bright young kid, so full of talent, is now gone. He isn't the only one. From Chicago's Arlington Park, where Baze took top honors in 2010, to the Southern California ovals where he carved out a niche in his early career, trainers who once put him aboard their runners and riders who raced alongside him are in mourning. They remember the young jockey as a dedicated athlete who loved the sport and the horses he rode; a polite young man who was as quiet as a church mouse in front of strangers and kept his personal problems -- and often his true feelings -- to himself. But Baze was also a daredevil who thrilled to the adrenaline rush of speed, competition, and danger. He drove his motorcycle 100 miles per hour. He perfected his game of pool, striving to beat everyone he played. For fun, he used to jump off the roof of his $1 million house, landing on a trampoline he'd positioned below. "He was never scared, that was one thing about him," Guillot said. In spite of this, or perhaps because of it, Baze went through pockets of trouble. He struggled with alcoholism and was arrested for drunk driving during the Del Mar meet. He was separated from his wife and often depressed. At Oaklawn Park on March 11 he was taken off his mounts and fined $500 when he failed a Breathalyzer test. Two days after the date of his death, he was scheduled to appear in court on a felony charge for cocaine possession stemming from a Nov. 18 arrest in Louisville. "I felt like he'd go in and out; he'd either be high on top of the mountain or low in the valley," Guillot remarked. "But nobody thought it would turn out like this."
* * *
Born in Renton, Washington, on April 14, 1987, Baze came from a riding family whose names are legendary in the Pacific Northwest. His father is retired jockey Mike Baze, whose cousin is Hall of Fame jockey Russell Baze, the all-time winningest rider in history. His uncle Gary Baze is the all-time leading rider at the now-defunct Longacres Racetrack in Renton, Wash., and is in the Washington Racing Hall of Fame. Cousin Tyler Baze won the 2000 Eclipse Award as outstanding jockey and races in Southern California as well.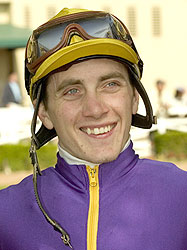 Benoit PhotoThe jockey celebrated his 24th birthday in April.
Still, the youngster had never ridden a horse until he came down to Del Mar as a 15-year-old. He wound up in the saddle aboard a runner trained by Wesley Ward, sneaking onto the backside before he was old enough to be working there legally. What he lacked in experience, he made up for in talent. Within two weeks, he was breezing horses. "I bought him a helmet and some boots and away we went," Ward recalled. "He was a natural talent. He picked it up faster than anybody I'd ever seen." The kid got his jockey's license on his 16th birthday five months later. He launched his career in 2003. By that time, trainers were already well-aware of his ability. He was a riding machine. "He was the epitome of a giver when it came to his work ethic and personality," said former trainer Nick Hines, who once managed Guillot's Southern Equine Stable. "He never had a negative vibe about him professionally. Each and every time he rode, win or lose, he was always positive. In a loss he'd just come back and say, 'It's okay, we're gonna get 'em next time.'" Hines saw Baze win the Best Pal Stakes and the San Miguel Stakes aboard Salute The Sarge, a horse owned by Southern Equine and named in his honor. The jockey also rode 2009 Darley Debutante winner Mi Sueno for the operation to claim his biggest career victory. But Hines' favorite win picture with Baze in the saddle wasn't taken after a major stakes event -- it was simply taken after a hard-earned score aboard a random racehorse, a runner who was stretching out long off a layup, for whom the victory was a tough assignment. The young jockey's expression as he posed for the camera after piloting that horse to the winner's circle was one of such satisfaction, it still brings tears to the former trainer's eyes. "It was the most perfect ride you could ever give a horse," Hines recalled. "No one else could have ridden that horse as good that day, and the way he was so happy to have done it, that really pulls at your heartstrings, right there."
* * *
Last year, Baze struck out for Chicago to make a name for himself at Arlington. He'd never hung his tack there, but that didn't matter. At the end of the season, he was the track's leading rider. "It wasn't coincidental that he went all the way to Chicago and won the title there" Guillot said. "He'd get a horse to relax that other riders would be fighting with. I'd fly him here or there to ride a race and he'd get the money right on the wire."
"

It wasn't coincidental that he went all the way to Chicago and won the title there.

"

-- Trainer Eric Guillot
This year, however, Baze was struggling to find good mounts. After starting the season in California, he finished fourth in the standings at Oaklawn Park, where the meet concluded on April 16. But he rode just six starters at the Keeneland meet -- including his final runner on April 29. He was scheduled to be based at Churchill during the spring and many were hoping the new location, a fresh start of sorts, would revitalize his career and his life. Those same people still wonder how he could have died with so many plans in place, a limitless future ahead. That question may remain unanswered forever. Baze passed away with 6,969 career starts, 918 wins, and purse earnings of $32 million. He died less than one month after his 24th birthday. Moments of silence have been held in his honor at tracks across the country, and a memorial service is planned for May 24 at Emerald Downs. Those closest to him will mourn his death wondering if there was anything they could have done to stop it.
* * *
A few weeks before Baze died, Jockeys' Guild representative Darrell Haire stopped by the riders' quarters at Keeneland. He tried to sit down with Baze, to talk with him. "He just said, 'I'm okay,' you know, 'I'm okay,'" Haire recalled. "I knew he wasn't okay; he was too quiet, I knew he'd been drinking. I feel bad, like I should have done more. But when someone's in trouble, they've got to want to let you help, and help themselves, too." "That's the whole thing with Michael, he was so quiet," said jockey Joe Talamo. "Even when he was doing great, you wouldn't have known he was on top of the world because he was so discreet. When he got a little low and depressed he didn't especially show it either. It's hard for anyone to help somebody when they don't know what's going on." Talamo, now 21, contended with Baze in highly-competitive situations not only on a race-by-race basis, but when they went head-to-head in 2007 for leading rider honors at Hollywood Park and Del Mar, two of Southern California's top tracks. In both cases, Baze edged his rival atop the standings in what would prove to be his best year as a rider, with his mounts earning more than $9.3 million. Then 20, he was the youngest jockey since the legendary Bill Shoemaker in 1950 to win a Hollywood riding title. Talamo said the tragedy of his fellow rider's death hit him hard. "The last week I've just been thinking a lot about life," he remarked. "When something like this happens it makes you say, 'Man, what if that was me?' He was such a great rider, a picture-perfect rider. To think of what he accomplished at such a young age, to be the leading rider at two of the toughest meets in Southern California, is incredible -- and he did that when he was 20, in such a short period of time. "He had a gift. And he was so young; I think that's the saddest thing of all."
Claire Novak is an award-winning journalist whose coverage of the Thoroughbred industry appears in a variety of outlets. You can reach her via her website
.
SPONSORED HEADLINES
MORE HORSE RACING HEADLINES
MOST SENT STORIES ON ESPN.COM