In an instant, a day of joy becomes a day of sadness
Updated:
May 21, 2006, 2:58 AM ET
By
Pat Forde
| ESPN.com
BALTIMORE -- Thoroughbred racing is built upon a terribly thin, terribly frail foundation: The lower legs of the half-ton animals that captivate us with their speed, grace and beauty.
We were reminded of this brutal fact Saturday, when a sun-splashed Preakness Stakes day dissolved into an emotionally wrenching disaster.
When Barbaro, the regal Kentucky Derby champion and legitimate Triple Crown aspirant, broke down on the Pimlico Race Course homestretch less than 3/16 of a mile into the race, racing's darkest nightmare was realized. The splendid colt trailed the pack as it came past the grandstand for the first time, bobbling badly. His right hind leg flailed at a gruesome angle that revealed the ugly truth: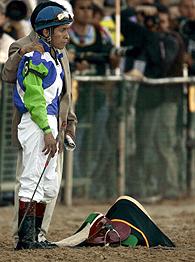 AP Photo/Chris Gardner"I can't really tell you what happened," jockey Edgar Prado said of Barbaro's injury.
Fractures above and below the ankle -- a career-ending and life-threatening injury. Leg injuries to horses are especially dangerous, because they cannot lie down for extended periods of time to take pressure off their limbs.
"There's some major hurdles here," said attending veterinarian Larry Bramlage, one of the straightest shooters in the business. "This is a significant injury, and there are at least a couple of things that are very life-threatening for him. ... Under the best of circumstances, we're looking to try to save him as a stallion."
At its best, horse racing can make romantics out of hopeless cynics. At its worst, it can smash a romantic's heart.
This was racing at its worst.
Barbaro was taken by van from the Pimlico stakes barn at 7:18 p.m., almost exactly an hour after the injury, on his way with a police escort to George D. Widener Hospital for Large Animals in Kennett Square, Pa. Surgery was to be performed there Sunday. Trainer Michael Matz followed the equine ambulance in an SUV.
They left behind an old racetrack steeped in sudden depression.
In an instant, the joy was sucked out of this event and replaced with horror and sadness. A vibrant day became one of the lowest moments the hard-luck sport has ever had, as Bernardini's upset victory was completely overshadowed. This injury joined the breakdowns of Ruffian, Charismatic, Go For Wand and Prairie Bayou among the truly dispiriting moments in racing history.
"It's heartbreaking," said Joe DeFrancis, chief executive officer of the Maryland Jockey Club, which runs Pimlico. "Just heartbreaking."
Screams and gasps exploded from the grandstand as jockey Edgar Prado struggled to bring Barbaro to a halt and keep the horse's weight off his ruined leg. Tears streaked hundreds of faces. Hands covered hundreds of mouths. One bereaved woman in the front row screamed, over and over, "No! No! No!"
At its best, horse racing can make romantics out of hopeless cynics. At its worst, it can smash a romantic's heart.
Barbaro's assistant trainer Peter Brette, who rides the horse in the mornings on his exercise gallops, sprinted out to the track. While outriders worked to keep Barbaro still and help load him into an equine ambulance that sped to the scene, Prado walked over and embraced Brette.
Matz and the horse's owners, Roy and Gretchen Jackson, soon joined them on the dirt. It was distressing to watch the wounded animal limping onto the ambulance.
"During the race, he took a bad step and I can't really tell you what happened," Prado said. "I heard a noise about 100 yards into the race and pulled him right up."
That's the cruel caprice of racing: A single bad step can end a career, threaten a life and thoroughly depress a record crowd of 118,402.
After Barbaro was returned to his stall in the stakes barn and doctors began their evaluation of the injury, the pall was palpable. The scene at the barn was grim, chaotic and strained, as security guards pushed media members away from the barn. Along the shed row, some 20 yards from Barbaro's stall, a slack-jawed, glassy-eyed man sat on a hay bale and spoke for everyone when he said, "This is terrible."
Later, Barbaro's owners went into the Pimlico administrative offices. As veterans of this business, they know the ever-present risks.
"We've all talked about it," Gretchen Jackson said stoically to a friend. "We've all seen it."
Seeing it on this day, though, was especially difficult. A year after Afleet Alex miraculously righted himself to avoid a catastrophic stumble, the Preakness ended on an entirely different tenor.
The fans came to see Barbaro continue his run at immortality. The undefeated colt had run a brilliant Kentucky Derby, smashing the field and winning by 6½ lengths, the largest margin of victory in the race in 60 years. Bettors sent him off as the 1-2 favorite in the Preakness, believing that this could be the colt to end the 28-year Triple Crown drought.
The day had unfolded serenely at the stakes barn. The crowd began forming outside Barbaro's Stall 40 about two hours before the race, but it was quiet on the outside of the grandstand. Matz appeared with his son, Alex, in tow to check on his prize colt, and the Jacksons came by shortly thereafter.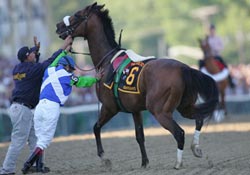 HorsephotosBarbaro was pulled up by jockey Edgar Prado early in the Preakness.
When it was time to walk over to the track with the horse, Matz smiled brightly and said to the Jacksons, "Well, here we go again." All signs pointed toward another big run by Barbaro.
He looked full of himself while circling on the turf course, rearing up when Matz put on his saddle and cinched the girth beneath the horse. When Brette gave Prado a leg up to board Barbaro, the pressure seemed to be off the trainers. There was no sign of the trouble to come.
"When he went to the gate, he was feeling super and I felt like he was in the best condition for this race," Prado said. "He actually tried to buck me off a couple of times. He was feeling that good."
Barbaro felt so good that he actually burst through the starting gate before the race began, bolting out a few strides and then calmly allowing an outrider to collect him and guide him back to the gate. He did not appear to be injured at that time.
Bramlage, the veterinarian, said he did not think the injury occurred when the colt broke through the gate.
"I watched him break through the first time and I watched him break the second time," he said. "He didn't break [from the gate] with the right hind injury.
"I would guess that it happened sometime out about a furlong," Bramlage said. "It took additional 110 yards to 200 yards for Edgar to get him under control because these don't hurt immediately when they happen. There is so much adrenaline that the horse has no concept.
"Edgar probably knew before the horse knew that something was wrong. I don't think breaking through the gate the first time had anything to do this," he said.
Said DeFrancis: "He was on the muscle. He was ready to race."
But shortly after the second time through the gates, it was obvious that something was terribly wrong.
A healthy Barbaro would have been near the lead, pressing the pace set by early leader Like Now. Instead, as the horses flashed past, the one saddle cloth everyone was looking for -- the black one with the yellow 6 on it -- was nowhere to be seen.
Finally, there he came, in clear distress. Barbaro's run was done, his life hanging in the balance, another catastrophic turn of events for a sport built on a terribly fragile foundation.
Pat Forde is a senior writer for ESPN.com. He can be reached at ESPN4D@aol.com.
SPONSORED HEADLINES
MORE HORSE RACING HEADLINES
MOST SENT STORIES ON ESPN.COM