Highlights from Kentucky Derby 132
Updated:
May 7, 2006, 1:01 AM ET
By
Jay Cronley
| Special to ESPN.com
I knew I was in pretty good shape with my win pick of Barbaro, printed here Wednesday five minutes after Derby post positions were drawn, when televised handicapper Hammerin' Hank came on the ESPN tube midday and said he didn't see any way the one I liked could get there. Hearing that, I jumped in the car and drove six blocks to the handy simulcast venue and shook what money was left in various jars, pockets and tins and played Barbaro.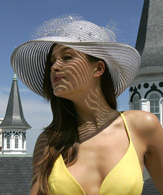 APSupermodel and Tsunami survivor Petra Nemcova poses between the twin spires of Churchill Downs.
Some things keep on mattering in horse racing, even though they're ignored year in and decade out.
Horses that close fast in a prep race, and then run longer, never win next time; or if they accidentally do, it's seldom.
Horses that put up big numbers in short fields are probably spinning their hooves.
Horses that look great on mud and then run on a fast track don't always do as well -- look at the Wood winner. And possibly The Curse of Reggie Bush.
Here are some other memorable images from the 132nd Kentucky Derby.
Lawyer Ron was claimed so to speak -- he was sold -- for a reported $6 million, bringing to mind the horse adage, when you can sell any of them, sell them.
The shot of a horse race from the Met Life blimp is the greatest in all sport.
If you don't have HDTV, get into the college-education fund and go by yourself a flat screen with high definition. Watching a sporting event on HDTV is so clear it is dizzying.
The performances of two jockeys not riding horses were sensational. Jerry Bailey, who worked for ESPN and Gary Stevens on NBC, made you think you were backstage at a great show. Bailey's feature about a jockey going through six sets of goggles during a race, peeling them off like a snake might skin, was perfect. Articulate athletes like this speak well for the sport.
The best description of anything horsy was when ESPN's Quint Kessenich said that the ultimate equipment change was being gelded.
Sometimes celebrity sightings resembled outtakes from Hollywood Squares, as Gilbert Gottfreid was reported to be a featured player at a pre-Derby party.
Travis Tritt looked like a theater usher in a David Lynch film, decked out in purple.
Model Petra Nemcova, wearing a low-cut and loose-fitting yellow dress, set a new standard for Derby form.
In one celebrity reference regarding the big party the night before, the quarterbacking "Peyton boys" were mentioned, so much for Eli.
The Beyer numbers were roughed up some. Barbaro's last Beyer before the Derby was fourth best last Beyer in the field. Bluegrass Cat's last Beyer was 81 and the horse had no career 100. Steppenwolfer's last Beyer was 94 and that horse had no career 100 Beyer, either.
Not a single betting window was shown in all the Derby coverage.
Five million hats were shown. Many hats this year looked like quail might fly out at any second.
MOST SENT STORIES ON ESPN.COM