Commentary
The little guy hits the big time
Updated:
May 1, 2009, 2:45 PM ET
By
Pat Forde
| ESPN.com
LOUISVILLE, Ky. -- For years, Tom McCarthy would pack up the station wagon with a big picnic lunch and take his wife and five children to the backside of Churchill Downs on Kentucky Derby day.
They'd enter the stable area where McCarthy owned or trained a few cheap horses at a time, put down the tail bed of the wagon and set up near the backstretch railing. At day's end they'd watch the Derby flash by, a riot of thundering hooves and colorful silks chased by roars rising from 130,000 throats.
[+] Enlarge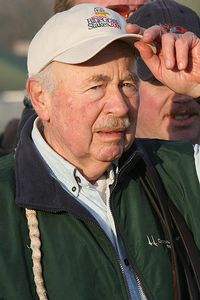 Reed Palmer Photography/Churchill Downs At age 75, Tom McCarthy finally will start a horse in the Kentucky Derby.
On those Derby days, Tom McCarthy would silently envision the untouchable fantasy of everyone who has ever invested sweat and money in a racehorse.
One day, maybe, he'd lead a 3-year-old over for the race, and beneath the Twin Spires, on the first Saturday in May.
It was too grandiose a thought to speak aloud, even to his wife, Pat. Too grandiose to really believe, even on the inside.
"But I was hoping," McCarthy said with the laugh of a man who, at age 75, is now living a scarcely imaginable dream. "Every horse you have, when you're coming up, you wonder if he's going to be the one. I was hoping, but as time went on I thought it was getting shorter and shorter."
Late Saturday afternoon on that same backside at Churchill, loudspeakers will shout out these adrenaline-pumping words, "Attention in the stable area: Horsemen, bring your horses over for the 11th race, the Kentucky Derby." And after half a century of knocking around the lower levels of the sport, Tom McCarthy will take the walk of a lifetime.
The former high school biology teacher and principal will lead the only horse in his stable, General Quarters, past the newest generation of dreamers who watch the Derby from the backside just as he once did. He will, in a way, be walking for all of them -- the small-time owners and trainers who wistfully wonder what it must be like to make the journey of a few hundred yards and a few thousand light-years on the high holy day of thoroughbred racing.
If 20-1 shot General Quarters captures the roses, the grandfather of seven will be the second-oldest winning trainer in the 135-year history of the race. And perhaps the least likely.
"It's a lifelong dream," said McCarthy's son, Tom. "Is it improbable? Yes. But Dad's a hell of a horseman."
Actually, improbable is an upgrade. Jennie Rees, who has covered thoroughbred racing for 25 years for The (Louisville) Courier-Journal, is married to another modest Churchill trainer who once shared a shedrow with McCarthy. She knows the daily disappointments and small budgets at the small-time level, and how far removed it is from the multimillion-dollar milieu of Derby contenders.
"The Tom McCarthy story," Rees said, "doesn't happen."
Just this once, it is happening.
---
Tom McCarthy's life changed on May 30 last year, though he didn't know how much at the time. That's when McCarthy submitted a $20,000 claim on a 2-year-old son of Sky Mesa.
General Quarters had caught McCarthy's eye at the 2007 Keeneland September yearling sales, but he passed on buying him then. Given a second chance last May, McCarthy jumped at a chance to claim the colt when he made his racing debut in a maiden race at Churchill Downs. Surprisingly, accomplished Churchill owners Kenneth and Sarah Ramsey exposed their promising horse to a cheap claim.
McCarthy wasn't alone in seeing a potential bargain. Two other trainers put in a claim on General Quarters, who won the race by a neck.
Racing settles those dilemmas postrace with something called a "shake." The three claims are assigned a number on a pill, the pills are shaken, and one is pulled out.
Winner gets the horse.
Tom McCarthy won the shake on General Quarters. Without that single stroke of luck, he'd still be anonymous and a good deal poorer.
At that point, in the autumn of his training career, McCarthy was out of horses. His last racer was claimed in the fall of 2007, and he spent a slightly bored winter with nothing live in the barn.
Until then, the man had won 14 races as a trainer, according to Equibase. He said the biggest purse he'd ever won was between $20,000 and $25,000.
There had been plenty of heartbreaks by then. McCarthy trained one son of Tabasco Cat who appeared especially promising -- until he raced.
[+] Enlarge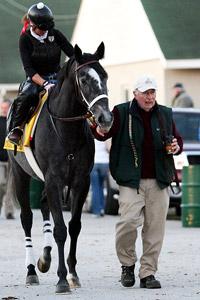 Reed Palmer Photography/Churchill DownsTom McCarthy walks his horse, General Quarters, at Churchill Downs.
"Beautiful animal," young Tom said. "But you know what? Dude just couldn't run like he looked."
Old Tom definitely liked the way General Quarters looked, and liked the way he ran in winning that maiden race.
After winning the shake, McCarthy led a colt talented beyond his wildest dreams back to his barn. Since then, General Quarters has won him more than $600,000 and will race for a $1.4 million first-place prize Saturday.
Here's the thing: A great trainer cannot turn a bad horse into a Derby contender, but a bad trainer can turn a Derby contender into a mess. McCarthy did not screw up the chance of a lifetime. He maximized it.
"We thought he was just some principal who hit the lottery," said three-time Derby-winning trainer Bob Baffert. "He knows horses."
What McCarthy knew to do with this particular horse was to take his time. Many 2-year-olds have been ruined in the rush to win early and win big, and McCarthy did everything the slow way with an anxious young colt.
"Everything was so quick, so quick," McCarthy said. "We just had to slow him down and let him grow. ... I enjoy working with 2-year-olds very much. You take your time, don't do anything quick."
That's the meticulous man's way. Lesson plans and training schedules have a lot in common, and he's kept the training schedules for every horse he's ever conditioned. He plans everything out in detail.
McCarthy did make one audacious early move with the colt, entering him in the Grade III Bashford Manor Stakes in his second race at the end of Churchill's 2008 spring meet. But McCarthy didn't much care if he won, telling jockey William Troilo not to urge the horse once he got tired. General Quarters faded to sixth, and McCarthy contentedly gave him three months off before racing him again.
In the second of two midlevel allowance races at Lexington's Keeneland Race Course in October, General Quarters flashed promise in finishing second.
"This horse is better than I thought," McCarthy thought.
After racing General Quarters twice in the fall at Churchill, McCarthy took him to Tampa Bay Downs for the winter, briefly putting him in trainer Mark Miller's name while McCarthy had some medical issues attended to. During that time, General Quarters romped in the Sam F. Davis Stakes on Feb. 14 -- putting himself on the Derby radar and showing McCarthy "things I'd never seen from him before."
His next race, the Tampa Bay Derby, was something of a fiasco. McCarthy said his horse encountered traffic trouble three different times early in the race, dropped back to last and ultimately finished fifth.
"He was just demoralized," McCarthy said of the horse.
The owner/trainer was not. He brought the horse back home to Kentucky, aiming him at the Blue Grass Stakes at Keeneland -- one of the biggest Derby prep races. General Quarters went off as a lightly considered 14-1 long shot, but came home first by 1½ lengths.
"It was quite a day down there," McCarthy said. "I was very, very confident in his ability, let's say that. I knew I'd surprise them."
Surprise turned to shock turned to charm when everyone heard McCarthy's miraculous backstory. Just like that, every $2-betting Derby romantic had the horse -- and human -- to back.
---
Tom McCarthy is the ultimate do-it-yourselfer. With some help from his two sons, he basically built his own farm on 12 acres in southeastern Louisville -- put up the barn and put in the fence himself. He's got his own horse trailer, driving his animals to small tracks all over the region. Even now, despite a stooped back and slightly trembling hands, old Tom is strong and salty enough to stack his own hay bales.
That independent streak is partly why McCarthy has often trained his own horses, and why he didn't often train a lot of horses for other owners.
"I never enjoyed having too many people telling me what to do," he said.
He's had his hands on every stage of the thoroughbred business. One of his great joys is actively assisting in the birth process.
"I love foaling mares," McCarthy said. "I've raised 'em, broke 'em, got 'em to the races and won with 'em."
For decades, he did all those things while simultaneously holding down jobs in Jefferson County Public Schools in Louisville. He was a biology teacher at Seneca High before being promoted to principal, then served as principal at Valley and Durrett, as well.
He was a trainer before he was a teacher, dating back to the late 1950s. The army draft cost him a chance at veterinary school at Ohio State, but it didn't keep him away from horses.
But when McCarthy was starting out, there wasn't much of a winter racing circuit. He needed another job and got into education.
The two professions worked well together -- McCarthy could get to the track before dawn to tend to his horses, then teach, then get back to the track for the afternoon races.
"I didn't shortchange either one," McCarthy said.
Today, a former biology student of his, Jerry Hills, helps out around the barn at Churchill. And more than 100 other old students or teaching colleagues have gotten in touch to offer their congratulations on this remarkable turn of fate.
But there is enough of a visibly flinty side to McCarthy that it's not hard to picture him in the enforcer role as a principal. Hills said he recalls McCarthy wielding a mean disciplinary paddle, back in the day when that sort of thing was countenanced. And a young Tom McCarthy experienced his dad bringing that paddle home to deliver lessons on occasion, as well.
McCarthy said he's never hit General Quarters or mistreated him in any way. In fact, the colt seems to bring out what little softy is within his owner.
"It's a lot easier to get up in the morning," McCarthy said. "I can't wait to get up and come see him. ...
"He and I have a pretty good relationship. Just my voice alone -- a year of the same voice at the same tone."
The hands are even more important than the voice. McCarthy spends time every morning massaging General Quarters' hind legs -- 100 strokes on either side. No shortcuts.
"That old horse will get droopy-eyed when he does that," young Tom McCarthy said.
---
General Quarters peeks his handsome head out of stall 15 in Barn 37 on the Churchill backside. Tom McCarthy has been a bit overrun by all the media wanting his time this week, but he's proud to show off his star.
"I'm glad people come over to see the horse," he said.
There are no trappings of greatness at Barn 37. Freshly minted Hall of Famer Baffert is nearby in Barn 33, with a sign outside commemorating his three Derby winners. Legendary D. Wayne Lukas is farther away in a barn with his own sign, and immaculate landscaping.
The only sign of something special at Barn 37 is folded with military precision on the table in McCarthy's tack room. It's the yellow saddle cloth with General Quarters' name on it, identifying him for morning workouts as a Derby horse.
Never thought he'd have one of those to keep clean and pretty. Never thought, on those long-ago Derby days watching from the tail bed of the station wagon, on the wrong side of the track, that he'd lead a horse of his own over for the big race. At least he never thought it out loud.
"I tell you," McCarthy said, "at 75, it's been a surprise."
Pat Forde is a senior writer for ESPN.com.
SPONSORED HEADLINES
MORE HORSE RACING HEADLINES
MOST SENT STORIES ON ESPN.COM
THE TRIPLE CROWN
Belmont Park • June 6 • ABC 5 p.m. ET
More Triple Crown
News
•
Summer Bird upsets Belmont
|
Gallery
•
Mine That Bird 2-1 favorite at Belmont
•
Borel: 'We're going to win it'
•
Mine That Bird turns in 'perfect' work
•
Rachel Alexandra poses for Vogue
•
Summer Bird puts in sharp work
•
Desormeaux takes another shot
•
'Rachel' wins 134th Preakness Stakes
•
Mine That Bird upsets Derby
|
Gallery
•
Rachel Alexandra dominates Oaks
|
Gallery
Video
• NTRA.com:
Ky. Derby
|
Preakness
|
Belmont
•
Summer Bird takes Belmont Stakes
•
Borel denied
|
Desormeaux elated
Features
•
Cronley: State of the Union
•
Novak: Birds of a feather
•
Moran: Belmont tests champions, humility
•
Forde: Borel's star rising
|
Questionable move
•
Novak: Easy to fall in love with racing
•
Cronley: Belmont Q&A from the e-mail circuit
•
Novak: Summer Bird ready to fly
|
Pressure
•
Plonk: Hall of Fame calls Calvin
•
Jay Hovdey blog