Commentary
Hall exclusion of Turner a mystery
Updated:
May 29, 2010, 1:37 PM ET
By
Paul Moran
| Special to ESPN.com
These, gathered from various would-be philosophers, are among the mysteries of life:
Why do banks charge a fee on "insufficient funds" when they know there is no money? Why does someone believe you when you say there are four billion stars, but checks when a sign warns of "wet paint?" Why does glue not stick to the bottle? Why does Superman stop bullets with his chest, but ducks when a villain throws a gun at him? Why did Kamikaze pilots wear helmets? What is the speed of darkness? If the temperature is zero today and it's going to be twice as cold tomorrow, how cold will it be? If someone with a split personality threatens to commit suicide, is it a hostage situation?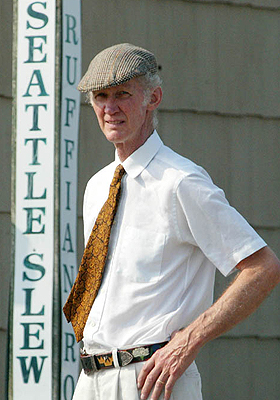 Horsephotos.comBilly Turner trained Seattle Slew, who swept the Triple Crown in 1977.
How is it that we put man on the moon before we thought of wheels on suitcases? Why don't we spell
phonetic
the way it sounds? Why is Billy Turner not in the Hall of Fame? Thirty-three years ago, a former steeplechase rider and a majestic, chiseled behemoth, a dark-bay colt named Seattle Slew, turned toward June with shoulders squared on Long Island and the Belmont Stakes at their mercy. The final leg of the Triple Crown would be no more than a cakewalk for the only undefeated winner of the most rarely won title in American sport. Seattle Slew's legend was yet a work in progress that would wind its way through the years and generations to come: champion's champion, sire of champions and sire of sires, among the most important Thoroughbreds of the 20th Century; his influence, carried in blood remains hugely important in this millennium. Three decades and change later, a period during which dozens of trainers have been inducted into the National Racing Museum Hall of Fame in Saratoga Springs, Billy Turner, now 70-years-old is still a fixture in New York, still winning races and developing young horses. Turner is the only living trainer of a Triple Crown winner, the only person ever to develop and train an undefeated Triple Crown winner. He remains, however, ignored by the sport's Hall of Fame. At the risk of repetition: Why is Billy Turner not in the Hall of Fame? The 2010 candidates for enshrinement were revealed less than a week before the Kentucky Derby and what is termed the "class of 2010" was chosen in a strange and widely criticized process. The latest failed Hall of Fame voting procedure includes retired jockey Randy Romero and three horses -- Azeri, Best Pal and Point Given. All are deserving inductees and Romero's election is long overdue. This is not meant to disparage the qualifications of anyone whose image in etched in a bronze plaque that hangs on Union Avenue in Saratoga Springs -- though some who have accomplished much less than the man who developed Seattle Slew have indeed provided fodder for debate over the years. Nevertheless, Turner's exclusion even from the 2010 ballot is a travesty. Turner is somewhat milder than low-key and he would never say this about himself, but no American trainer living or dead not already in the Hall of Fame deserves induction more than the trainer of Seattle Slew, Czaravich, Gaviola, Punch Line and many other stakes winners. He is a horseman's horseman, universally respected by contemporaries and clients. He has also achieved more than many whose visages are housed at the National Museum of Racing in addition to the singular achievement that we are unlikely to see repeated in this or the next lifetime.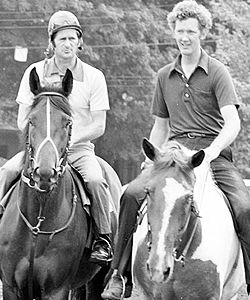 Horsephotos.comMike Kennedy, left, rides Seattle Slew with trainer Billy Turner on a lead pony ahead of the 1977 Belmont Stakes.
In March, Turner's place in racing history was recognized by the Barbados Turf Club if not in the nation where he made that history. There is apparently more propriety in the tropics than in the United States. There is a Facebook group dedicated, albeit without result, to Turner's induction to the Hall of Fame joined by hundreds of people who share the belief that his exclusion is an embarrassment to the sport, though those who make these decisions -- none of whom have contributed a fraction of what he has to the game -- are somehow and mysteriously oblivious to this glaring and grievous shortcoming. Some horsemen with egos more inflated than his would take the Hall of Fame's torturous slight less graciously than does Turner. The best horse he will ever train is an intimate memory shared by no other. But there are horses in the barn, horses he has not yet seen that will find their way to his shedrow and races to win. And every morning, he and his wife, Pat, drive to the backstretch at Belmont Park with an optimistic eye down the road. "I always know there's a good horse on the horizon," Turner says. "There always has been, and there always will be."
Paul Moran is a two-time winner of the Media Eclipse Award, and has received various honors from the National Association of Newspaper Editors, Society of Silurians, Long Island Press Club and Long Island Veterinary Medical Association. He has also been given the Red Smith Award for his coverage of the Kentucky Derby. Paul can be contacted at pmoran1686@aol.com.
• Paul Moran is a two-time winner of the Media Eclipse Award among several other industry honors. He also has been given the Red Smith Award for his coverage of the Kentucky Derby.
• You can email him at pmoran1686@aol.com
SPONSORED HEADLINES
MORE HORSE RACING HEADLINES
MOST SENT STORIES ON ESPN.COM