Commentary
Countdown to the Crown
Updated:
May 7, 2010, 8:15 PM ET
By
Jeremy Plonk
| Special to ESPN.com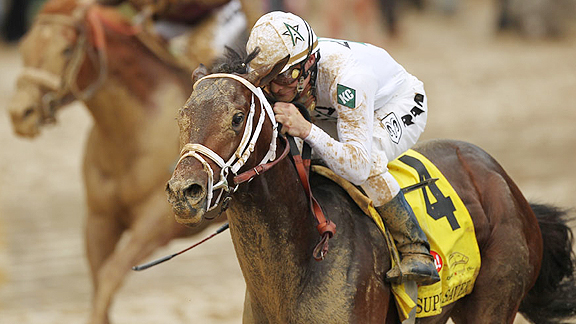 Horsephotos.comSuper Saver may be even better suited for the distance of the May 15 Preakness Stakes.
3 things you won't read anywhere else
Opinions are like a Calvin Borel ride. Just stick to what's on the inside. 1. The dominant Kentucky Derby prep race since 2004 has been the Arkansas Derby by a mile. The dominant Kentucky Derby jockey in recent years, Calvin Borel. The 2010 Triple Crown trail was dominated by trainer Todd Pletcher and owner WinStar Farm. So tell me again why so many of us (including me) didn't just circle SUPER SAVER as a cinch? Sometimes we think too much, I think (there I go again). 2. Since Nick Zito won two Derbies in a 4-year span in 1991 and 1994, he had finished off the board in Louisville with 19 straight starters. Take his 0-19 in-the-money streak, combine Todd Pletcher's 0-24 Derby ziggy in the win column, and you had an 0-43 cold streak conspiring for this year's $152.40 Kentucky Derby exacta with SUPER SAVER and ICE BOX. 3.Depending on how you want to spin things, dirt experience is a debatable Derby factor. Yes, top 2 finishers SUPER SAVER and ICE BOX were pure dirt runners. But the next 4 finishers, horses who ran third through sixth, had a combined total of 4 previous starts on dirt and all were considered either turf or synthetic horses for much of their careers. In fact, 5 of the top 8 Derby finishers were considered big-time dirt question marks for much of their careers. For all the bellyaching about how bad and irrelevant the Blue Grass Stakes was in 2010 and in the Polytrack era, the race did produce this year's Kentucky Derby third and fourth-place finishers, PADDY O'PRADO and MAKE MUSIC FOR ME. As for the dirt-covered Wood Memorial, it's still searching for its first top three placing since 2003.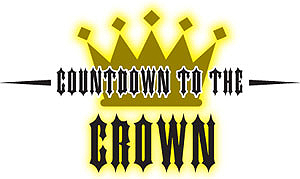 This week's fearless forecast
This section previews the coming attractions in 3-year-old stakes and undercard races. We'll discuss the Preakness in depth next week in Countdown. As for this week, we have a pair of stakes that could have Belmont Stakes implications, Saturday's G2 Dwyer and G3 Lone Star Park Derby. The Dwyer, at 1-1/8 miles around one turn at Belmont, features DROSSELMEYER (Bill Mott), a horse who has been very high in our Countdown opinion much of the Spring. He meets another one of our seasonal heart throbs, FLY DOWN (Nick Zito) in what I find a very intriguing match-up. With a breakout performance, either could put themselves in serious Belmont Stakes win consideration. The Lone Star Derby at 1/16 miles drew a miserably weak field of six that's loaded with fillers. GAME ON DUDE (Bob Baffert) adds blinkers and can flatter Derby Trial winner/Preakness player HURRICANE IKE. No one from this race will be Belmont-bound if sanity prevails.
Everyone's a critic
This section recaps the week that was for the sophomore set. Let's take it from the top, with a full 20-horse review of Kentucky Derby 136.
SUPER SAVER (1st):
With a Kentucky Derby journey that was equal parts Street Sense and Sea Hero (for you historians), SUPER SAVER never hesitated, moved around only one rival and had the rail open up in the lane. In the critic's corner, his leg action late was not impressive and the closing fractions showed most horses just weren't finishing. The brilliance of Calvin Borel's ride was so subtle you'd miss it live and only appreciate it after several video reviews. It happened not at a crucial video replay time in the highlight reel, but rather in the first four jumps out of the starting gate. Borel knows that horses in the inside three posts need to actually break right-handed a bit to miss the inside rail's elbow that comes from off of the far turn. From post No. 4 on SUPER SAVER, he breaks straight and true, looks to his inside and purposely maintains that path in an aggressive move that set off a chain reaction to his inside, which happened to include heavy hitters LOOKIN AT LUCKY, NOBLE'S PROMISE and ICE BOX. How important was that? Those runners wound up second, fifth and sixth, all firing superb races given the early action. SUPER SAVER goes to Pimlico as a deserving Preakness favorite and will be better-suited for the 1-3/16 miles than the Derby's distance. If he bounces out of the race well, and he should given only two spring preps this season well-spaced, the Preakness figures to be his best Triple Crown chance of the three, and he already has one in the bag. SUPER SAVER entered Countdown to the Crown ranked No. 2 in our season's first poll, and his efforts in the prep scene offered some disappointment and slide to his ranking. But he's certainly proven that his best puts him right at, or near the top of, his generation.
ICE BOX (2nd):
The Florida Derby winner was in trouble throughout, shuffled back in the first 50 yards, then stymied on multiple occasions in the stretch, finally titling out into open space and finishing with the most interest of anyone in the field. Once clear, he ran by MAKE MUSIC FOR ME and PADDY O'PRADO with relative ease in the final 50-100 yards. You can make the case that he was the best horse in the race, but the trip did him in. I wouldn't argue against that case in regards to ICE BOX. The difference in trips between him and the winner was monumental, but that's often going to be the case with a one-run closer compared to a pace-presser like SUPER SAVER. The difference is: any other race you ever run in, the deep closer isn't negotiating 19 rivals, but more like 6, 10 or 12 even. In a season with so many speed and pressing-speed horses, ICE BOX has proven to be the most reliable late-runner in the class of 2010. He brought his run in the Fountain of Youth before flattening out late, and then delivered two straight strong finishes in the Florida Derby and Kentucky Derby. Given Nick Zito's penchant for the Belmont Stakes, and the shorter distance of the Preakness, the prudent move would be to rest up and sit out the middle jewel of the Triple Crown. At Belmont, ICE BOX would be loaded and possibly the post-time favorite unless SUPER SAVER would wind up in New York with a shot at sweeping the Triple Crown.
PADDY O'PRADO (3rd):
Jockey Kent Desormeaux was very keen early on getting PADDY into position near the rail, and actually found the fence in the first quarter-mile from post No. 10. He got a very good trip throughout, with only a minor traffic hesitation around the quarter-pole. This was a dream trip for the Kentucky Derby, and I was the one who talked to Kent Desormeaux as he dismounted and gathered the quote about how he would have won if he got through at the quarter-pole. After further review, there's no way I can buy that talk. PADDY O'PRADO ran superb in Louisville, and actually galloped out much better than Super Saver. This was a great effort, but his trip was no worse than about 18 others in the race. At Pimlico, he should be a very dangerous hombre once again as he's been thriving of late. If he exits the Derby as well as he went into it, and the gallop out is the first suggestion that he will, look for him to be the biggest Derby alumni threat to SUPER SAVER in Baltimore, as jockey Kent Desormeaux gets back to his old stomping grounds and enjoys that local edge Calvin Borel boasts at Churchill Downs.
MAKE MUSIC FOR ME (4th):
The shocking result of the Derby had to be this guy's appearance in the superfecta. But Countdown readers know how much upside he had when we tabbed him in the Top 12 following his comeback win in the Pasadena. Obviously the Blue Grass Stakes debacle was a hurdle the Alexis Barba trainee was able to overcome. In the Derby, he dropped far back early, rallied widest of all and had really a perfect trip other than the ground loss. Do note he was out-closed by ICE BOX in the final sixteenth with no excuse vs. that rival. Given his pedigree and burst, he's not really a Belmont Stakes kind of horse, and if he's to continue on the Triple Crown trail, the Preakness actually makes more sense.
NOBLE'S PROMISE (5th)
: Things were a bit tight early for this tough guy who overcame some physical issues leading up to Derby Day, and performed quietly nobly, indeed. You could tell in his training as Derby Week progressed how much better his gallops were getting, and he ran a career race in the Derby, even in finishing fifth. He's just not a 10-furlong horse. Trainer Ken McPeek desperately wanted jockey Willie Martinez to wait later to make his move, even scripting out his workouts as such, because he knows 'PROMISE' has a very short burst, but a darned good one. Martinez moved quickly at the quarter-pole, and then his charge flattened out in the long stretch at Churchill. Since he's been lightly campaigned this year to date, there's no reason not to run him back in the shorter Preakness and give him one more shot. Then, I'd say he's a fantastic candidate to aim for the summer's Haskell at Monmouth as a principal goal.
LOOKIN AT LUCKY (6th)
: Perhaps the worst-named horse in recent memory, nothing lucky surrounds this guy. The lukewarm Derby favorite steadied immediately out of the gate at the elbow of the turn as SUPER SAVER and NOBLE'S PROMISE maintained a straight-arrow run and took the space; then he was bumped repeatedly into the rail by STATELY VICTOR and Alan Garcia before the wire the first time, as that rival was shying away from PADDY O'PRADO. Before LOOKIN AT LUCKY had a chance to smell the juleps, he had dropped back to 18th and was completely out of his element. Jockey Garrett Gomez saved ground for much of the running, and then went to about the 4-path to find a seam in upper stretch, twice having to alter course in the lane as horses like MAKE MUSIC FOR ME were taken widest of all out of the turn and didn't have their momentum stopped. Had Gomez swooped widest, 'LUCKY' might have been fourth in the finish, but his goose was cooked early in terms of having a chance at a big placing. He deserves another shot on the Triple Crown trail and did nothing to make you think less of him in Louisville. LOOKIN AT LUCKY won't wow you with brilliance, and isn't the kind of horse to overcome that type of trip. But who is? His steady-coming nature makes him a natural for the Belmont Stakes, and his class is unquestionable.
DUBLIN (7th)
: He ran his race in Louisville, which included a menacing run and then a flat late effort that has defined his two-turn legacy. Trainer D. Wayne Lukas never flinches from running back in the Preakness after the Derby, and you can expect this guy in Baltimore, and anticipate a similar race. He's very honest, but whether it's a breathing problem or simply an ability problem, he continues to look short on classic distances.
STATELY VICTOR (8th)
: The Blue Grass winner ran a somewhat puzzling race in the Derby. Going in, he and ICE BOX were noted in Countdown as the two most dangerous closers in the race. The latter fired, but 'VICTOR' did not deliver in the lane. But for no apparent reason, past the wire, STATELY VICTOR galloped out extremely well, as good as any horse in the race. He looks like he'll run all day, which bodes well for the Belmont Stakes, his next announced goal. If he's training well, he'll be a sneaky-good play at the end of the Triple Crown series.
MISSION IMPAZIBLE (9th)
: Forced to make multiple runs in the race, the middle-move by MISSION IMPAZIBLE was about as good as anyone in the Derby this year. He ran a race very similar to what Colonel John ran in 2008 on Derby Day, where he spent much of the going trying to recover from early, and then ran out of gas late. Colonel John eventually went on to win the Travers, you may recall. Don't be surprised if this guy also is the class of Saratoga this summer for Todd Pletcher. I would expect a Jim Dandy prep for him after some time off.
DEVIL MAY CARE (10th)
: The filly ran as well as you can ask given her lack of foundation. The Bonnie Miss was a very easy prep, and she had little underneath her coming into Derby Day. Poised in upper-stretch, she became leg-weary and was victimized by her own fatigue and some traffic while fading late. She should be strong for the summer's NYRA filly races, and perhaps a return date to Churchill in the fall for the Breeders' Cup Ladies Classic with more seasoning.
AMERICAN LION (11th)
: Nothing really set up for this horse going into the Derby, nor in the race. He's best when he can contest a soft early pace, and that just didn't develop. His early traffic troubles through the lane shuffled him back deeper than he's comfortable with, and he's not going to go flying past other horses in the stretch. AMERICAN LION is a quality horse who will be competitive in top graded races down the road if healthy, and might be best-suited for something like the 1-1/16 miles Northern Dancer at Churchill this summer next.
JACKSON BEND (12th)
: While he had no early traffic issues, 'JACKSON' was completely covered in mud only an eighth of a mile out of the starting gate as he took a tremendous amount of kickback while racing in the clear mid-track. He then was widest of all into the clubhouse turn, about 5 paths off the rail. While commencing his move on the far turn, he ran into traffic with PADDY O'PRADO, but kept scrapping away in the lane while trying to find somewhere to run mid-track again. This was a better-than-it-looks try from a horse who could deserve a chance to greatly improve his finish in the Preakness. The distance obviously remains a question mark as he did not run on with flair in the Derby lane. If the Preakness is not in the works, he's a Jim Dandy contender this summer at Saratoga worth considering.
DISCREETLY MINE (13th)
: He got a clean trip pressing early and 4-wide into the first turn, and by being where he was on the racetrack, he avoided a lot of kick-back (ala Pioneerof The Nile when second in this race last year). He was nose and nose next to winner SUPER SAVER midway on the far turn from the 2-path and just didn't have enough late. He's a quality racehorse with some distance limitations, ala older brother Discreet Cat. I'd love to see him re-aimed for a campaign that includes the King's Bishop at Saratoga sprinting 7 furlongs.
DEAN'S KITTEN (14th)
: For a closer, he didn't really suffer much from a slight shuffle back 2 or 3 jumps after the start. He ran the race you'd expect, passing a few tired horses while overmatched on talent. Expect him to return to turf or Polytrack and be aimed at races this summer at Colonial Downs and/or Arlington.
CONVEYANCE (15th)
: He's probably the best pick I've ever made who finished fifteenth in a race. When tabbing CONVEYANCE as the upset Derby 136 winner in my final pre-race Countdown, I knew what I was getting into. The speedball delivered everything you could ask of him, but simply could not answer the distance question affirmatively. While many projected a massive speed duel in the Derby, the thought here was true: CONVEYANCE was the fastest horse in the class, and anyone who chased him would be burnt to smithereens (see: SIDNEY'S CANDY). The gamble (at 28-1 on a Baffert trainee who was 4-for-5 lifetime) was that perhaps he could freak on the front end and the closers would be AWOL. The :46 flat opening half-mile really was about 44-and-change when you factor in how slow the track had been playing. It was too quick for anyone's own good, but CONVEYANCE proved he was brilliant. Trainer Bob Baffert loosely is considering a Preakness bid, and while the false tradition of the Preakness playing to front-running speed might tempt some, it's not the best move for CONVEYANCE. Let's look for him to be re-aimed at a run at either the Haskell on a speed-favoring Monmouth strip this summer, or perhaps the King's Bishop sprinting at Saratoga.
HOMEBOYKRIS (16th)
: Poorly spotted in this race with a lack of foundation and route experience, he ran as well as you can expect. Actually, to beat a few of the horses he did could be considered an accomplishment. That tells you the HOMEBOY has some talent, just not in these particular races. He would be interesting this summer in the King's Bishop at Saratoga.
SIDNEY'S CANDY (17th)
: I wish I would have seen more of him Derby week training, but perhaps trainer John Sadler's early 5:45 a.m. forays to the racetrack weren't by accident. SIDNEY did not run anywhere as well as his races in California suggested, and jockey Joe Talamo did a great job saving ground from post 20, but was way too aggressive chasing the pace once he had the position going down the backstretch. Still, you don't expect this guy to fold like that unless something was amiss. Let's cross our fingers that all is well. SIDNEY'S CANDY would be a very dangerous horse in the Swaps or Haskell this summer given his natural speed.
LINE OF DAVID (18th)
: He didn't seem to fire back out of the Arkansas Derby very well in the a.m., and the wet track did him no favors on Derby Day. It will be interesting to see where his future lies, but I could see LINE OF DAVID being freshened for a run at Del Mar's lucrative turf series this summer (Oceanside, Del Mar Derby).
AWESOME ACT (19th)
: Connections reported he came out of the Kentucky Derby lame, but could not pinpoint any specific injuries. He'll move to trainer Steve Asmussen's care when race-ready again, and as trainer Jeremy Noseda and this Jeremy both indicated this spring, his short-burst ability likely is better-suited at shorter distances.
BACKTALK (20th)
: Under-prepped runner wasn't Derby ready and it showed. Let's hope he comes out of the race well and returns to more win-able sprint/middle-distance spots.
Quick Hitters
Of our preseason Top 20 Countdown to the Crown poll, which debuted Jan. 8 some 18 weeks ago, 6 of the ranked runners wound up in the Kentucky Derby starting gate, including then No. 2 SUPER SAVER, the Derby champ ... Join me LIVE from Pimlico next week for Preakness chat coverage, available at Preakness.com, NBCSports.com, NTRA.com and XpressBet.com among other sites. We'll have a Preakness handicapping seminar online at 9 p.m. Thursday night, as well as all-day race coverage from Pimlico all week, including Preakness Day beginning at 10 a.m. ET ... The list of Preakness potential starters stands at SUPER SAVER, DUBLIN, NOBLE'S PROMISE and PADDY O'PRADO firm from the Derby; LOOKIN AT LUCKY, JACKSON BEND and MAKE MUSIC FOR ME possible from the Derby; and new shooters FIRST DUDE, CARACORTADO, HURRICANE IKE, AIKENITE, NORTHERN GIANT, SCHOOLYARD DREAMS and PLEASANT PRINCE.
High Fives
Jeremy Plonk's Top-5 rated performances by class so far this year (Dec. 26-present). Maiden and allowance races have now been dropped as we're now in final exam mode.
Stakes Race
1. SUPER SAVER (Kentucky Derby, Churchill, May 1)
2. ESKENDEREYA (Fountain of Youth, Gulfstream, 2/20) ** moved up given ICE BOX's advancement **
3. ESKENDEREYA (Wood, Aqueduct, April 3)
4. SIDNEY'S CANDY (Santa Anita Derby, April 3)
5. LOOKIN AT LUCKY (Rebel, Oaklawn, 3/13)
Put 'em in the gate!
This section ranks the Top 20 sophomores seen this season, both active and inactive, since we're now past Derby Day. I've returned ESKENDEREYA to the top perch because of the way he dominated ICE BOX in Florida, and how well ICE BOX ran in comparison in the Kentucky Derby. I know that's not an easy, race-to-race comparison, but opinion polls are inexact to say the least. You certainly could include fillies BLIND LUCK and DEVIL MAY CARE in the Top 20, but I'll leave the rankings to the colts and geldings for direct-comparison sake.
Jeremy Plonk's top 20: Week 18 of the 2010 season
| | |
| --- | --- |
| 1. ESKENDEREYA (sidelined) | 11. MAKE MUSIC FOR ME |
| 2. SUPER SAVER | 12. STATELY VICTOR |
| 3. LOOKIN AT LUCKY | 13. MISSION IMPAZIBLE |
| 4. ICE BOX | 14. ENDORSEMENT (sidelined) |
| 5. PADDY O'PRADO | 15. SETSUKO |
| 6. SIDNEY'S CANDY | 16. CONVEYANCE |
| 7. DROSSELMEYER | 17. DUBLIN |
| 8. NOBLE'S PROMISE | 18. RULE (sidelined) |
| 9. CARACORTADO | 19. AMERICAN LION |
| 10. JACKSON BEND | 20. DISCREETLY MINE |
Jeremy Plonk has been an ESPN.com contributor since 2000 and is the owner of the handicapping-based Web site HorseplayerNOW.com. You can E-mail Jeremy your Top 20 contenders list, or any questions about the 3-year-old or national racing scene, at Jeremy@Horseplayernow.com.
Horse
In addition to being a longtime contributing writer to ESPN.com's Horse Racing section, Jeremy Plonk is the editor of The HorsePlayer Magazine.
SPONSORED HEADLINES
MORE HORSE RACING HEADLINES
MOST SENT STORIES ON ESPN.COM