Heavy rain turns Derby track into mess
Updated:
May 3, 2010, 2:59 PM ET
Associated Press
LOUISVILLE, Ky. -- Get ready for the Trudge for the Roses.
Rain pummeled Churchill Downs early Saturday, turning the historic track into a soggy mess for the Kentucky Derby, the latest wild card in a week full of them.
Heavy rains postponed early morning workouts Saturday, but all 20 Kentucky Derby horses were still expected to start. Trainers opted to trot their Derby hopefuls inside their barns instead.
More than an inch fell by noon ET, and the National Weather Service says there's a 70 percent chance of storms when the Run for the Roses goes off at 6:28 p.m. ET.
The weather forced officials to move the turf races to the dirt track, leading to numerous scratches. There were no defections from the 20-horse Derby field.
"I think they'd run over crushed glass," joked Hall of Fame trainer D. Wayne Lukas, who will look for his fifth Derby win with Dublin.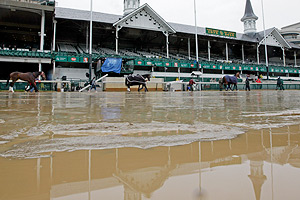 AP Photo/David J. PhillipMore than an inch of rain early Saturday morning soaked Churchill Downs, with more on the way, according to the National Weather Service.
Light rainfall is expected throughout the afternoon, a reprieve of sorts after projections earlier in the week suggested the track could get hit with 3 to 6 inches of rain.
By post time for the first race at about 10:30 a.m. ET, the dirt looked something more like peanut butter, only a whole lot messier.
Experience in the muck is hard to find in the field, and trainer Bob Baffert says it's impossible to tell how the top 3-year-olds will react when the starting gate opens for the 1¼-mile test.
"It hits their belly and face," Baffert said. "They throw their head up, they lose interest and they get scared."
Correctly picking a winner could be just as harrowing.
The horse to beat coming into the Derby, Eskendereya, will instead spend the afternoon nice and dry in his stall after trainer Todd Pletcher pulled him from the race last weekend with an injury in his left front leg.
Baffert's budding star Lookin At Lucky inherited the mantle of favorite, but the 3-1 morning line choice is pinned on the rail. Santa Anita Derby winner Sidney's Candy is the 7-1 second choice but has never raced on the dirt and will have to start from the 20th post.
In between are 18 horses who will try to repeat Mine That Bird's upset for the ages last spring.
The unheralded gelding and jockey Calvin Borel roared to a 6¾-length victory with a rail-hugging ride through the slop so stunning race announcer Tom Durkin scrambled to keep up with the 50-1 long shot.
Baffert believes miserable conditions could lead to a similar result.
"It's huge because horses either on the lead win it or a deep, deep closer," Baffert said. "A long shot has a chance."
So does everyone in between.
Eskendereya's injury and the troubling post positions for the two favorites make this Derby as unpredictable as ever.
"You got to be prepared for disappointment," said Baffert, who is in search for his fourth Derby victory. "Especially in this race, because you never know what's going to happen."
Baffert thought he had the Derby wrapped up last year when Pioneerof the Nile edged in front in the middle of the stretch. Seconds later, Mine That Bird shot past.
The loss was difficult for Baffert to accept. Yet he'll happily take his chances again if Lookin At Lucky or his other horse, Conveyance, are in position when the field turns for home.
"I want them in the fight," he said. "If they're good enough, they'll win."
It's a philosophy shared by Pletcher, who is trying to end his Derby hex. He's 0 for 24 in the race and will saddle four horses in the paddock. He's hardly complaining about the prospect of running in less than ideal conditions.
"Normally I'd be sweating the weather forecast, but seeing the way they trained on a sloppy track, I wouldn't mind if it rained," he said.
Among Pletcher's quartet is filly Devil May Care, who will attempt to become the fourth filly to reach the winner's circle in the Derby.
She's the first filly Derby starter since Eight Belles broke down on the track shortly after finishing second to Big Brown two years ago. Eight Belles trainer Larry Jones came under heavy fire from animal rights activists after the race, though the dominance of female superstars Rachel Alexandra and Zenyatta in the interim has quelled most of the chatter.
Not that it matters to owner John Greathouse. He nominated Devil May Care for the Triple Crown races at the urging of Pletcher. He has no problem running his filly against the boys.
"When you get an exceptional animal, you've got to give them a chance to do exceptional things," Greathouse said.
There's little doubt it will take an exceptional effort to win if the forecasters are right.
The wettest Derby day was May 11, 1918, when 2.31 inches of rain fell, according to National Weather Service records.
The last horse before Mine That Bird to win in the mud was Smarty Jones, who splashed to victory in 2004. His son, Backtalk, is in the field Saturday and he's 2 for 2 on a wet track.
The conditions will put the onus on jockeys to keep their mounts out of trouble. That could give an edge to Super Saver, who will have Borel in the saddle.
The affable Cajun is red-hot at his home track and Super Saver's fourth post position means Borel won't have to go far to get to his much-coveted position along the rail.
Pletcher estimated Borel is worth "five lengths" at Churchill Downs. That might be enough to finally put Pletcher in the winner's circle.
Even if the weather turns sour, expect an electric atmosphere.
"You feel like you're a gladiator going to the Roman Colosseum," two-time Derby winning trainer Nick Zito said. He will send out Ice Box and Jackson Bend.
The gladiators never had the chance to compete under the lights. This year's Derby could produce the first nighttime winner in the race's 136-year history if storms push the starting time back or the gloom forces officials to flip on the recently installed lights that rim the historic track.
It would be a fitting ending in a race that doesn't lack for compelling story lines.
Weight loss guru Jenny Craig will be in attendance to cheer on Sidney's Candy, named after her late husband.
Noble's Promise will carry the hope of his group of average-Joe owners, who bought the colt for $10,000 and call themselves Chasing Dreams Racing.
Stately Victor bulled his way into the Derby after pulling a 40-1 shocker in the Blue Grass. He's owned by Louisville attorney Tom Conway and his son, Jack, Kentucky's attorney general and a U.S. Senate candidate.
Tom Conway named the horse after Victor Perrone, a friend of his son's who died in 1992 at age 23. Perrone was an eternal optimist.
It will certainly take one to survive what could be a wild day under the twin spires.

Copyright 2010 by The Associated Press
SPONSORED HEADLINES
MORE HORSE RACING HEADLINES
MOST SENT STORIES ON ESPN.COM
THE TRIPLE CROWN
Belmont Stakes • Saturday, June 8
More Triple Crown
News
•
Oxbow pointed to Belmont Stakes
•
Oxbow upsets Preakness Stakes
•
Freedom Child wins Peter Pan; Belmont next
•
Orb wins 139th Kentucky Derby
•
Princess of Sylmar rules Oaks
•
Baffert out of Kentucky Derby
Bob Ehalt's Hot List
•
Preakness Stakes review
•
Breaking down the Preakness Stakes
•
Derby recap and a look at the Peter Pan
•
Breaking down the Kentucky Derby
In The Gate Video/Podcast
•
Secretariat's historic run: Pt. 1
•
Secretariat's historic run: Pt. 2
•
Secretariat's historic run: Pt. 3
•
Secretariat's historic run: Pt. 4
•
Secretariat's historic run: Pt. 5
•
Paul Hornung talks Titletown Five
Triple Crown Live Chat Schedule
• Belmont: Saturday, June 8 (3 p.m. ET)
•
Preakness chat wrap
•
Kentucky Derby chat wrap
•
Kentucky Oaks chat wrap
Virtual Racing
•
Derby Giveaway
: Join Digiturf.com with reference code KD13 and race to Win $500!
•
Derby Bonus
: Join Digiturf.com with reference code KD13 and race in Kentucky Derby New Stable races to get an unlimited Match Bonus!
Triple Crown Video
•
Watch the 138th Preakness Stakes
•
ABR: A day with Orb
•
TCI: Derby recap
•
Kenny Mayne: Between two horses
Features
•
West: Look past Orb's bad day
•
Cronley: Preakness traps
•
Finley: Why Lukas is a winner
•
Moran: Stevens all smiles
•
Ehalt: Dark days
•
Cronley: What were you thinking?
•
Novak: Hernandez in the saddle
•
Duckworth: Departing up for challenge
•
Ehalt: Seeking redemption
•
Moran: Triple Crown should not be easy
•
Mayne: When will I listen?
•
West: Tradition steals Derby spotlight
•
West: Calumet back in Derby spotlight
•
Moran: Progress tough on Churchill
•
Novak: Victory starts on the backside