Commentary
Here comes Cosequin down the lane
Updated:
May 23, 2011, 5:57 PM ET
By
Jay Cronley
| Special to ESPN.com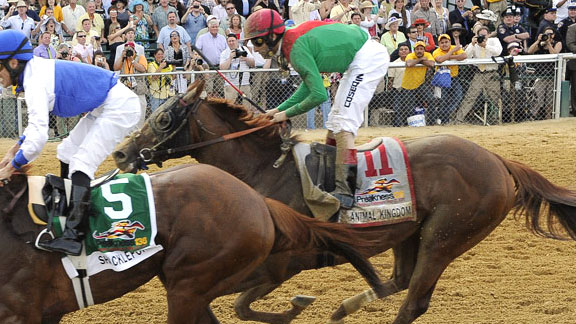 Horsephotos.comAnimal Kingdom's jockey John Velazquez plugged for Cosequin in the 2011 Preakness Stakes.
Here's what we should have acknowledged, even learned, from the Preakness Stakes. Raw speed is responsible for some of the biggest payoffs at the horse races. Even so, many horse players are reluctant to play gate speed. That's because when speed loses, it is thought to have "quit." Quitters are depressing. It's like playing the under number at a team sporting event: when your horse quits, the game is over quickly. Deep closers that lose regularly are thought simply not to have gotten there. Though a quitting speed horse and a late deep closer may finish at the same spot on the track, the closer will be bet right back while the loser will be ignored and will pay $30 or more on the win when speed holds next time. Closers don't close, they just don't quit as quickly as the others. The most I ever won at the races occurred when a horse with bad form and a quick work jumped a rotten field in the rain to win a sprint by Secretariat lengths. The horse was from New Mexico. Athletic teams tend to play to the nature of an area. The NBA east is a slugger's league, score 90 and take a victory lap. The west thinks the best defense is wearing out the other teams' shooting arms. So too is it with horse racing, as the west is known for speed and the east, the more traditional stalking style. It wouldn't be a bad idea to keep a hoof-speed wagering pot handy for wagers on quick horses in a race where speed could carry, in a race where speed is at a minimum and could get loose, or in a contest where the horses are slow, the jockeys dumb, the trainers with a chaw.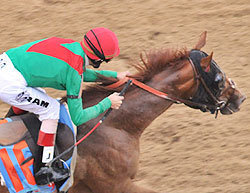 Horsephotos.comDodge Ram adorned the breeches of jockey John Velazquez for the Kentucky Derby.
What I am apt to remember most from this Triple Crown race, right there with the well-timed ride of the winning jockey, was what was on the right leg of the jockey of the place horse. Usually at the finish of a race, I am either watching a horse or two, or I'm looking around for somebody with whom to embrace, or I'm looking for a table to crawl under. I'll check a jockey's ride on the replay. To be seen on the picture of the Preakness win, there is, on the right leg of runner-up jockey John Velazquez, a commercial message. It says "Cosequin," which is a medication that treats joints and connective tissue in animals. I had a black and white English springer spaniel who got some and seemed to feel better for it. There appeared to be no commercial on the right leg of the winning jockey Jesus Castanon. Going one race back, Velazquez and the owner of Animal Kingdom touted a different product (Dodge), with "Ram" on his right leg at the Derby. To my way of thinking, a jockey's gear has always been an important part of the racing ritual, the silks an unbreakable tradition, the pants a simple supporting part. Selling space on a competitor does not get any cheesier than car racing and golf. NASCAR drivers look like they're wearing quilts. A golfer might hustle a club on one side of his collar, a shoe on the other. Still, not everybody would recognize drivers and golfers as athletes. But jockeys are 100 percent athletes. Selling your drawers to a sponsor could be like the Yankees wearing a plumbing logo on a rear pocket. With huge TV ratings of around 10 on the books for the big races, what must the owner and jockey have been paid for the endorsements? And exactly who did the endorsing? A horse wouldn't endorse much beyond treats to eat. And then there's this. With the commercial message on the pant legs, wouldn't staying wide down the stretch offer the best angle?
Write to Jay at jaycronley@yahoo.com.
SPONSORED HEADLINES
MORE HORSE RACING HEADLINES
MOST SENT STORIES ON ESPN.COM
THE TRIPLE CROWN
Preakness Stakes • Saturday, May 18
More Triple Crown
Top 10 Derby Contenders
•
Top 10: May 14
•
How they voted
News
•
Oxbow pointed to Belmont Stakes
•
Oxbow upsets Preakness Stakes
•
Freedom Child wins Peter Pan; Belmont next
•
Orb wins 139th Kentucky Derby
•
Princess of Sylmar rules Oaks
•
Baffert out of Kentucky Derby
Bob Ehalt's Hot List
•
Breaking down the Preakness Stakes
•
Derby recap and a look at the Peter Pan
•
Breaking down the Kentucky Derby
In The Gate Video/Podcast
•
Secretariat's historic run: Pt. 1
•
Secretariat's historic run: Pt. 2
•
Secretariat's historic run: Pt. 3
•
Secretariat's historic run: Pt. 4
•
Secretariat's historic run: Pt. 5
•
Paul Hornung talks Titletown Five
Triple Crown Live Chat Schedule
• Belmont: Saturday, June 8 (3 p.m. ET)
•
Preakness chat wrap
•
Kentucky Derby chat wrap
•
Kentucky Oaks chat wrap
Virtual Racing
•
Derby Giveaway
: Join Digiturf.com with reference code KD13 and race to Win $500!
•
Derby Bonus
: Join Digiturf.com with reference code KD13 and race in Kentucky Derby New Stable races to get an unlimited Match Bonus!
Triple Crown Video
•
Watch the 138th Preakness Stakes
•
ABR: A day with Orb
•
TCI: Derby recap
•
Kenny Mayne: Between two horses
Features
•
Finley: Why Lukas is a winner
•
Moran: Stevens all smiles
•
Ehalt: Dark days
•
Cronley: What were you thinking?
•
Novak: Hernandez in the saddle
•
Duckworth: Departing up for challenge
•
Ehalt: Seeking redemption
•
Moran: Triple Crown should not be easy
•
Mayne: When will I listen?
•
West: Tradition steals Derby spotlight
•
West: Calumet back in Derby spotlight
•
Moran: Progress tough on Churchill
•
Novak: Victory starts on the backside