Commentary
New pitch-count rules have changed Series strategy
Updated:
August 21, 2007, 6:01 PM ET
By
Mark Kreidler
| Special to ESPN.com
WILLIAMSPORT, Pa. -- Standing on the sloping hill that lies just beyond the outfield fence at Lamade Stadium at the Little League World Series the other day, the man looked at the Lake Oswego, Ore., team on the field, glanced at his own inning-by-inning calculation and said, "He's got to go to his 20-pitch guy."
Exactly so -- and get used to the phrase. You'll be hearing it all week.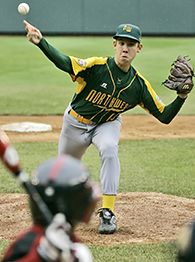 AP Photo/Gene J. PuskarMitch Lomax lasted into the sixth inning Sunday as Oregon beat Massachusetts, 1-0.
For years, the concept of a closer has been in full play even at the Little League level. But the organization's new pitch-count rules have led to an even more curious and finely drawn evolution among 12-year-olds: the kid whose time is winding down from the moment he gets on the mound. All hail the advent of the 20-pitch guy. Sunday's pool-play games provided almost perfect illustrations of how the pitch-count limits have changed the way these young pitchers are used. In that Oregon-Massachusetts game, Northwest manager Craig Ramey took starter Mitch Lomax right up to his 85-pitch limit, even as it meant Lomax pitched into the sixth inning without being able to finish it. Enter Calvin Hermanson, a left-hander who needed nine pitches to record the final out -- and thus preserved his eligibility for the next game the Northwest plays. Even as recently as last year, Ramey might have been tempted to let Hermanson start the sixth inning, rather than have to come in with the tying run on second base in a 1-0 game, as he did Sunday. But new rules dictate new strategy. Under the old system, a pitcher could work one full inning on the mound without needing to take a day or a game off. Not anymore. Responding to an alarming uptick in reported cases of young pitchers experiencing arm and shoulder problems, Little League this year instituted pitch limits rather than innings limits -- and under those new rules, anyone who throws more than 20 pitches in a game needs both a day off and a game off before he can work again. The difference may sound subtle; in fact, the switchover to the new system wreaked short-term havoc with a nation's worth of Little League coaches in the U.S., where the innings limits had been in effect seemingly forever. (As one such coach, I can testify.) The reality is that, at almost every level, it can be surprisingly difficult for a kid to get out of an inning in fewer than 20 pitches.
Pitch Count Rules
After the 2006 season, Little League Baseball put in pitch counts for all its divisions. For 17- and 18-year olds, it's 105 pitches. For players aged 13-16, it's 95 pitches. For 11-12, it's 85 pitches and for 10-and-under, it's 75 pitches.

In addition:

• If a player pitches 61 or more pitches in a day, three calendar days of rest must be observed.

• If a player pitches 41-60 pitches in a day, two calendar days of rest must be observed.

• If a player pitches 21-40 pitches in a day, one calendar day of rest must beobserved.

• If a player pitches 1-20 pitches in a day, no calendar day of rest is required before pitching again.
Hermanson might well have been able to do so, but Ramey took no chances. He worked Lomax to his limit (understandable, considering the shutout former NFL quarterback Neil Lomax's son was throwing), then turned to Hermanson in the hope of getting the final out. But nothing comes easy at the World Series. Hermanson walked the first batter he faced before inducing a forceout to close the game, which is how you can wind up needing nine pitches to get one out. In Lubbock, Texas' 5-1 victory over Chandler, Ariz., meanwhile, an almost identical scenario played itself out. The Southwest had its lead and a pitcher, Zane Ancell, who had limited the West to two hits while striking out 11. But with one out in the sixth inning, Ancell hit his pitch limit. Southwest manager Ed Thorne first reached out for his son, Tyler. But when the young pitcher allowed two straight hits, Thorne went to Taylor Bridges, one of his usual starters, in hopes that Bridges could get the game's final two outs without blowing his own eligibility for the next game if he were needed. Bridges came through, needing only seven pitches to record two strikeouts. And now Thorne has both Bridges and Tyler Thorne eligible to pitch the Southwest's next game. (In deference to the new strategies involved, the manager said he will use staff ace Garrett Williams for exactly 20 pitches in that game, which Lubbock does not need to win because it has already qualified out of pool play.) What's interesting here is that the 20-pitch specialist is the residue of a change that did not, strictly speaking, emanate from problems within Little League itself. Around the coaching community, it is widely understood that the advent of nearly year-round travel (or "competitive") ball is one of the primary reasons for the rise in young arm problems. In some ways, Little League has made a pitch-count adjustment in reaction to forces that are beyond its control. Travel ball has become an almost de facto part of a competitive player's baseball life -- just as it has in soccer, basketball and several other youth sports. An alphabet soup of sponsoring organizations, from AAU to USSSA, BPA and well beyond, offers the opportunity to play baseball at levels -- and sheer numbers of games -- that a previous generation of players would have found mind-boggling. But travel ball is here to stay -- and so too, apparently, is a new approach by Little League to containing the potential damage to young arms. So get used to the 20-pitch kid. He's a closer on the shortest leash imaginable.
Mark Kreidler's book "Four Days to Glory: Wrestling With the Soul of the American Heartland", published by HarperCollins, is in its third printing. His book "The Kids of Summer," about the curious ability of one town to consistently produce Little League champions, will be released in July 2008. A regular contributor to ESPN.com, he can be reached at mark@markkreidler.com.
Page 2
Regular contributor to ESPN.com
Author of "The Voodoo Wave" and "Six Good Innings"
Radio host, "The Rise Guys Show," Sacramento
MOST SENT STORIES ON ESPN.COM