Commentary
MLS midseason report card
Updated:
July 20, 2010, 2:37 PM ET
By
Brent Latham
| Special to ESPN.com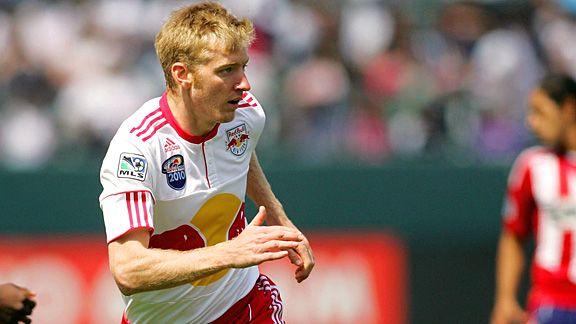 Victor Decolongon/Getty ImagesTim Ream has been one of the standouts among MLS rookies this season.
While most players are either taking a well-deserved breather from the World Cup or ramping up preparations for the European club season, Major League Soccer continues to chug along. As we head to the All-Star Game next week, we take a look at the state of the 2010 MLS season and hand out some midterm grades.
League-Wide Quality of Play: B
Let's start with a general mark for on-the-field quality. In terms of entertaining play, things have been looking up so far this season. For MLS fans who also follow the global game, there are still those matches that make you want to throw the remote control at the TV. The bad trap, the pass that goes out of bounds for no particular reason, the midfielder given a seemingly endless amount of time to stand over the ball -- those things are still all too common.
But if you can't see that the quality of play in MLS is improving by leaps and bounds, you're just not paying attention. The top teams are even developing their own distinct styles of play, like Real Salt Lake's possession game. Need some empirical evidence of the improvement? Look at the results of this summer's string of friendly matches against international competition. While friendly results are no barometer of success, the fact that MLS teams have been more than competitive, often playing with many of their own reserves, against the likes of Juventus, Boca Juniors and Celtic, speaks volumes.
Come playoff time, with only the best teams left, expect a higher standard on the field than you've ever seen in MLS. The improvement is all the more impressive coming at a time when expansion threatened to make it difficult to maintain quality play league-wide.
Bruce Arena: A
The first-place Galaxy should get a lot of credit as a unit, but the man who has led the resurgence in L.A. deserves particular recognition.
After personal failure at the helm of the U.S. national team at the World Cup four years ago and a subpar stint with the New York Red Bulls, Arena saw his stock at a career low when he took the Galaxy job in 2008.
But after nearly two fruitful years in L.A., Arena has proven he knows how to handle the quirks of MLS personnel management like few others. Bringing the trio of young Brazilians -- Juninho, Alex Cazumba and Leonardo -- from Sao Paolo on loan was a clever maneuver. The key to Arena's success, however, has been getting the most from his whole squad, including rookies and second-year contributors just out of college, such as Michael Stephens and A.J. DeLaGarza, and journeyman role players like Chris Birchall and Donovan Ricketts.
The U.S. national team attackers have been central to the Galaxy's success. Donovan (10 assists) and Buddle (11 goals) are league leaders despite missing more than a month of action while on World Cup duty. Though Donovan's goal production is down -- just two goals thus far after scoring 12 last year -- his ability to slice through MLS defenses has never been sharper, and his confidence is at all-time high. Together with Buddle, the pair is among the most feared attack in the league.
Designated Players: C-minus
The spring of 2010 will not be remembered as the heyday of the DP. The season began with six. The injured David Beckham hasn't played a match and Luis Landin managed to get cut by Houston. Julian de Guzman in Toronto and Freddie Ljungberg in Seattle have at least been on the field, but many feel that their play hasn't justified DP status. Donovan and Juan Pablo Angel have pulled the weight for the entire group.
The number of DPs in the league has doubled in recent days, with more seemingly on the way. While the biggest signing, Thierry Henry, and other potential additions like Rafael Marquez and Ronaldinho are big ticket items, DC, Toronto and Seattle have all hedged their bets by adding less renowned designated players at more affordable prices. That strategy should help improve the returns on the league's biggest investments for the second half.
David Beckham: F
Speaking of big investments, Beckham has been remarkable for his absence this year. It's not his fault he's been injured, and he would hardly be worth mentioning except for how little the absence has meant to the league or his team. When the midfielder's AC Milan loan spell ended in serious injury, it looked like a big blow for the Galaxy. Instead, L.A. hasn't missed a stride.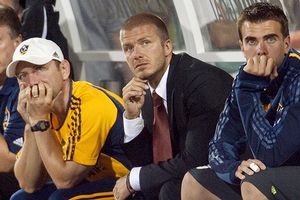 David Boily/AFP/Getty ImagesThe injured David Beckham has been missing in action from MLS this season.
It's probably fair to say most in the U.S. had largely forgotten about the Englishman until a series of cameos on the bench of the struggling Three Lions at the World Cup associated him once again with overhyped underperformance. Beckham can still help the Galaxy and the league, but if he doesn't show for the playoff run, he'll risk becoming permanently irrelevant.
Dwayne De Rosario: B-plus
The anti-Beckham, De Rosario quietly produces year after year. With eight goals so far this season, he's the top goal scorer for his club, Toronto FC, and third-best in the league. An MLS lifer, the 32-year-old's feats become all the more impressive as he continues to keep up the fast pace. Though he's a proud Canadian, it does make you wonder how big De-Ro might have become at the international level if he had been born south of the border instead.
Red Bulls Organization: B-plus
One of the biggest stories on the field so far this year has been the resurgence of the traditionally mediocre New York franchise. The historically underachieving team has been solid, currently standing second in the Eastern Conference with a bright outlook for the second half.
The good results have been a combination of quality front office work and long-term planning off the field. The opening of Red Bull Arena gave the franchise a significant boost, and a good 2010 draft has provided some serious help from front to back. Now they'll add Henry to that mix. Exciting things are happening in New York.
The MLS Rookie Class: A
It's fair to ask if there's ever been a better MLS rookie class than this one. The group has a little of everything -- a defensive stopper in Tim Ream, some stellar midfield from Blair Gavin, Stephens and Andy Najar, and plenty of striking force in Danny Mwanga and Zack Schilawski.
Andy Najar: A-minus
Case in point on the rookie class: Najar. Who would have thought back in March that the young Honduran would be lighting up the league the way he has over the past few months? Kudos to DC United coach Curt Onalfo for giving this young player a chance. Najar, 17, who moved to the U.S. just four years ago, breaks a lot of stereotypes about the blueprint for success in MLS. At just 5-foot-7, he's not the physical type, but his touch is exquisite and his bursts of speed on the right flank are explosive. With plenty of room still to grow, Najar looks like the real deal.
Philadelphia Union: C-plus
Based solely on results so far, this grade could be lower. Things haven't gone well on the field for Peter Novak's team, which has managed just 14 points from as many games, landing them second-to-last place in the East. Shoddy goalkeeping and a midfield and strike force that may be a little too green have compromised results.
Realistically, things could be worse. The atmosphere at PPL Park has been exceptional and Nowak's youth movement could eventually pay dividends. There are rumors of a DP headed to Philly, and the Union have a couple of games in hand on most of the Eastern Conference. Things may get better for Philadelphia, perhaps sooner rather than later.
Brent Latham covers soccer for ESPN.com. He previously covered sports throughout Africa for Voice of America radio and now works as a soccer commentator for a national television station in Guatemala. He can be reached at brentlatham@ymail.com.
ESPN Insider
Brent Latham is a soccer commentator who covers the youth national teams for ESPN.com. Based in Guatemala, he has attended youth World Cups from Peru to Egypt, and places in between.
MOST SENT STORIES ON ESPN.COM