Commentary
WPS season full of surprises
Updated:
July 22, 2010, 3:36 PM ET
By
Jacqueline Purdy
| ESPN.com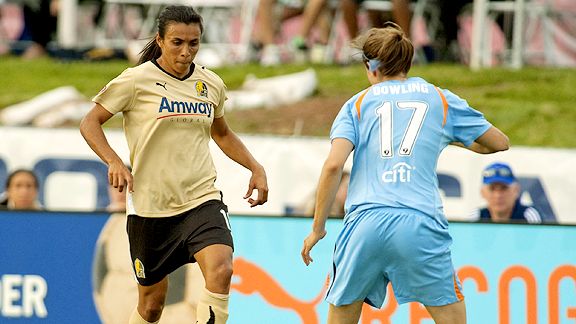 Duncan Williams/Icon SMIMarta has already scored 10 goals this season, which matches her tally for all of last year.
With the second half of Women's Professional Soccer season well under way -- and the league's seven teams competing for four playoff spots -- here's a look at the top storylines to watch for the rest of 2010:
Marta is good -- really good
Yes, Marta is the four-time FIFA Player of the Year and yes, she won the 2009 WPS MVP trophy. But the best player in the women's game has put things in a higher gear this season. After a slow start (by her standards), she broke out in a big way with two goals in Boston on May 14. Her fancy footwork and incredible speed have been on display ever since. She notched 10 goals in 19 games last season with the Los Angeles Sol to lead the league -- a tally the Brazilian forward has already equaled in only 13 matches this year for FC Gold Pride. Paired up top this season, with Canadian international Christine Sinclair, a brilliant striker in her own right, the two have combined for 17 goals -- more than four WPS teams (Sky Blue FC, Boston, Chicago and Atlanta) have scored all season. With 10 games left in its season, FC Gold Pride is comfortably in first place, 10 points clear of the nearest challenger, Philadelphia.
What was up is down, and what was down is up
Early in the season, the top four teams -- FC Gold Pride, Philadelphia, Sky Blue FC and Washington -- separated themselves from the bottom three of Chicago, Boston and Atlanta. The playoff picture looked clear. But once the middle of the season rolled around, Chicago and Boston began making up ground, getting themselves back into the picture. And Sky Blue FC and Washington turned in poor performances to make the WPS standings close.
After a nine-game winless streak, Boston is on a roll with three straight come-from-behind wins heading into tonight's big game with first-place FC Gold Pride.
"It's a good run, but we've dug ourselves a pretty big hole," Breakers coach Tony DiCicco said after Sunday's 2-1 win over Washington. "We're just starting to see a little bit of light at the end of this thing."
Since Chicago fired head coach Emma Hayes in May, the Red Stars have gone 3-1-3 and are surging up the standings. Forward Ella Masar, who had never found the back of the net in her WPS career, has scored four of the team's of past five goals (the other goal being an own goal by Sky Blue FC).
On the opposite end of the spectrum, the Washington Freedom were in second place June 5 and up 1-0 on first-place FC Gold Pride at halftime, but conceded a 75th-minute goal to Marta and left with a 1-1 draw. That was the beginning of a winless streak that has now reached seven games. On Saturday, they need a home win over FC Gold Pride to start getting things turned around.
"It's been a long time without a win now. It's very hard, because it hurts the confidence," said Freedom midfielder Sonia Bompastor after the loss to the Breakers. "Obviously, I think we need to keep [our] heads up. But it's a very long time without a win."
Defending champions Sky Blue FC are in third place, but once again dealing with turmoil (a staple of their 2009 title run) as the team fired coach Pauliina Miettinen on Monday and promoted assistant coach Rick Stainton to the head-coaching position. Despite the team's place in the standings, it hasn't played well lately, failing to score a goal in its past three games.
The resurgence of Amy Rodriguez
After scoring just one goal in a disappointing rookie season with the Boston Breakers last season, Amy Rodriguez was traded to the Philadelphia Independence and has been a smashing success. In June, she scored five goals and tallied two assists, outscoring the entire Breakers team over the same span. Her seven goals have her tied for second behind Marta in the race for the Golden Boot. Philadelphia is currently in second place with the second-best offense in the league, trailing only FC Gold Pride.
Through her struggles last season, Rodriguez was consistently called up to the national team. "You need to be patient with young players," U.S. women's national team coach Pia Sundhage told ESPN.com at a Breakers game in June 2009. "They're not used to this, [performing] on a daily basis and actually [trying] to improve your game every single day. I think to be patient with Amy Rodriguez -- I think that, in the long run, will pay off big-time."
On the international front, Rodriguez turned in two impressive performances and scored one goal for the U.S. in its friendlies with Sweden on July 13 and July 17, proving the patience Sundhage had in her is, in fact, paying off.
Off the field
The Los Angeles Sol folded in the offseason and Saint Louis Athletica folded midseason, causing concerns about the league's future. WPS commissioner Tonya Antonucci and the league's seven other teams have consistently assured fans that the league is solid and looking to the future. In fact, Breakers 2011 season tickets go on sale today as Boston hosts Marta and FC Gold Pride. Another encouraging sign: Six of the league's teams have presenting partners or sponsors on the front of their jerseys, up from two teams last season.
Jacqueline Purdy covers women's soccer for ESPN.com. She also is an editor for ESPNRadio.com. You can reach her at twitter.com/JacquelinePurdy.