Commentary
WPS faces challenging future
Updated:
July 23, 2010, 10:43 AM ET
By
Beau Dure
| Special to ESPN.com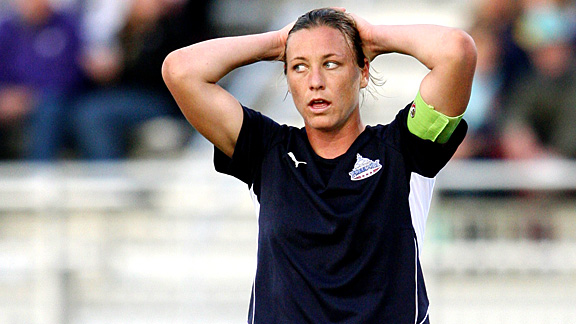 Scott Bales/YCJ/Icon SMI"It feels like I'm failing at my job. I wanted to be part of the thing that kept [WPS] going," says Washington Freedom forward Abby Wambach.
This summer, soccer has been a media darling in the U.S.: players doing the rounds on late-night talk shows; shout-outs in pop culture; TV ratings rivaling or surpassing those for the NBA playoffs and World Series.
All these things seem unusual. And yet we've seen them before.
For Landon Donovan and Clint Dempsey, substitute Brandi Chastain and Mia Hamm. For the thuggish Dutch men, substitute the resilient Chinese women. For the vuvuzelas in South African stadiums, substitute screams of "Miiiaaaaa!!!!" from more than 90,000 fans in the Rose Bowl. It was the summer of 1999, of course, and the nation was engrossed in another World Cup, one that the United States hosted. And won.
Eleven years later, Women's Professional Soccer puts a lot of effort into modest ambitions such as keeping attendance over the 4,000 mark. The U.S. women's team, the reigning Olympic champion and FIFA No. 1 in the world, rarely draws five-figure crowds at home. WPS has clever social-media initiatives, but mainstream media presence is minimal. A couple of recent Washington Freedom games were not covered by any representatives from the three Washington newspapers that usually give soccer solid play.
"It feels like I'm doing something wrong," says Washington Freedom forward Abby Wambach. "It feels like I'm failing at my job. I wanted to be part of the thing that kept it going. Now it feels like we have taken a step back at some level."
Wambach's real job is to score and set up goals, and she's doing that, leading WPS in assists and climbing to third on the U.S. national team goals list. She knows she can't blame herself -- or anyone in particular -- for the sparser crowds in the women's game today.
"I don't blame the girls, and I don't blame the media," Wambach says. "1996 [Olympics] and 1999 were just this perfect storm, and everybody jumped on board."
U.S. Soccer president Sunil Gulati doesn't expect another storm soon. "How long has it been since anyone captured the imagination like the U.S. hockey team in Lake Placid?" Gulati says. "Those moments are very rare. What we had in the summer of '99 was an extraordinary moment. No one had the expectation that overnight we were going to have 30,000-40,000 people at all our women's national team games, or that we were going to have a series of players become as well-known as Mia.
"It doesn't mean the sport can't be successful. It can. But not at that sort of level."
Expectations were high when the Women's United Soccer Association launched in 2001 backed by cable TV companies and magnates. The players from the 1999 U.S. team were presented as "founding members." The inaugural game in Washington was heavily marketed, featured an opening ceremony punctuated by a bald eagle that swooped into RFK Stadium, and drew 34,148 fans.
"You had a group of people that thought that's where we should be and that's where we deserved to be," says Jim Gabarra, the Washington Freedom's coach who also headed led the team for that inaugural game. "The reality was that we were 6,000 to 8,000. Which was great. But we were spending like we were going to get 20,000 people per game."
The Freedom led the league by a wide margin with nearly 10,000 fans per game at home in WUSA's final season in 2003. The team had the league's biggest draw, Hamm, who did all she could to deflect praise and attention to her teammates but was very much the face of the league.
The irony was that Hamm never had her Landon Donovan moment, no big-time goal to sustain U.S. fortunes in a major tournament. In most big games, she was fouled mercilessly, opening space for others to play. But she had the goal-scoring résumé and had attracted advertisers who cast her in everything, most memorably a showdown with fellow North Carolina alumnus Michael Jordan in several sports.
"They put a lot of time and dollars into one face, one name," Wambach says. "You can't just replace that."
Illustrating the point: As Wambach talks in the Maryland SoccerPlex after a recent practice, a young boy from a soccer camp runs up to ask whether she's with the Freedom. A few minutes later, campers seek an autograph from someone in a Freedom shirt who tries to explain that she's on the staff, not on the team.
But at least they know the Freedom brand. Without one face to draw the focus, the club rather than the name has taken center stage.
"Fans are really supporting their team," Gabarra says." In the past, you saw them come to watch the opposition's national team players. They still come to see them, but they're invested in their home team."
That means embracing players from abroad, such as feisty French winger Sonia Bompastor, a Freedom fan favorite. She has seen women's soccer grow some in Europe, where the recently formalized women's Champions League can sometimes draw five figures, but the U.S. still has a competitive edge.
"It's hard for women to be very successful and popular in France," Bompastor says. "It's not just with soccer."
Teammate Lene Mykjaland grew up playing on boys' teams in Norway, where the women's game struggles despite the national team's proud history. "With women's soccer in Norway, people have prejudice," she says. "The common belief is girls can't play soccer. The younger generation is more open to it and can actually see that we can play soccer."
WPS has had the confidence to spend just enough to land most of the world's top talent, including Brazilian superstar Marta, who plays for FC Gold Pride. Next year's World Cup promises an intriguing showdown for WPS talent against Germany, because the country's players have stayed home in preparation for hosting the Cup.
Whatever the outcome of that showdown, at least the focus will be on the field. The biggest news WPS has made this year was the loss of a team in midseason when investors bailed on St. Louis' soccer endeavors. Unlike MLS, which operates under a single-entity plan of sharing risk and reward, WPS clubs operate on their own. Other clubs' finances weren't affected by St. Louis' troubles, but they couldn't prevent Athletica's demise or the PR hit that ensued.
Since then, media attention has been diverted to the World Cup, and WPS commissioner Tonya Antonucci says that did not surprise the league. "It's not so much a comment on WPS as the priority was going to be the World Cup," Antonucci says.
WPS made an effort to get a boost from the World Cup, with several players appearing on local newscasts as the media sought out expert analysis. "It's really made soccer the top conversation among sports fans for the past month," Antonucci says.
If that happens next year with the women's World Cup in Germany, WPS should be poised to capitalize on the opportunity. The WUSA opened nearly two years after the 1999 Women's World Cup and suspended operations just a few days before the 2003 edition. No fully professional U.S. league existed during the U.S.' heartbreaking loss in the 2000 Olympics, the thrilling gold medal sealed by Wambach's goal in the 2004 Olympics, the controversial exit from the 2007 Women's World Cup or the surprising gold medal without the injured Wambach in the 2008 Olympics.
WPS also has a few positive signs. Although WUSA games often were broadcast in obscurity before "Bonanza" reruns on Pax, WPS has a solid presence on Fox Soccer Channel. After having little time to line up sponsors before last year's launch, the league grabbed many more this year. Antonucci says season-ticket sales are up 17 percent.
But if the numbers don't pick up among walk-up sales, WPS may scale back its already-humble plans.
"If our attendance is below expectations through the end of the season, we'd look carefully at whether we're playing the right number of games," Antonucci says. "Is it smarter to reduce the number of games?"
Gulati, quick to cite MLS and North American Soccer League patron Lamar Hunt's slow-growth philosophy, preaches patience. "The most important thing for any of our leagues is stability," he says. "WPS is striving hard for that."
Beau Dure is author of "Long-Range Goals: The Success Story of Major League Soccer."
SPONSORED HEADLINES
MORE SPORTS HEADLINES
MOST SENT STORIES ON ESPN.COM