Commentary
The five best young guns in MLS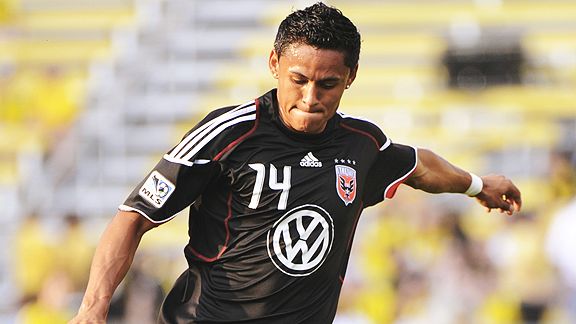 Jamie Sabau/Getty ImagesAndy Najar could become the best player MLS has ever produced.
MLS is no stranger to criticism. After all, the league has struggled to gain respect and credibility over the years. Perhaps the biggest knock on MLS, the one that's cut the deepest, is that the top talent produced in the U.S. either stays for only a brief stint before bolting to greener pastures, er, pitches in Europe, or bypasses the league entirely.
Yet as we reach the midway point of its 15th season, MLS has attracted a quintet of promising prospects. These players could contribute strongly to the league's future and ongoing quest for respect from the other side of the pond and south of the border.
So here they are, the top five youngest and brightest playing in the MLS:
5. Danny Mwanga, forward, Philadelphia Union
There were more MLS-ready players in the 2010 MLS SuperDraft than Danny Mwanga, but the expansion Philadelphia Union ignored them all and doggedly pursued a little-known college player.
Six months later, we're starting to see why.
Mwanga hadn't faced serious competition before coming to MLS. The 19-year-old played local soccer around Portland, Oregon, and competed in a weak conference while at Oregon State. But despite still being raw, he has managed to make an impact for the Union.
The 6-foot-2 Mwanga has displayed his knack for making nets buldge, scoring five goals so far this season. He's also dished out a pair of assists. The quick, strong striker has done it all while playing irregularly -- he has just six starts and five substitution appearances thus far -- for a team with a 4-8-2 record. Not bad for someone who has been played in the hole instead of the deep striker position he occupied for the past few years.
Considering how disappointing previous No. 1 draft picks have been, Mwanga's growth is encouraging, to say the least.
4. Bill Hamid, goalkeeper, D.C. United
In September, when Bill Hamid became the first D.C. United academy player to sign with United's first team, the club intended for the 19-year-old to be its third-string keeper. But Hamid developed so quickly that when backup Josh Wicks went down with an injury, United felt confident enough to release him and promote Hamid to the No. 2 spot.
Then Troy Perkins, for whom United had gone to great lengths to acquire in the offseason, suffered a deep dip in form. In stepped the 6-foot-3 Hamid, with his kung-fu-quick hands.
Hamid made his MLS debut on May 5, and became the youngest keeper in league history to win a game. He started three more matches before Perkins rebounded and won his job back. But in Hamid's spell at the top, United won two games -- impressive, considering the squad has notched just three victories this season to date.
In Hamid, D.C. United have a starter-in-waiting, and the U.S. men's national team may ultimately have a successor to Tim Howard.
3. Omar Gonzalez, defender, Los Angeles Galaxy
Some will cry foul at the omission of New York Red Bulls defender Tim Ream, who might be further along than Gonzalez. But Gonzalez, 21, is a year younger than Ream and earned a call-up to the annual U.S. national team camp for U.S.-based players in January. It was a move that indicated Gonzalez is on U.S. Soccer's radar for the next World Cup.
Gonzalez is a better defender than Ream, too. At 6-foot-5, Gonzalez dominates in the air but his height doesn't compromise his speed. While Ream is better at playing the ball out of the back, Gonzalez is more reliable for what he is paid to do -- defend.
Last season, Gonzalez had an outsized hand in turning the Galaxy from grossly underachieving bottom-feeders to MLS finalists, solidifying a once-paltry defense along with veteran Gregg Berhalter and fellow rookie A.J. DeLaGarza. For his troubles, Gonzalez was named the Rookie of the Year.
[+] Enlarge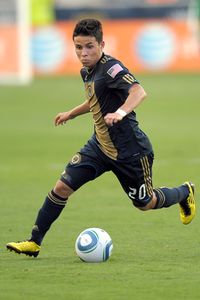 Drew Hallowell/Getty ImagesRoger Torres has used his vision and ability to cross the ball to help the Philadelphia Union find the back of the net.
2. Roger Torres, midfielder, Philadelphia Union
With an expansion team, it's hard to predict who will be the load-bearing players from the outset. Surely, nobody had expected one of those guys to be Roger Torres, a 5-foot-5, 19-year-old on loan from Colombian club América de Cali.
In a midfield with experienced players like Fred and Stefani Miglioranzi, Torres has proven to be the most influential thanks to his sharp vision and ability to hold the ball and send in well-timed crosses. In the season-opener against Seattle, he dished Sébastien Le Toux with the club's first-ever goal on a superb cross. Torres has since doled out three more assists in his nine starts.
With a talent like this on its roster, the Union -- and MLS -- will no doubt be keen on trying to secure a permanent move for Torres.
1. Andy Najar, forward, D.C. United
While he seemingly came out of nowhere, the lithe forward has made heads turn this season with his speed, touch, and versatility. At just 17, and only four months into his pro career, Najar has not only been United's best player but he's also among the dozen or so standouts in the league this season.
Najar is the second player to sign out of the United's academy after dropping out of Edison High School in Northern Virginia. The Honduran has done most of his damage on opposing defenses on the wings, where he uses his pace and work-rate to play strikers into space.
He has started 11 of United's 17 games, missing a few due to a minor injury, and is slowly emerging into the type of player who teams build around. Before long, Najar could be known as the best player MLS has ever produced -- better, even, than Landon Donovan and Clint Dempsey.
Leander Schaerlaeckens is a soccer writer for ESPN.com. He can be reached at leander.espn@gmail.com.

Contributing writer, ESPN.com
Leander Schaerlaeckens is a contributing writer for ESPN.com. He has previously written for The Guardian, The Washington Times and UPI.