Commentary
Bocanegra finally gets his wish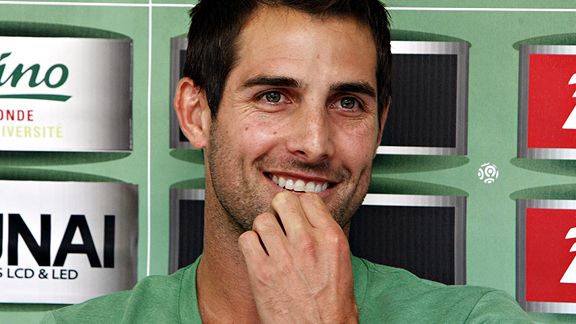 AP Photo/Remy de la MauviniereCarlos Bocanegra addressed reporters during a press conference announcing his move to Saint-Etienne in the French league.
The World Cup is the ultimate showcase for self-promotion. If a player puts in a solid performance, he can write his own ticket. Just ask Carlos Bocanegra.
The U.S. central defender and captain has become the first American to capitalize on his World Cup performance by wrapping up his move from Stade Rennes to fellow French league club AS Saint-Etienne. While the deal had been announced on July 16, paperwork hadn't been finalized until last week.
Although Saint-Etienne's interest predated the World Cup, Bocanegra credits part of the transfer to his strong performance in South Africa.
"The World Cup is always a shop window for everybody," Bocanegra said in a phone interview from France. "So with the team's success that obviously helps, I think, every single American getting a chance around the world."
Saint-Etienne had made a prior attempt to land Bocanegra in a transfer deal but was unable to come to terms with Rennes.
"It's been a while," Bocanegra said. "They came in for me in the January transfer window last year and it [didn't] work out with the two clubs. Finally they came to an agreement and I was able to get out of my contract with Rennes. It's nice when a club wants you for so long. It doesn't usually happen like that."
In his second year with Rennes, Bocanegra found himself out of favor with manager Frédéric Antonetti, playing little in December and January. He eventually won back his spot at left back, but was still interested in a move elsewhere.
"My time was coming up at Rennes," Bocanegra said. "The coach at Rennes needed more of an attacking left back, which isn't really my style. I'm more someone who holds with my defense."
While on the surface it may seem that Bocanegra is trading a mediocre team for a bad one -- Saint-Etienne ended in 17th place in Ligue 1 last season, while Rennes ended in ninth -- Saint-Etienne has a history as one of the giants of French soccer. Until Olympique Marseille won its 10th French league title this year, Saint-Etienne had been the only club to ever win that many championships, dominating the league for much of the 1960s and 1970s.
"Saint-Etienne is a big club in France and it has a lot of support," Bocanegra said.
"I'm pleased with this move," he said. "It's a new club, it's a new challenge."
Although Bocanegra's transfer fee had originally been rumored to be $650,000, that number was likely overblown. "I don't think it was that much," said the 31-year-old defender, who didn't want to elaborate on the transfer fee.
If Bocanegra performs the way he did at the World Cup, however, even $650,000 could prove to be a bargain for Saint-Etienne.
Leander Schaerlaeckens is a soccer writer for ESPN.com. He can be reached at leander.espn@gmail.com.

Contributing writer, ESPN.com
Leander Schaerlaeckens is a contributing writer for ESPN.com. He has previously written for The Guardian, The Washington Times and UPI.
MOST SENT STORIES ON ESPN.COM