Commentary
Anfield jinx for Landon Donovan again
Updated:
February 20, 2010, 1:17 PM ET
By
Jeff Carlisle
| Special to ESPN.com
In Saturday's Merseyside derby, Landon Donovan had hoped to banish some bitter memories of his previous trip to Anfield. Instead, he only added to them, as Liverpool survived the first-half ejection of defender Sotirios Kyrgiakos to come away with a 1-0 win over Everton in a game in which neither Donovan nor goalkeeper Tim Howard distinguished themselves.
It was back in 2005, when Donovan was on the books of Bayer Leverkusen, when he first squared off against the Reds in a UEFA Champions League match. The U.S. international saw his side fall 3-1 in the opening match at Anfield, and he went on to deliver a horrific 53-minute stint in the second leg that hastened his return to the United States. On this occasion, Donovan didn't look out of place, but he also failed to supply the creative spark Everton needed to break down a resolute Liverpool side. His teammates didn't provide much attacking inspiration either.
[+] Enlarge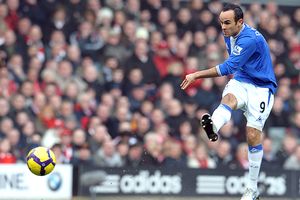 Paul Ellis/Getty ImagesLandon Donovan and the Everton offense were held in check by Liverpool at Anfield.
"I have to be disappointed that we could not make the extra man count," Everton manager David Moyes told PA SportsTicker. "They were down to 10 men from midway in the first half and we did not kick on. We created one or two good chances but not enough considering the circumstances. I felt we should have been able to make one or two [more] opportunities."
To be fair, the blood and thunder that usually accompanies these encounters made it a game that was never going to play to Donovan's strengths. And with some cringe-inducing tackles flying about from the opening whistle, there seemed little reason to change that assessment.
Exacerbating the problem early on was Everton's inability to establish any semblance of possession. The Toffees' back line seemed content to hoof the ball forward at almost every opportunity, and the central tandem of Leon Osman and Marouane Fellaini were unable to provide much of an attacking platform on those occasions when they did corral the ball.
Donovan did manage to have some bright moments early, with a mazy run allowing him to win a dangerous free kick in the 20th minute. And the odds of finding more of those opportunities increased 14 minutes later, when Kyrgiakos was ejected for a two-footed tackle on Fellaini, in an exchange in which the Everton midfielder was equally culpable, yet somehow escaped punishment. With one less man on the field, and Liverpool forced to employ nominal midfielder Javier Mascherano at right back, the disruption to the Reds' game seemed an ideal situation for Donovan to exploit.
It didn't happen.
The American was rarely afforded the opportunity to have an impact, and when he did get the ball, he wasn't as clean with his touches and passing as he had been in some of his previous outings.
The difficulty of Donovan's task only increased in the 55th minute, when Dirk Kuyt scored on a glancing header from a Steven Gerrard corner. It was a goal in which neither Howard nor defender Phil Neville covered themselves in glory. Neville was poorly positioned, on the wrong side of Kuyt, and Howard was so intent on pushing the Liverpool forward away from him, that he failed to react to Gerrard's inswinger, allowing Kuyt to nod home from all of 3 yards. Simply put, Howard must command his box better. Kuyt, of course, saw things differently.
"It was a great cross. When you're with 10 men you won't get many chances, so you have to take everything from the set pieces," Kuyt told Reuters.
With Liverpool content to play a counterattacking game, the Reds were always going to be difficult to break down. Donovan did launch one of his trademark runs from the wing just minutes after the goal, skinning Emiliano Insua, and then delivering a teasing cross. But thereafter, Donovan was unable to impose more of his will on the game, and he allowed his frustration to get the better of him, with his appeals for nonexistent fouls failing to elicit any sympathy from referee Martin Atkinson.
Granted, there was little imagination emanating from Donovan's teammates, so not all of Everton's struggles can be laid at the American's feet. But it is precisely from these kinds of situations that Donovan will be expected to deliver for the U.S. this summer, and the difficulty of the circumstances will matter little.
So is this a sign that Donovan isn't up to the challenge? Hardly. It's one game of many that the U.S. attacker will play prior to joining up with his international teammates in May. And it's far better that he be exposed to these experiences now, rather than rely solely on MLS -- a league he has dominated for years -- for preparation.
So even if Donovan's memories of his latest trip to Anfield won't be fond, he still has the opportunity to put them to good use.
Jeff Carlisle covers MLS and the U.S. national team for ESPNsoccernet. He is also the author of Soccer's Most Wanted II: The Top 10 Book of More Glorious Goals, Superb Saves and Fantastic Free-Kicks. He also writes for Centerlinesoccer.com and can be reached at eljefe1@yahoo.com.
Soccer
Jeff Carlisle covers MLS and the U.S. national team for ESPNsoccernet.
MOST SENT STORIES ON ESPN.COM