Commentary
Howard thriving with Everton
Updated:
February 19, 2010, 4:31 PM ET
By
Roger Bennett
| ESPN.com
Manchester United has beaten Everton more than any other Premier League opponent. Yet when the Red Devils imperiously emerge from the tunnel at Goodison Park on Saturday (ESPN2, 7:30 a.m. ET), the home fans will be salivating, and their confidence will not be misplaced. It is merely a reflection of the polished performances their club has displayed in recent league play. Everton appears a team ascendant.
More remarkably, Everton is thriving in the midst of a punishing run of league games in which it has faced Arsenal, Manchester City, Liverpool, Chelsea and now champion Manchester United in succession. Many predicted that this torrid schedule would leave the team bloodied, beleaguered and plummeting toward the relegation zone, but aside from the knife-fight that was the Merseyside Derby, Everton has chosen this period to play its most compelling, confident soccer of the season.
[+] Enlarge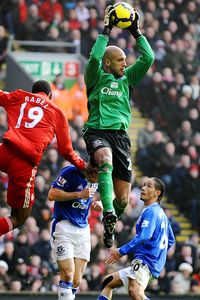 Laurence Griffiths/Getty ImagesHoward has helped lead Everton to a ninth-place standing in the Barclays Premier League.
Even shorn of the ferocious beanpole that is Marouane Fellaini, the club was able to dismantle the power and movement of league leader Chelsea in its last outing, claiming its first victory against the West Londoners in more than a decade. With Landon Donovan's presence on the right flank appearing to balance the side, Everton presents a wholly different proposition from the confused and fragile lineup that leaked goals to the likes of Burnley and Bolton earlier in the campaign.
Back then, it seemed opponents had only to shoot the ball in the vicinity of the goal for it to end up in the back of the net -- a torturous reality for a proud team that had used a defense-first approach to smother opponents and overachieve throughout the past five seasons. In the last month and a half, Everton has experienced a season-defining extreme makeover. Defenders have begun to lock down the back, as the attackers run themselves ragged, harrying opponents high up the field. An unheralded part of this transformation has been the valiant play of goalkeeper Tim Howard. Against Chelsea, he unleashed a slew of instinctive parries to safeguard the lead as his sagging side sat ever deeper in their own half late in the game.
At his best, Howard is among the most instinctive shot-stoppers in the league, relying on courage and reflex to outwit opponents. When the goalkeeper suffers a high-profile error, as he did recently against archrival Liverpool, fans are quick to invoke his American heritage and lambaste him for being tentative against crosses and shots from distance. Howard takes all this in his stride. Modest and insightful in conversation, he is aware that his position is the most unforgiving in the Premier League and is the first to admit that his team's defense has been porous this season.
"We were rock-solid last year when the back four pretty much picked themselves," he said. But reflecting on the cavalcade of injuries that has forced Everton's defense to become an ensemble affair, he added: "We have chopped and changed more than I have ever known during my career, which prevented us from becoming a consistent unit. The cohesiveness and confidence we lacked are the difference between winning and losing."
Howard understands better than most the thin line between success and failure. After being plucked from MLS' MetroStars to claim a dizzying starting role at Manchester United, he performed with bravado before a tactical error in the Champions League spiraled into a loss of confidence and an eventual loan to Everton. Others would have been dispirited, but Howard knuckled down. Grateful for the opportunity, his hard-working displays became a boon for a club still searching for a long-term replacement for legendary keeper Neville Southall, who retired in 1998. Howard has filled the Welshman's gloves with aplomb, even breaking the former garbageman's record for season shutouts in 2008-09.
The New Jersey native is not the only former United player to have experienced a career resurgence after moving to Everton. The club's starting lineup also features the stoic intensity of Phil Neville and clinical intelligence of Louis Saha. Howard is grateful for the sterling education he gained in Manchester.
"My experience at United was priceless," Howard says. "It taught me that everything I did on and off the field would transform the player I was."
He also crediting the ambition and passion of Everton's manager with lifting his game to the next level. "Playing under David Moyes has allowed me to blossom," Howard says. "He demands excellence in a gentle way, and it has increased my determination as a player."
Goalkeepers are the one position in the game recognized to improve with age, a fact Howard attributes to the benefits of experience.
"The more you play, the more insight you gain into the tendencies of opposing attackers as they move into the penalty box, so the intricacies of your positioning improve accordingly," he says. "You know who will shoot far post from a certain area, and who will attempt to go near."
Midfielder Darren Fletcher is among the United players who trouble Howard most. "With his late runs into the box, he puts a fear into you and gets inside your head," Howard says. "You are always worrying where he is in case he gets on the end of a cross or slips a one-two on the edge of the area."
Howard's analytical assessment of every player falls short when it comes to Wayne Rooney, the fallen idol of the Everton faithful, who has elevated his game to the Messi-Ronaldo ether this season and is a lock to be voted Player of the Year. "I don't think anyone has any insight into Rooney," Howard remarked candidly. "You just have to pick your plays and hope he has an off day."
[+] Enlarge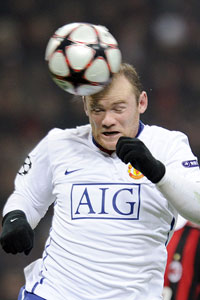 Damien Meyer/AFP/Getty ImagesCan Wayne Rooney be stopped? He scored two goals this week in the Champions League -- both with his head.
Rooney has become United's standard-bearer and savior, his indispensability reflected by the fact that behind his remarkable tally of 21 league goals, United's second highest scorer is "own goal" with 10.
United's overreliance on Rooney is a symbol that it is squad in transition. Conjecture about its debts and assets under the Glazer family hounds the team in the media. Its next wave of prospects, including the angelic Da Silva twins (Fabio and Rafael) and the artfully petulant Nani (serving a suspension after his red card against Aston Villa), are yet to be fully established. Among the veterans, Dimitar Berbatov has been a brittle misfire, defender Nemanja Vidic appears preoccupied by the task of apartment-hunting ahead of a much-rumored move to Spain, and Rio Ferdinand lacks match fitness after being mysteriously crocked.
The extent of the psychological damage inflicted during last year's Champions League battering by a Barcelona team playing soccer in a different tactical dimension remains an unknown. Despite all this, it is perhaps a testament to manager Sir Alex Ferguson's force of will that his team remains in touching distance of what would be their fourth consecutive title.
Everton, however, is not Barcelona and has traditionally faced Manchester United with little ambition or confidence, electing to adopt soccer's equivalent of the fetal position and minimize the beating instead. Under Moyes, the team has mustered a solitary win and suffered 11 losses with three ties in league play. Mention of this infuriates Howard. "Waving around our record is one of the most unfair things I have ever heard," he says. "United are one of the best teams on the planet. Show me a team with a good head-to-head against them before you criticize us."
The goalkeeper is calmer when asked what Everton must do to win. He does not pause before responding, "We have to match United's intensity, meet the tempo they set and take our chances when we get them." He has no doubt Everton is capable of victory. "At our core, we are the most hard-working bunch you will see. Our spirit is second to none. It comes from our manager, from our rich history, and the passion of the city."
But alongside these intangibles, he points to a more practical, recent and potent threat.
"We have always been a team who like to grind, but now we have tremendous attacking force in the final third with Louis Saha, Mikel Arteta and now Landon Donovan," he says.
Howard has not been surprised by Donovan's seamless yet career-changing transition into the English game: "I never had any doubts about his ability, but it is good to have another American about the place."
The goalkeeper claims that the rigors of the Premier League season mean that the World Cup is not yet in the front of his mind, but he laughs when asked how it feels to hear cries of "USA! USA! USA!" resound around Goodison Park. "We will let the Everton fans borrow that chant for another couple of months. But once the World Cup approaches, we will need it back."
Landon Donovan update
Donovan turned in his most complete performance yet against Chelsea, foraying forward intelligently, crossing the ball with precision, and even managing to knock one of England's most able defenders, Ashley Cole, out of the game for the next three months courtesy of a 50/50 challenge. Two hundred fifty-one Everton fans posted messages on Donovan's Facebook wall in the wake of the victory, begging him to extend his loan spell. Illustrative is this from a menacingly persuasive commenter named Max: "You better stay on lad. You are well on your way to becoming a cult hero at one of the biggest clubs in europe. Don't give that up for a hollywood lifestyle. Go back to it later on in your career when you are close to retirement."
Non-American Everton player to watch
John Heitinga is the latest in a long line of slightly deranged players who have charmed the Everton faithful. Against Chelsea he shackled a red-hot Didier Drogba, and the utility player's hard-hitting style has made the Dutch international a cult hero in the heart of the Everton defense. His long-ball clearances are a thing of wonder. Howard recently hailed him as the team's "quarterback" for the way he always seems to find the feet of attackers Tim Cahill and Louis Saha. Does he intend them to be so pinpoint? You be the judge.
Non-Everton player to watch
Michael Carrick is a technical delight, shattering opponents' ambitions by dismantling their offensive forays, and cutting them apart with his detailed passing. But what makes him even more remarkable is that he does all of this without appearing to bring an iota of pleasure to Manchester United's fan base. He remains one of the most underrated, unappreciated players on the squad, which makes him even more impressive from a neutral perspective.
Roger Bennett is a co-author of the forthcoming ESPN World Cup Companion, your guide to everything you need to know to enjoy the 2010 World Cup. E-mail him at sirfabiocapello@yahoo.com.
SPONSORED HEADLINES
MORE SPORTS HEADLINES
MOST SENT STORIES ON ESPN.COM