Commentary
World (Up)Stage
South Africa gets the buzz, but the Champions League has the goods
Updated:
March 30, 2010, 5:53 PM ET
By
Doug McIntyre
| ESPN The Magazine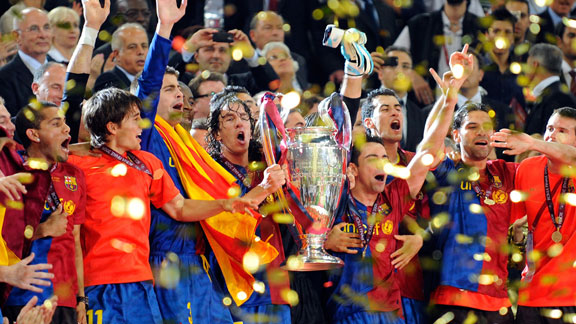 Claudio Villa/Getty ImagesBarcelona's championship run was fueled by players from nine different nations.
This article appears in the April 5 issue of ESPN The Magazine.
Back in 2001, Arsenal coach Arsene Wenger caused quite a stir when he suggested that the best soccer on earth is played not at the World Cup but in the Champions League. Since then, a lot of soccer insiders have come to agree. "I think the Champions League is better than the World Cup," Manchester United boss Sir Alex Ferguson said in 2005.
As two of the top coaches in club soccer, Wenger and Ferguson are biased. They're also probably right. And fans will get a chance to judge for themselves when the Champions League quarterfinals begin on March 30.
Fact is, the world's biggest club teams have every advantage over their international counterparts. While national squads have only a few weeks to train before the World Cup, clubs practice together for 10 months a year and can iron out tactics and make adjustments over the course of 60 matches. As good as Brazil is, if starting keeper Julio Cesar gets hurt in advance of South Africa, the Selešao don't have a comparable backup; Inter Milan, meanwhile, can simply tap into its worldwide scouting network and drop millions of euros on a new backstop. That sort of flexibility allows a team like Barcelona, the reigning European champion, to craft a perfectly balanced squad made up of players from nine different nations.
The Champions League has proved more competitive, too. Only seven countries have won one of the 18 World Cups staged since 1930. By comparison, since the Champions League adopted its current format, in 1992-93, a total of 11 different teams from seven nations have hoisted the trophy. And contrary to conventional wisdom, big spending doesn't guarantee big success. Chelsea and Real Madrid, two of the most valuable clubs in sports and stocked with all-world talents like Didier Drogba and Cristiano Ronaldo, didn't even make the quarterfinals.
Of course, the World Cup trophy remains the most coveted in sports. And soccer fans get the best of both worlds this year. Even better: On May 22, the Champions League final will be played on a Saturday for the first time ever. But likely not the last.
Doug McIntyre is a contributor to ESPN The Magazine and Insider.
Doug McIntyre is a staff writer for ESPN The Magazine. He has covered American and international soccer since 2002.
ESPN The Magazine: April 5, 2010 Issue
Check out all the content from ESPN The Magazine's April 5, 2010 issue.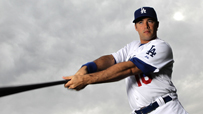 Where noted, the content is for ESPN Insiders.
April 5, 2010 Issue