Injuries make field wide open
Originally Published:
January 18, 2004
By
Cynthia Faulkner
| ESPN.com
The women's field at this year's Australian Open looks like a casualty list. Ankle injuries, shoulder problems, abdominal tears ... the list goes on.
Serena Williams and Jennifer Capriati are missing entirely. Of the top five seeds remaining, only Justine Henin-Hardenne is not recovering from or dealing with an injury.
At least one analyst, John McEnroe, thinks the tour's schedule is a factor.
"The time of the year definitely contributes to players missing the Australian," McEnroe told ESPN.com last week. "In my 15 years, I only played in it five or six times, which is one of the reasons why I never was able to win it. I've been saying this for years, the tennis season is too long. The Australian should be in March, there's no reason not to do that."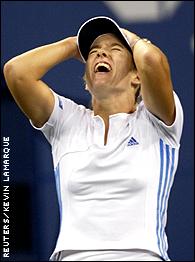 Right now, Justine Henin-Hardenne seems the healthiest among the top seeds.
"I think it just goes to show the wear and tear," Lindsay Davenport said recently. "The tour has just taken its toll on a lot of the girls, whether it be psychologically or physically, or whatever their problems may be."
It's because of an injury that Venus Williams is in an unusual position right now: She's the unknown entity. Normally, she shares the spot of favorite with sister Serena. But after missing half a season recuperating from a nagging abdominal tear, it's difficult to clearly predict whether she can take her first Australian Open title.
Is Venus fully recovered this time or will playing aggravate the injury again? After months without playing competitively, can she shake off the rust? Will she be distracted by questions about her sister Yetunde Price's death?
She sent a message by easily winning her opener against Ashley Harkleroad 6-2, 6-1. Despite that, in her absence, No. 3 seeded Venus has lost some of her fear factor. Even before injuries began to plague the Williams sisters, the other top women were bulking up, working hard and stepping up their games.
Belgian Henin-Hardenne, now the No. 1 player in the world, said she looks forward to the Williamses' return.
"They're two of the best players in the world, and we want all the players, like I said, in the great tournaments," Henin-Hardenne said last week. "It's gonna be good that Venus is gonna come back because we want a high level of competition.
"They did a great job, and I'm sure, like I said, that they're gonna come back with a lot of motivation, try to come back at the top of the game for a long time."
Would Henin-Hardenne be the No. 1 player in the world if the Williamses weren't injured? It was in April, when both were still playing that Henin-Hardenne began a nine-month streak where she never finished lower than the semifinals in a tournament. At the majors, she had mixed success. She defeated Serena in the semifinals of the French Open, and Serena used that as inspiration to beat Henin-Hardenne in the semifinals of Wimbledon.
Both were missing when Henin-Hardenne won the U.S. Open and took over as the No. 1 player in the world. Henin-Hardenne doesn't let it worry her. She said she feels comfortable with the pressure of holding onto the top spot in the world.
"I feel good being No. 1, for sure," Henin-Hardenne said. "I know that things can change very fast, you know, because like I said, the level is very high and a lot of players are playing great tennis right now."
Players like No. 2 seed and fellow Belgian Kim Clijsters, No. 4 seed Amelie Mauresmo and No. 5 seeded Davenport, all of whom have been struggling with injuries.
Mauresmo, who missed four months last season with various injuries, feels her game is finally coming together.
"I think physically I lost a little weight," Mauresmo said. "I think I'm moving a little better. You know, I'm trying to improve my game going forward, going to the net, being a little bit more aggressive. So at least it's coming. I've been talking about it for a few years now, and it's starting to come."
It was Clijsters, who in the semifinals at Melbourne last year blew a 5-1 lead in the third set to allow Serena to advance to the final where she won her fourth consecutive Grand Slam title.
"I had a big chance getting to the finals last year," said Clijsters, who became engaged to Lleyton Hewitt during the offseason. "But it's not something that I regret, you know. I think Serena was the better player at the time. But I think I've come back stronger. I think you learn out of those matches, out of those losses, you learn so much."
Clijsters has had quite a few losses in the big moments to learn from. She lost the 2003 French Open final to Henin-Hardenne. At Wimbledon, she lost the semifinal to an agonized Venus. She allowed a tired Henin-Hardenne to defeat her once again in the U.S. Open final. Now, she might not even get a chance to break her streak at this year's Australian Open because of a recent ankle injury.
Davenport, the only former Aussie Open champion in the field, underwent foot surgery last fall. Still trying to get back in the groove, she injured chest and shoulder muscles last week.
There is one small upside to the injury problems. It makes the field wide open for anyone to take the title.
"You still have to put Justine as a big favorite above a lot of the other players," Davenport said, "just for virtue of her winning two Grand Slams last year, being (No.) 1 in the world, and obviously proven that in big matches she's been coming through.
"But it's a lot of opportunities to see, you know, if Kim can win her first Grand slam, if some veteran players can come back, how Venus will come back after being off so long. I mean, there's a lot of intriguing story lines still left.
"But at the end of the day, there's no Serena, who when she plays a Grand Slam the last few years, has won just about every one she's entered."
Cynthia Faulkner is the tennis editor for ESPN.com. Sports business reporter Darren Rovell contributed to this report.
SPONSORED HEADLINES
MORE TENNIS HEADLINES
MOST SENT STORIES ON ESPN.COM
EDITORS' PICKS
Caroline Wozniacki sails after split with Rory.
Tandon »

Here's what celebrity coaches and players would give each other for the holidays.
Bodo »

Martina Navratilova just part of coaching carousel.
Bodo »