Players: healthy mind equals healthy game
Updated:
January 30, 2004, 10:53 AM ET
By
Cynthia Faulkner
| ESPN.com
In tennis, it's only you and your opponent on the court. No coaching allowed. In that environment, focus often is the deciding factor.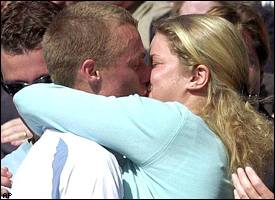 Lleyton Hewitt, left, proposed to Kim Clijsters during their offseason.
It used to be that players had to eat, live and breathe tennis (vis-à-vis Capriati, the early years). Today, the top four women in tennis (no matter what their ranking now) Serena and Venus Williams, Justine Henin-Hardenne and Kim Clijsters have found a balance. They all have personal lives and outside interests they say are important to maintaining a healthy career.
It will factor in when Henin-Hardenne and Clijsters take the court tonight (ESPN, 9:30 p.m. ET). The pressure is extensive. At stake between these two women from tiny Belgium is the No. 1 ranking and a first Australian Open title.
Balancing act
It is always a good thing to have an outside interest as long as it is exactly that. It cannot take precedent over being a professional tennis player. It's not easy finding that balance or finding that interest.

One could argue that Pete Sampras never had any outside interest. He was completely focused on tennis and look at what he accomplished.

How a player orchestrates their career is a personal task; no two players approach life or their tennis the same.

Roger Federer has shown at the Australian Open that you don't need a coach traveling with you full time to succeed. That really goes against modern thinking for top players. Everyone really has to determine what their own style is. Because when it comes down to it in this individual sport, it's really only up to the player to decide.

-- Mal Washington
Even more so for Clijsters, who has yet to win her breakthrough major. They've met two times previously in major finals and Henin-Hardenne won both matches in straight sets. Plus, there are other lost chances for Clijsters. Last year's Australian Open semifinal against Serena Williams and the 2001 French Open final against Jennifer Capriati.
If Henin-Hardenne wins, she would be one of only nine women in the Open Era to hold three of the four Slam titles at the same time. Plus, there's the imperative to stay No. 1 and hold up her No. 1 seeding.
"It's been a very difficult tournament for me," Henin-Hardenne said after advancing to the final, "because it was new, being here, being the first seed. That wasn't easy every day, especially at the beginning of the tournament. But I change the situation since the quarters and I'm feeling better."
At the end of the 2002 season, Henin-Hardenne married Pierre-Yves Hardenne. More than once, she has said having that part of her life settled allows her to focus on her tennis. She's not the only one matrimonial minded in the top 10. Lindsay Davenport tied the knot last year, and Kim Clijsters recently became engaged to former No. 1 Lleyton Hewitt.
"We didn't see a lot of marriage in the women's tennis in the last few years, and then, I don't know, a lot of marriage last year, maybe soon," Henin-Hardenne said.
"I don't know. I mean, that's good for me. It helped me a lot, you know, give me a lot of confidence, a lot of security, and I feel much better since I'm married. So I hope that it's going to be the same for the other players."
Last year at the French Open, Clijsters thanked Hewitt for staying and supporting her in the women's final rather than going to prepare for Wimbledon. (He lost in the first round.) Clijsters often returns the favor during his matches.
"I'm sure I'm more nervous sitting next to the court than playing myself," Clijsters said. "But, yeah, no, I mean, it's a nice kind of nervous, you know. It's an excitement, I think."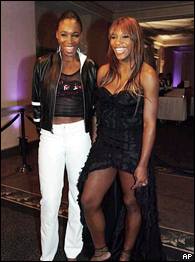 Venus Williams, left, and her sister Serena are always fashion-minded.
Henin-Hardenne prefers to be with someone from outside the tennis world.
"I'm happy to be married with somebody who is not involved in tennis because I think what we live is a lot of pressure," Henin-Hardenne said. "But the thing for Kim and Lleyton is they can understand each other pretty well because they're doing the same thing.
"But, you know, for myself, I'm very happy in my couple. We talk a lot, Pierre-Yves and myself, but never on tennis."
Everyone knows that Venus Williams is a fashion designer, but her interests don't stop there.
"I try new languages," Venus said. "I like to try to learn computer programs, like PhotoShop. What else? You know, fashion design programs, as far as technical drawing. I like a lot of music. I want to learn to mix. I play the guitar and the bass, but I want to learn keyboards."
Sister Serena has her own fashion line and a fledgling acting career. Both are often accused of having too many outside interests. Too many distractions.
"I'm quite ambitious, I think," Venus said. "I try a lot of things. I notice also when I'm trying different things, like I'll learn new things, my mom, she's kind of sitting like this (closed mouthed). She knows that I try too much, and she worries for me. She doesn't want me to lose my focus on the tennis -- which I won't.
"I'll always keep that. It's like my lighthouse. I'm always going towards the tennis. But also there's other things that take me in other directions, too. For me, it's important to be well-rounded in order for me to do my best at the tennis."
Cynthia Faulkner is the tennis editor for ESPN.com.
EDITORS' PICKS
Andy Murray beats Donald Young in straight sets.
Scores »

Here's what Serena Williams hasn't done on the tennis court.
Arth »

Eugenie Bouchard suffered a straight-sets loss at the Miami Open.
Story »
MOST SENT STORIES ON ESPN.COM