Federer, injuries headline Australian Open
Roger Federer is the clear-cut favorite to win the Australian Open. But a depleted field could benefit American Andy Roddick.
Updated:
January 27, 2006, 10:27 AM ET
By
Brad Gilbert
| Special to ESPN.com
Everything begins and ends in the same thought: Roger Federer.
He is such a dominant No. 1 right now, similar to the days when women like Martina Navratilova, Chris Evert, Steffi Graf or Monica Seles dominated. Every time Federer plays it's like he's a three-touchdown favorite.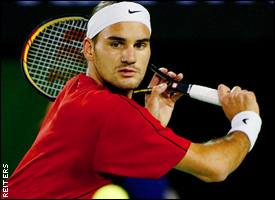 One of Federer's four losses in 2005 came at the Australian Open.
We haven't seen the likes of this on the men's side in a long, long time. Pete Sampras was an incredible No. 1, but he would still lose every so often in the small tournaments. Federer is on a tremendous run (winning six of the last 10 Grand Slam events), and he's pacing himself tremendously well by not overplaying. He's really peaking for each of the majors. So he obviously goes into the Australian Open as the huge favorite to win.
Now, with all of the injuries, there's a cloud of uncertainty for the rest of the men's field. It's a crushing blow to the men's side that Andre Agassi and Rafael Nadal are out of the tournament, because I expected both to be able to challenge Federer. Nadal brings such excitement and personality to the court -- plus, he's my favorite player to watch. Defending champion Marat Safin, who beat Federer in the semifinals last year, withdrew Tuesday because of tendinitis in his right knee. Federer doesn't need any help to begin with, and with Agassi and Nadal out, it really lessens the men's field.
The absence of Agassi and Nadal is a huge benefit for Andy Roddick, because he will now be the No. 2 seed and on the opposite side of the bracket from Federer. His game is well-suited for Australia and we could be looking at a Roddick-Federer final.
Roddick has the monster weapon (his serve) and when the courts are hot, his game plays quite a bit faster. (Federer always says he likes the court slower.) When the surface is faster, it makes Roddick's serve that much harder to break. The fans wanted to see Roddick and Federer become a rivalry, but considering Federer has won 10 of 11 matches against Roddick, it's pretty lopsided.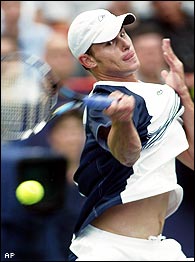 AP PhotoInjuries to Agassi and Nadal means Roddick won't have to face Federer until the final.
If Roddick can win in a big match over Federer, it will turn his career around. That's what he needs more than anything to jump-start his career. And if he can get one against Federer at a Grand Slam, that will take his game to another level. Of the four majors, the best chance Roddick has against Federer is in Australia. (If Roddick is the No. 2 seed, the only time he can play Federer is in finals.)
Like Agassi, Roddick really prospers in 100-degree weather. He relishes it and for a lot of these players early in the year, coming from Europe, the hot weather doesn't agree with them as much. That could be another big advantage for Roddick.
Lleyton Hewitt will be scrappy and will probably be around as the tournament goes on. Tomas Berdych is one to watch and David Nalbandian can play well Down Under. The two young Frenchmen, Richard Gasquet and Gael Monfils, could make some noise and perhaps Andrew Murray as well. All of these young guys are worth watching, but I'll be shocked if, on the final weekend, you don't see Federer for the title.
Brad Gilbert, former top-5 player and former coach of Andre Agassi, is providing ESPN.com with analysis throughout the Australian Open. For more, log onto bradgilberttennis.com
Former player-turned coach and author Brad Gilbert is an analyst on ESPN's extensive schedule of tennis programming, including, since 2009, all four majors the Australian Open, the French Open, Wimbledon and US Open. He joined ESPN in 2004 and serves as a studio analyst, match analyst and sideline reporter. After leaving to return to coaching rising star Andy Murray of Scotland in 2006, he came back to ESPN in 2008.
SPONSORED HEADLINES
MORE TENNIS HEADLINES
MOST SENT STORIES ON ESPN.COM
EDITORS' PICKS
Madison Keys has a chance to pull off the rare Williams-Williams double.
Caple »

Here's what Novak Djokovic means to the Big Four.
Wilansky »

Why Andy Murray thinks Tomas Berdych has the advantage.
ESPN UK »